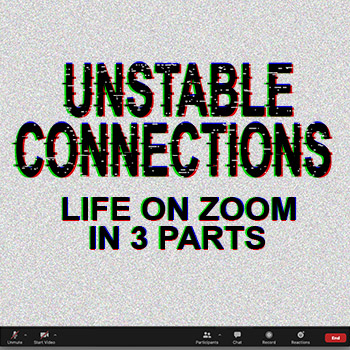 Unstable Connections
Life on Zoom in 3 Parts
Premiering April 15, 2021
Conceived & Created by
Beth Schachter & Gertjan Houben
Here in the covid era, Zoom meetings have quickly become the global community center of the New Normal. We go to class, we attend a ceremony, we contest a late fee, we hang out with friends — all from the comfort (and isolation) of our own home. What about the technical glitches, the awkward silences, the frozen faces? Despite the challenges of our new technical realm, we forge bravely on, armed with a wifi router and a yearning to connect.
In this sense of longing is where "Unstable Connections" finds its inspiration. A three-episode webseries, "Unstable Connections" explores the comedy of Zooms gone wrong… and Zooms gone right, as well.
All episodes are available for free.
for mature audiences
---
All episodes are now available!
Thursday, April 15: To Learn
Thursday, April 22: To Play
Thursday, April 29: To Zoom