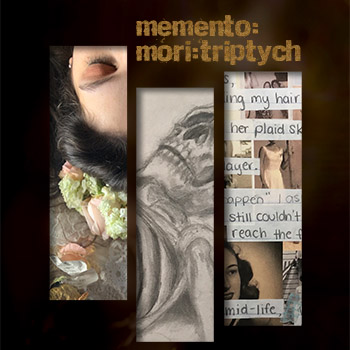 Memento: Mori: Triptych
A Site-Specific Experience
May 14-16, 2021
Memento: Mori: Triptych combines elements of performance, soundscape, and visual art to create an immersive, interactive experience about loss, ritual, renaissance, and hope. In solitude, patrons are guided through a 20-minute exploration of a secret public space, engulfed in sound and memory — alone, but surrounded by a sense of community and connection.
---
Attending Memento: Mori: Triptych
To attend the event, enter the following coordinates into your phone:
40º 35' 48" N
75º 30' 30" W

The performance is open Friday through Sunday, May 14-16, 10 a.m. to 8 p.m.
Attendance is by appointment from 5 to 8 pm on Friday and Saturday. Sign up here.
You can stop by any time from 10 a.m. to 5 p.m. Friday and Saturday, and all day Sunday.
The experience takes about 20 minutes. You're encouraged to engage the piece as a solitary experience. Please wait to enter until the space is unoccupied.
Please bring headphones and a smart phone or internet-enabled device.
The program for the event is available at bit.ly/MMTprogram, featuring credits and profiles of the company members.