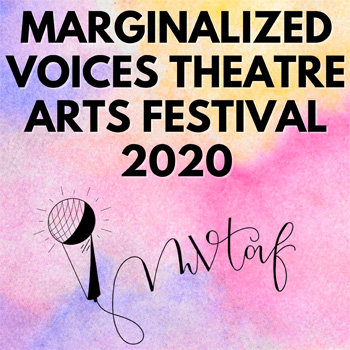 Marginalized Voices
Theatre Arts Festival 2020
Nov. 7-8, 2020
Presented by The Muhlenberg Theatre Association
in association with Unchained Theatre Collective
Watch the festival today on MVTAF's website.
*Request to view the videos by clicking "SIGN UP TODAY" and filling out the form.
The purpose of the Marginalized Voices Theatre Arts Festival (MVTAF) is to spotlight and give space to voices of any marginalized communities that are not normally represented within Muhlenberg's art scene nor the mainstream global art industry. The pieces that will be a part of this event should uplift and shine a light on the unheard stories and voices of those who have been traditionally marginalized within the many oppressive systems of society.
We will be coming together not only to shine a light on the oppressed/marginalized experiences of some but to showcase the pride, beauty, and pure excellence that can be found in the unique culture/group that is being focused on, exploring the complex experience of being a part of a marginalized community, especially today.
The festival will feature original songs and spoken-word performances, as well as these original works:
Rangila, an original dance work, choreographed and performed by Amisha Datta, Roshni Patel, and Ruhani Singh.

Blind Dancing, an original play by Lauren Silverstein, directed by Castelle Eskin. Two women argue about whether to stay in the town where they live or move somewhere else, in a story of love and of learning to live with the tough choices you're forced to make. Featuring Desire Suarez, Julianna Lucas, and Hannah Arnold.
Look, a Latino!, a play by Jorge Ignacio Cortiñas, directed by Juanita Andrade. A young Latino boy is arrested for shoplifting, but claims he didn't do it. Even his own family doesn't believe him. Do we know Enrique or his stereotype? Featuring Alejandra Cepeda, Cate Esposito, Desire Suarez, and AnnaMaria Fernandez.
I Am What I Am: A Cabaret Spotlighting LGBTQ+ voices and stories, coordinated by Elizabeth Witek and Shachar Kessler. This cabaret performance will highlight LGBTQ+ stories and struggles, and give performers an opportunity to share their experiences, stories, and songs.


---
Performance Schedule
All times below are Eastern Time (ET)
Day 1: Saturday, Nov. 7
8:00–10:30 pm ET
| | |
| --- | --- |
| 8:00–8:09 pm | Introduction |
| 8:09–8:16 pm | I Am What I Am: Zach Rabishaw |
| 8:16–8:23 pm | I Am What I Am: Vanessa Graniero |
| 8:23–8:25 pm | Spoken Word by AnnaMaria Fernandez |
| 8:25–8:29 pm | Original Song by Oy Adebajo |
| 8:29–8:44 pm | Blind Dancing |
| 8:44–8:51 pm | I Am What I Am: Leanna Neilson |
| 8:51–8:58 pm | I Am What I Am: Becca Baitel |
| 8:58–9:05 pm | I Am What I Am: Tommy Kelly |
| 9:05–9:07 pm | Spoken Word by Oy Adebajo |
| 9:07–9:14 pm | Rangila |
| 9:14–9:16 pm | Spoken Word by Maria Castillo |
| 9:15–9:23 pm | I Am What I Am: Mikaela Strauss |
| 9:23–9:30 pm | I Am What I Am: Elliot Zaifman |
| 9:30–9:37 pm | I Am What I Am: Becca Millevoi |
| 9:37–9:40 pm | Original Song by Oy Adebajo |
| 9:40–9:59 pm | Look, a Latino! |
| 9:59–10:06 pm | I Am What I Am: Brayden Stallman |
| 10:06–10:13 pm | I Am What I Am: Lauren Fitts |
| 10:13–10:20 pm | I Am What I Am: Jacob Rousu |
| 10:20–10:27 pm | I Am What I Am: Bari Dershowitz |
| 10:27–10:30 pm | End of Day 1 |
Day 2: Sunday, Nov. 8
11 am – 1:30 pm ET
| | |
| --- | --- |
| 11:00–11:09 am | Introduction |
| 11:09–11:16 am | I Am What I Am: Zach Rabishaw |
| 11:16–11:23 am | I Am What I Am: Vanessa Graniero |
| 11:23–11:25 am | Spoken Word by Oy Adebajo |
| 11:25–11:27 am | Spoken Word by AnnaMaria Fernandez |
| 11:27–11:46 am | Look, a Latino! |
| 11:46–11:53 am | I Am What I Am: Leanna Neilson |
| 11:53 am – noon | I Am What I Am: Becca Baitel |
| noon – 12:07 pm | I Am What I Am: Tommy Kelly |
| 12:07–12:14 pm | Rangila |
| 12:14–12:18 pm | Original Song by Oy Adebajo |
| 12:18–12:25 pm | I Am What I Am: Mikaela Strauss |
| 12:25–12:32 pm | I Am What I Am: Elliot Zaifman |
| 12:32–12:34 pm | Spoken Word by Maria Castillo |
| 12:34–12:41 pm | I Am What I Am: Becca Millevoi |
| 12:41–12:48 pm | I Am What I Am: Brayden Stallman |
| 12:48–12:5 pm | Original Song by Oy Adebajo |
| 12:51–1:06 pm | Blind Dancing |
| 1:06–1:13 pm | I Am What I Am: Lauren Fitts |
| 1:13–1:20 pm | I Am What I Am: Jacob Rousu |
| 1:20–1:27 pm | I Am What I Am: Bari Dershowitz |
| 1:27–1:30 pm | End of the Festival |
---
Festival Staff
MVTAF Coordinator: Britney Jara
Assistant Coordinators: Matthew McCray & Rachelle Montilus