Learning the Language
The fraternity/sorority community has a language all its own. Here are some common terms you may hear as you interact with members of the community or see announcements about chapter activities and programs:
Active
A chapter member who has already been initiated. Also referred to as an initiate.
Alumnus (male)/Alumna (female)
An initiated member who is no longer in college. Plural: alumni (male)/alumnae (female).
Big Sister or Brother
An initated member who is either assigned or chosen to serve as a resource, role model, and mentor for the new member.
Badge/Pin
The badge or pin is worn on the chest designating an initiated member of a fraternity. A new member, associate or aspirant pin is usually simpler in design and denotes an individual working toward being an initiated member.
Bid
A formal invitation to join a fraternity or sorority.
Bid Day
The last day of formal recruitment week on which bids are distributed to potential new members. The day usually includes activities with the chapter.
Chapter
The local unit of the (inter)national fraternity or sorority.
Chapter Advisor
An alumnus of the local chapter or another chapter of the organization who establishes and maintains an advisory relationship with a chapter and serves as a teacher and counselor.
Collegiate Panhellenic Council
The cooperative campus governing body of the National Panhellenic Council-affiliated chapters at Muhlenberg. Also referred to as Panhel.
Continuous Open Recruiting (COR)
The process of on-going recruitment of new members beyond the formal recruitment week. The process only applies to National Panhellenic Council-affiliated groups.
Dirty Rushing
Unethical recruitment practices conducted during the formal membership recruitment period inconsistent with the Inter-fraternity or College Panhellenic Recruitment Rules and/or the NPC Unanimous Agreements.
Formal Recruitment Week
A designated membership recruitment time period during which a series of organized events is held by each sorority or fraternity; For most groups, membership recruitment events are coordinate through either the Inter-fraternity or Collegaite Panhellenic Council.
Fraternity
Formally, the name applied to all Greek letter organizations. Informally, the name applied to men's fraternal groups.
Greek Alphabet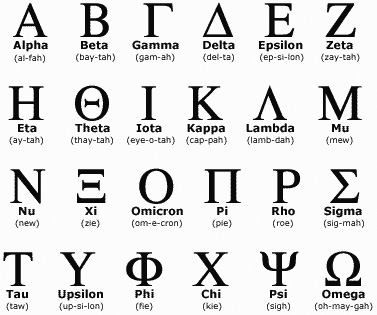 Informal or Open Recruitment
All chapters are encouraged to be recruiting new members throughout the year. Recruitment may occur through informal gatherings, invitations to chapter service, leadership or educational events, or events specifically designed to meet potential new members. All chapters have agreed to offer bids to potential new members only during specific times each year (see Formal Recruitment Week).
Initiation
Ritualistic ceremony during which new members receive lifelong membership privileges.
Intake
A period during which an aspirant pursues membership in an organization.
Intentional Single Preference
A term used in NPC recruitment to indicate a candidate who only lists one sorority on her Membership Recruitment Acceptance Binding Agreement Card from whom she is willing to accept a bid, even though she has more opportunities available to her.
Interfraternity Council (IFC)
The campus governing body for the four North-American Interfraternity Conference men's fraternities. The IFC coordinates recruitment efforts and provides educational programming for member chapters.
Legacy
A student whose parent(s), sibling(s), or in some cases grandparent(s)s is an initiated member of a fraternity or sorority. Legacy requirements and obligations differ for each sorority and fraternity.
Line
Individuals participating in intake with a fraternity or sorority. Used primarily among NPHC, NALFO, NAPA, and NMGC organizations.
Membership Recruitment Acceptance Binding Agreement (MRABA)
Also referred to as a bid card, this is the document indicating from which NPC chapters a potential new member is willing to accept a bid. Once completed, the form may not be altered.
North American Interfraternity Conference (NIC)
A national umbrella organization composed of over 60 men's fraternities. NIC advocates on behalf of Greek life and loosely sets expectations for membership and programming. Alpha Tau Omega, Delta Tau Delta, and Zeta Beta Tau are all NIC member organizations
National Panhellenic Conference (NPC)
A national umbrella organization composed of 26 member women's fraternities and sororities. The NPC manages the agreed upon accords of women's fraternal life known as the Unanimous Agreements. These agreements regulate much about how chapters recruit new members. Alpha Chi Omega, Delta Zeta, Phi Mu and Phi Sigma Sigma are all NPC member organizations.
New Member
A potential new member who has accepted the bid (invitation to join) a sorority or fraternity.
New Member Educator
The chapter officer who chairs the committee responsible for the education of the chapter's new members.
Potential New Member (PNM)
An individual participating in the recruitment process.
Preferential Bidding
A system of mutual selection used at the conclusion of NPC formal recruitment to match sorority and potential member preferences.
Preference Night (Pref)
The final night of NPC formal recruitment period during which a potential new member signs the MRABA card and chapters participate in Preferential Bidding.
Quota
For NPC-member chapters, this is the number of new members a women's fraternity or sorority can offer bids to each recruitment period. Other non-NPC chapters have no such restrictions.
Recruitment Guides (Rho Gammas)
NPC-affiliated fraternity & sorority women carefully selected and trained who have no contact with their own chapters during recruitment and are available to guide potential new members through the recruitment process and answer questions about the process.
Risk Management
The process of analyzing all exposures (risk) to the possibility of loss and determining how to reduce these exposures.
Snap Bid
A bid offered by a chapter at the end of NPC formal bid matching but before bids are announced. "Snaps" can only be extended if the chapter is under quota and has the unmatched woman to whom they want to give a bid on its bid list.
Sorority
A group of women joined together through ritual in friendship for leadership, scholarship and service purposes. Few of the women's organizations are registered as sororities, most of them are women's fraternities.
Strict Silence
The period of time at the close of NPC formal recruitment when there is no communication between Potential New Members and sorority members.
Total
A number determined by the Collegiate Panhellenic Council to be the most desirable maximum chapter size for the campus. Chapters below Total may conduct Continuous Open Recruitment to bring the chapter up to Total.