Celebrating the Class of 2022
The College's 174th Commencement honored graduates in a ceremony held in downtown Allentown's PPL Center.
By: Meghan Kita Sunday, May 22, 2022 06:00 PM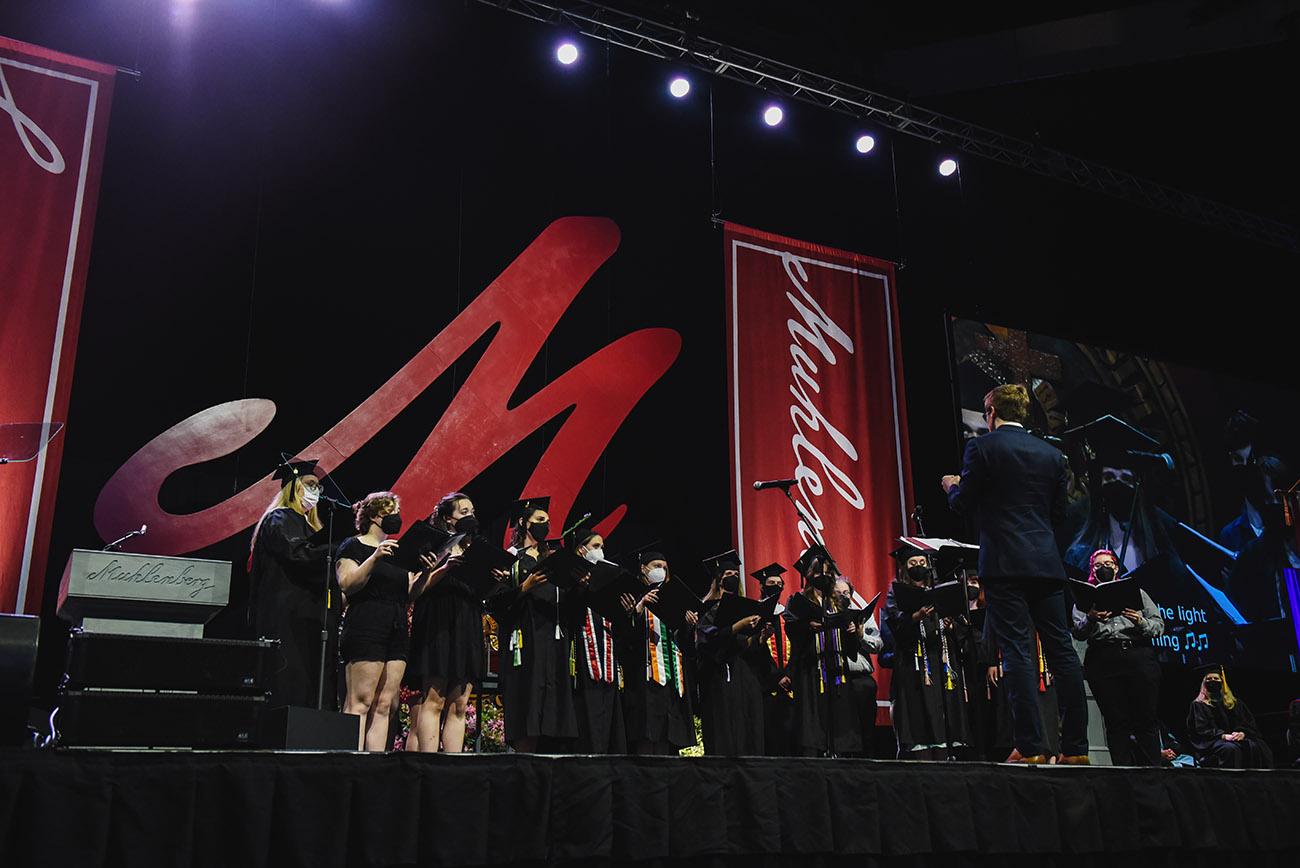 The Muhlenberg College Chamber Choir is led in performance by Director of Choral and Vocal Studies and Assistant Professor of Music Chris Jackson. Photos by Kristi Morris.
On Sunday, May 22, more than 500 members of Muhlenberg's Class of 2022, along with their families, their friends and Muhlenberg faculty, gathered in Allentown's PPL Center to celebrate the College's 174th Commencement. The crowd was high-energy, erupting into cheers and shouts as the graduates processed in and as students' names were called. The festive vibe reflected the challenges that these students, who were sophomores when the pandemic began, overcame to reach this milestone.
Chair of the Board of Trustees Richard C. Crist Jr. '77 P'05 P'09 presided over the ceremony. Honorary degree recipient Dr. Benjamin Wilfond '81, an investigator at the Treuman Katz Center for Pediatric Bioethics and a pulmonologist at Seattle Children's Hospital in Washington, delivered the Commencement address.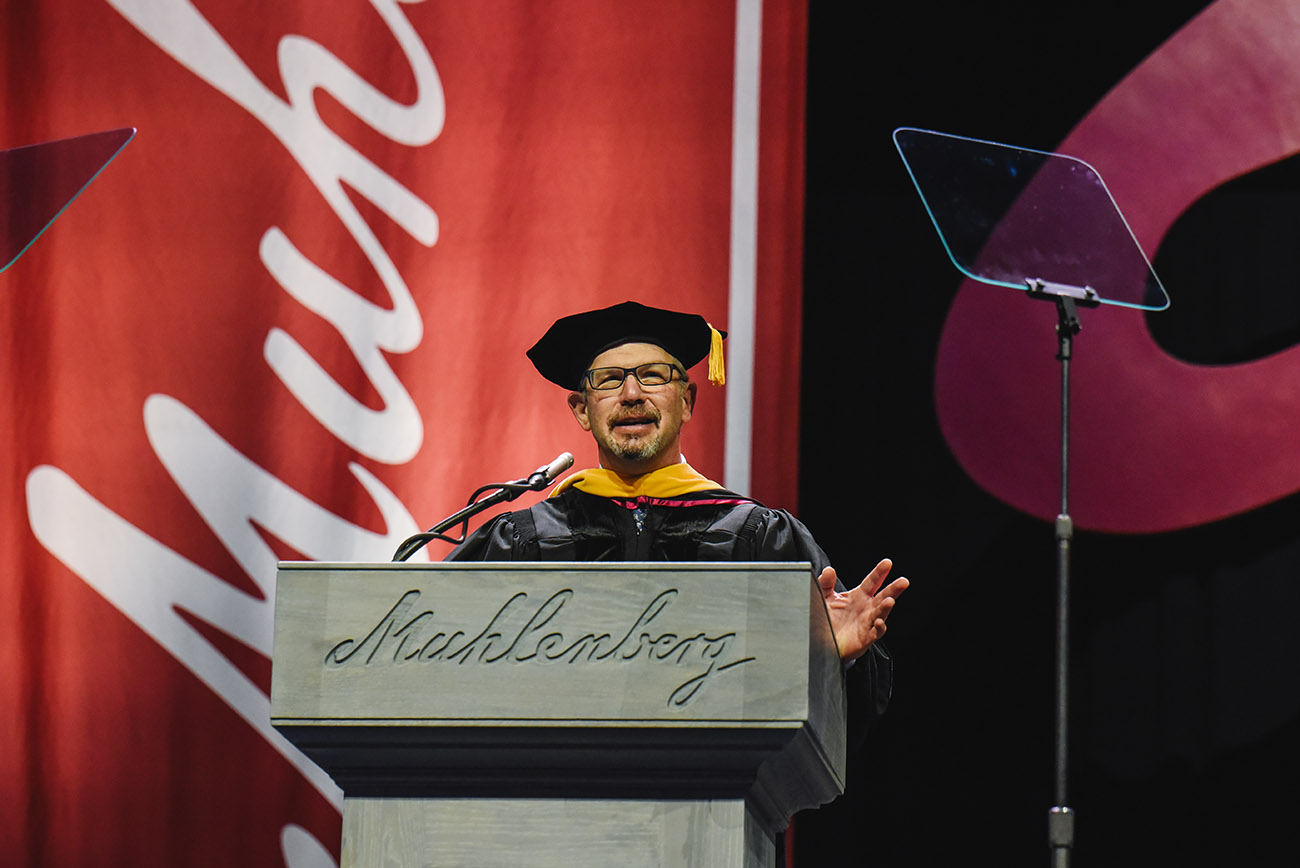 Wilfond told the Class of 2022 that while he didn't remember the words of his Commencement speaker, he did remember the words of his first-year advisor: "This is your new beginning. No one has formed an impression of you. No one has expectations of you. You decide what you want to do and who you want to be."
He shared the other lessons he learned as a student at Muhlenberg that he carried into his career, and he reassured the Class of 2022 that their unconventional college experience helped make them stronger and more resilient.
"Each of you experienced something uniquely challenging during your time here: March 2020. COVID. Your sophomore year. It was a year of unknowns and unexpected detours," Wilfond said. "You will face challenges again as your life goes on, but hopefully your experience at Muhlenberg will be a source of strength for whatever life throws at you."
The two graduates who addressed their classmates were Joel Hark, a neuroscience and psychology double major, and Matthew Merlo, a biology major on the prehealth track in the School of Continuing Studies.
Hark highlighted the phrases "thank you" and "I appreciate you," and he built into his speech a moment of silence for his classmates to consider the individuals who helped them complete their education and flourish as college students.
"As we reflect who we are grateful and thankful for during this long process, the personal growth that occurred and the ability to be resilient is one that will provide us great strength for the rest of our lives," Hark said.
Hark became emotional—"there's sweat coming out of my eyes" and "I didn't cry as much when I practiced," he joked—as he imagined the people who helped him on his journey and as he thanked his peers for the opportunity to address them.
Merlo spoke of his decision to change careers after 12 years in investment banking and finance. He returned to Muhlenberg's School of Continuing Studies to study biology, and he will be going on to attend the Temple/St. Luke's School of Medicine in Bethlehem, where he's interested in pursuing a primary-care track.
"You may have heard the analogy that life is like a book, and every day you are writing the story of your life," Merlo said. "You may hear that today … may be the end of a chapter and that tomorrow starts the next chapter. My advice is to own your story … Reflect on your story, and if you don't like the way your story is going, you have the power to change it. There is always time to start writing a new chapter."
Eight members of the Class of 2022 were co-valedictorians: Michael Albdewi, a biochemistry and Russian studies double major; Rachel Bensimhon, a media & communication major and computer science minor; Benjamin Chen, a biology major; Natalie David, a biology major and Jewish studies minor; Caya Greenspan-Layman, a sociology major and creative writing minor; Hallie Hoffman, a media & communication and philosophy double major; Adeeb Saed, a physics and mathematics double major; and Eliana Schuster, a media & communication major. Emily Burns, a sociology and theatre double major, and Adam Marcus, an accounting and finance double major, received Alumni Association Future Alumni Leader Awards.
Erika Bagley, associate professor of psychology, earned the Paul C. Empie '29 Memorial Award for Excellence in Teaching. The award is given in memory of the Rev. Paul C. Empie, graduate of the Class of 1929, a member of the College's Board of Trustees for many years and its chair from 1972 to 1979.
Cathy Y. Kim, senior lecturer of education, earned the Christian R. and Mary F. Lindback Foundation Distinguished Teaching Award. The Lindback Award honors a full-time faculty member each year who exhibits a commitment to excellence in classroom teaching and a personal concern toward students' learning.
In addition to Wilfond, Karen El-Chaar, the director of the Allentown Department of Parks and Recreation, received an honorary degree.
Muhlenberg College President Kathleen Harring delivered her remarks to the Class of 2022 via video. She, too, spoke of the resilience of the Class of 2022 and how the challenges they faced during their time as students will shape them as they move on to what's next. She encouraged the graduates to look toward the future with their minds open to possibility and progress.
"As our world and country strive for justice and freedom for all, resist the urge to search for what was. Look for what can be," Harring said. "Find your community and make your voice heard, not at the expense of others, but in ways that invite questions and expand knowledge. Commit yourself to a life of leadership and service to others. I am proud of each one of you and I'm excited to see how your presence and accomplishments will change the world outside our campus borders."