What Was New for Alumni Week 2019
In its ninth year, the annual event drew more participating alumni than ever before and included some noteworthy programming.
By: Meghan Kita Thursday, April 4, 2019 02:08 PM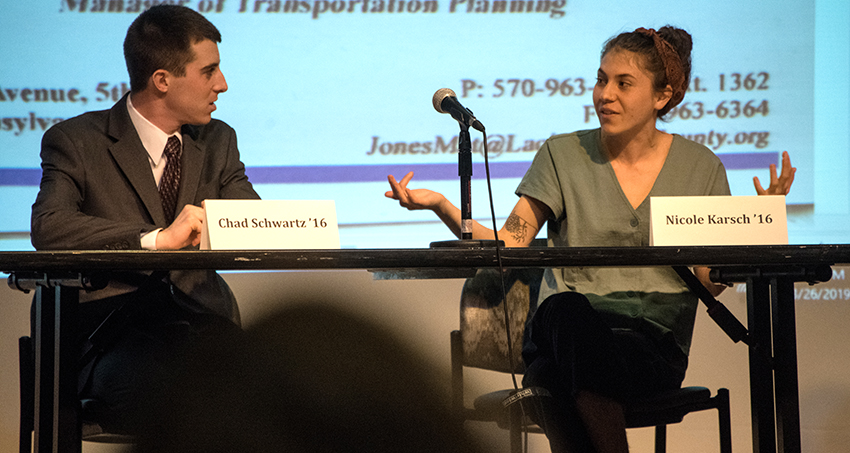 New for 2019, the Center for Ethics lecture series included an alumni panel during Alumni Week.
Last week, more than 170 alumni lent their time and expertise to current students as part of Alumni Week, an annual event that brings Muhlenberg graduates to campus (in person or via videoconference) to discuss what they do and how they came to do it. The programming happens both in the classroom and at extracurricular panels and networking events.
The Department of Media & Communication launched Alumni Week in 2011. Since then, with the help of the Career Center, it has expanded to include 16 other academic departments and programs. Now that Alumni Week is well known and established, "the faculty are owning it," says Pat Fligge '10, director of alumni and parent engagement. "They're working hard to prepare their students for these experiences."
"There were a lot of comments from alumni this year about the good questions students had," adds Emma Hamm '15, assistant director of alumni and parent engagement.
While the surveys that tally how many students participated and other outcomes metrics are still underway, the week's organizers highlighted a few new-this-year initiatives they felt were successful:
Alumni Screened Students for Jobs and Internships
Alyssa Kratz '17, a media & communication major with a business administration minor, has worked for Blue Ridge Communications TV-13 in Lehighton, Pennsylvania, since graduating from Muhlenberg. She's currently a news producer there, but will soon be moving into a reporting role. During Alumni Week, she hosted informational interviews for students interested in an associate producer position, which was her first job post-graduation.
"I had such a positive experience as a Muhlenberg student and media & communication major, and I will always do what I can to give back to current Mules," she says. "I am incredibly passionate about my career, and if there are students who share my interests and share my alma mater whom I can help, that is truly the greatest gift."
According to Associate Professor and Chair of Media & Communication Jeff Pooley, other alumni were also actively recruiting for jobs or internships. "I think that's what we're going to push more and more going forward," he says. "If it's successful, it'll be really helpful."
The Center for Ethics (CFE) Lecture Series Hosted an Alumni Panel
This academic year, the series' theme is The Ethics of the Anthropocene: Crisis Earth, and its events have reflected on the human-driven environmental changes of the current geological era. The series' two program directors, Senior Lecturer of Biology Kimberly Heiman and Associate Professor of Religion Studies and Director of Asian Studies Kammie Takahashi, worked with Hamm to assemble a CFE panel of alumni from a variety of academic disciplines who could "discuss real world experiences with addressing environmental issues within businesses, communities and organizations," Heiman says.
This year, four alumni participated: President & CEO of Prescient Energy Corporation Bill Zoha '79 (German major), Manager of Transportation Planning for Lackawanna County Matt Jones '02 (philosophy major, environmental studies minor), Philadelphia Hub Coordinator for the Sunrise Movement Nicole Karsch '16 (environmental science major, sustainability studies minor) and Director of Science and Education at Lehigh Gap Nature Center Chad Schwartz '16 (environmental science major, sustainability studies minor). Going forward, "if the theme for the Center touches on what alumni have done or are doing in their careers, lives, vocations, et cetera, then I think including a CFE panel in Alumni Week is a worthy endeavor," says Associate Professor of Political Science and CFE Director Brian Mello. "It is another space that invites our alumni into the ongoing intellectual life of the College."
Senior "Ambassadors" Got a Networking Boost
This was the first year media & communication rolled out a full student-ambassador program for its Alumni Week programming, Pooley says. Ten seniors were assigned to tasks like greeting alumni, attending sessions, preparing backup questions in case of a lull, taking pictures for social media and being present at breakfasts and lunches to ensure some student attendance. This engineered "networking" gave students a reason to introduce themselves to alumni.
"It was much easier to establish a connection with them as an ambassador," says Sam Best '19, who was also part of last year's smaller, trial student ambassador program. "It's just so different when it's your last year here at Muhlenberg. All of the advice the alumni gave was so relevant to what we're all doing right now."