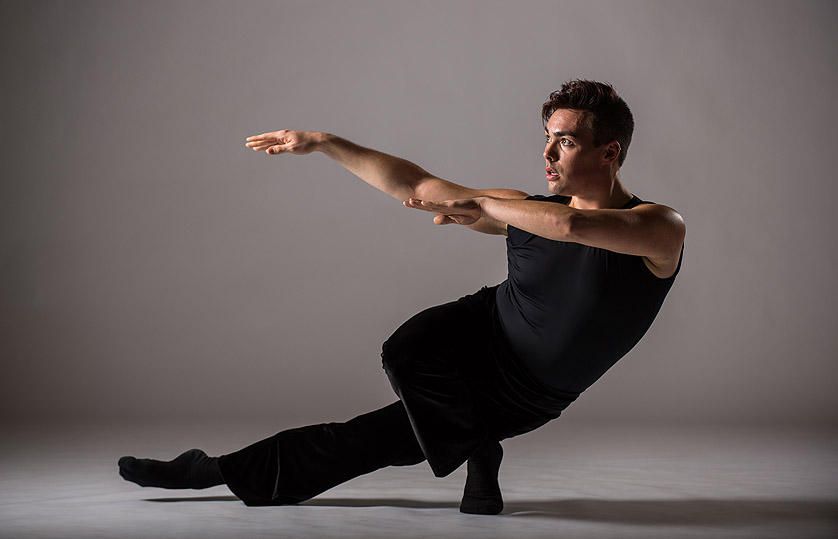 Click here if your question is about auditioning for the Dance Program.
If I have questions about the program that aren't covered here, whom should I contact?
Please email Professor Karen Dearborn, the Director of Dance Recruitment, as well as the founder of the program. Karen can answer most of your questions, and can direct the rest of them to other faculty members and students.
What dance techniques are emphasized?
We strive for a balanced curriculum of ballet, modern, jazz, and tap dance, with multiple sections in each style, beginning through advanced levels, offered each semester. Additionally, one course in African dance is taught each term.
Are there particular technical styles focused upon — for example, Vagonava or Balanchine, Graham, or Release Technique?
The program emphasizes exposure to diverse dance practices within dance genres. Our extensive guest artist program is designed so that classes can be team-taught by resident faculty and guest artists whose approaches both contrast and complement. Guest artists traveling in from New York and Philadelphia typically teach for a semester or two, and then new artists are rotated in for greater breadth of study.
How many dance studios do you have, and what type of floors?
We have four dance studios, all with sprung wood floors. Three have a Marley overlay and one is natural wood. We also have a fully equiped Pilates studio.
What is the typical class size?
Between 12 and 25 students, depending on the course taught and the studio in which it is taught.
Are there musicians for the dance classes?
Yes, all levels of ballet, modern, and African dance have musicians. Tap classes have occasional guest musicians.
Is there access to good medical personnel?
In addition to the college's medical facility and counseling center, the dance department has a resident physical therapist specializing in dance. We also have a strong relationship with several off-campus orthopedists and physical therapists.
What performance opportunities are available?
Each Mainstage season includes three dance concerts, one featuring choreography by guest artists and resident faculty, and the other two showcasing the work of advanced dance composition students. The Mainstage season also features musical theatre productions with major dance components and frequent experimental dance-theatre collaborations.
Additionally, there is a series of informal dance concerts of student-choreographed works each semester, as well as several student ensembles and dance groups.
Does Muhlenberg participate in the American College Dance Festival Association?
Yes! We hosted the Northeast Festival in 2002 and 2011. Since 2002, we have been selected via the adjudication process for several Gala Concerts and National Festivals. Read More!
What are the opportunities to view dance in the area?
Our location 90 miles from New York City and 45 miles from Philadelphia ideally situates us to see a wide spectrum of professional dance. There are also several colleges and universities in the area that regularly present dance touring companies. Typically the department sponsors 6-8 trips to see dance per year.
If I were to major in dance, what other courses besides technique would I take?
All Muhlenberg students take a core liberal arts curriculum. In addition, dance majors study anatomy and kinesiology, Pilates, dance history, basic stage craft, and choreography. We work closely with students to advise them in choosing electives and cross-disciplinary studies to prepare for future careers in dance and related areas. For example, we have an elective curriculum in dance teaching, and cross-disciplinary studies for dance therapy, physical therapy, and dance studio ownership.
How much can I expect to dance each week?
This is a personal choice, again determined with a faculty mentor in advising. Students interested in performing careers are likely to find themselves in two or three classes a day plus several hours of evening rehearsal. Conversely, a student interested in becoming a dance therapist might choose to only take one class a day and not be involved in performing at all.
Besides the courses in pedagogy, are there other ways to develop teaching skills?
Yes. We have an on-site children's dance program where students may intern and, if qualified, become paid teachers under faculty mentorship. Additional teaching opportunities are available during the summer through Camp Imagine!
Can I choose my dance focus, or is the program structured so the areas of study are equal?
When you major in dance at Muhlenberg, you can specify your area of study. Although there are certain classes that a dance major must take, our program is structured so that you're able to choose what fields you prefer to study most intensively.
Are there talent scholarships offered to incoming students?
Yes. An audition is required for consideration for a Muhlenberg Talent Grant or Baker Scholarship. Scholarships range in size from $1,000 to $4,000 per year depending on talent level.
What are the criteria for dance scholarships?
Dance scholarships are based on your current skill and on your potential to develop and to contribute positively to the dance program at Muhlenberg. Learn more about dance auditions.
What are Muhlenberg Dance Alumni doing?
Most dance majors go on to careers in performing, choreography, arts management, physical therapy, and teaching, as well as non-dance related professions. (See alumni profiles for more information)
I don't plan to major in dance, but want to continue dancing. What opportunities are open to me?
All dance classes are open to Muhlenberg students regardless of major. You may audition for all performances and performing ensembles provided you are actively studying dance at the college.