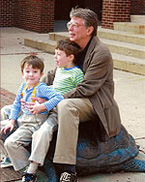 Franz A. Birgel

Professor of German & Film Studies
Director of the German Studies Program
Ettinger 102C
Office: 484-664-3345
Fax: 484-664-3722
franzbirgel@muhlenberg.edu
Background
B.A., La Salle College
A.M., Ph.D, University of Pennsylvania

Franz Birgel teaches many of the courses offered by the German Program: German language courses, German Literature in Translation I & II, German Civilization, German Cinema, Berlin in Film, German Prose, and German Drama in Translation for theater majors. Within the college's film studies program, he also teaches courses on film noir and on the western film. Recently he has also been teaching a new first-year seminar entitled Quentin Tarantino, Film Geek.
Dr. Birgel's publications focus on German film history, cinematic adaptations of literary works, and the interrelationship between history and film. Together with Professor Klaus Phillips of Hollins University, he edited a collection of essays on the German filmmaker and author Doris Dörrie. Dr. Birgel's ongoing research interest is the cinema of the Third Reich.

Publications by Birgel