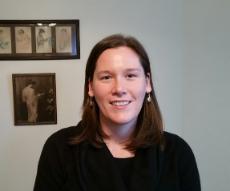 Julie Shoults
Part-Time Lecturer in German
Ettinger 104D
Office: 484-664-3345
julieshoults@muhlenberg.edu

Background
B.A., Moravian College
M.A., Ph.D., University of Connecticut


Julie Shoults earned her M.A. and Ph.D. in German Studies from the University of Connecticut, and she also holds a Graduate Certificate in Women's Studies from the same institution. Her dissertation, Narrating a Tradition: Socialist Women with a Feminist Consciousness in the German Bildungsroman, was awarded the Women in German Dissertation Prize in 2016. Dr. Shoults teaches elementary and intermediate German language courses at Muhlenberg and has also taught courses on German language, culture and literature at other institutions, including Moravian College, Kutztown University, and Albright College. She is currently a member of the Executive Council of the Modern Language Association (MLA).
Her research interests include life writing and autobiographical genres, women and socialism, and German Modernism and Expressionism. Her current projects focus on intersections of gender and violence in the contexts of WWI, WWII, and the German Democratic Republic (GDR), and she is co-editing a volume entitled Women in German Expressionism: Gender, Sexuality, Activism. Her work has been published in the Women in German Yearbook and Expressionismus, and her co-edited volume Women Writing War: From German Colonialism through World War I was published by DeGruyter (2018).
Before attending the University of Connecticut, she earned her B.A. in German and English at Moravian College and spent a year as a Fulbright Teaching Assistant at the Georg-Weerth Oberschule in Berlin, Germany. She returns to the school to teach guest lessons when she visits Berlin.