Tony Checchia '15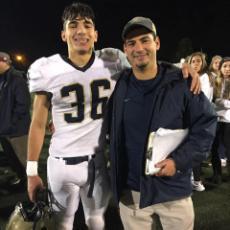 Secondary Education Teacher and Football Coach
In May of 2015, I graduated from Muhlenberg College with a degree in history and my Secondary Education certificate. I also had the opportunity to be a member of the Muhlenberg football team for three years, and learn the game under the incredible mentorship of the late Mike Donnelly. Nearly five years later, I can say that my professional career following graduation has been shaped indelibly by all of these experiences.

Currently, I am a Social Studies teacher at the Theodore A. Sloan School in Council Rock School District. The Sloan School is an alternative educational setting designed for students from 10th-12th grade considered "at-risk" within the traditional high school setting. At the Sloan School, we can offer these students much more individualized supports, smaller classes, and the opportunity to partake in credit retrieval programs to help ensure their academic success.

A unique aspect of the Sloan School is our small size, both in terms of staff and students. As the only Social Studies teacher in the building, I have the responsibility of teaching all Social Studies classes our students need; this includes American History from the Civil War to present day, World History, Sociology, Economics, and Psychology, to name a few. Between my coursework as a history major and becoming secondary ed. certified, I had the opportunity to take at least one class in every one of these subject areas. Without the balance and perspective provided by the Liberal Arts education of Muhlenberg College, I would not feel nearly as comfortable teaching such a diverse range of subjects.

In addition to teaching at Sloan, I am also the Assistant Head Football Coach at Council Rock High School South, my alma mater. As much as my experience on the Muhlenberg football team taught me about the game itself, it taught me far more about what it meant to be a great coach, leader, and teammate. These are the same life skills and lessons that I seek to impart on my players every day.

Between coaching and teaching, I have the invaluable opportunity to impact the lives of young people every day in a positive manner. Muhlenberg's role in preparing me for this opportunity cannot be understated, and my experiences there have directly led to this dream of mine becoming a reality.
---