Powerful Outcomes: Michele Fromel '18
Independent research, faculty mentors and internship opportunities provided Michele Fromel with the strong foundation she needed to succeed in a chemical engineering Ph.D. program.
By: Sarah Wojcik Thursday, January 13, 2022 05:03 PM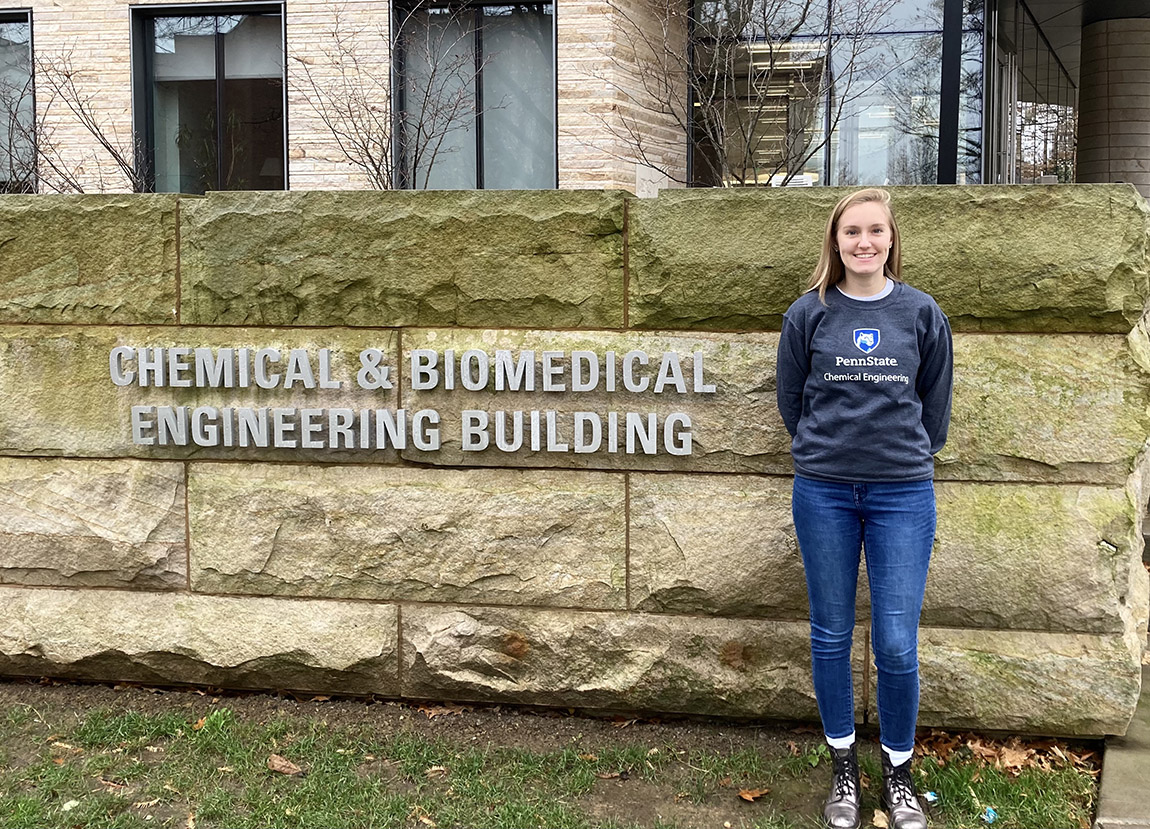 Photo courtesy of Michele Fromel
Michele Fromel '18 graduated Muhlenberg College as a chemistry major with a minor in mathematics. After her junior year, Fromel became interested in chemical engineering. She selected her senior year courses in preparation for what would be a graduate school leap into a more specific field of study. With the help of an online transition program by Michigan State University, Fromel earned a graduate school spot studying chemical engineering at Penn State University. Fromel is slated to earn her Ph.D. in chemical engineering from Penn State in this spring.
She said the student-led research opportunities at Muhlenberg helped fuel her independence in the field…
Something about Muhlenberg that is unique (and awesome) is that the research is led and completed primarily by the undergraduate students. The same goes for learning assistant positions. As an undergrad in research, you are not just helping a graduate student with their project—you have your own—which really accelerates your growth into an independent researcher. As a learning assistant, you gain valuable teaching and mentoring experience in a role that might instead be held by a graduate student at a larger university. These were some of my most memorable experiences at Muhlenberg, and I would highly recommend that any new chemistry student get involved in one or both of these programs. Get involved in research early if you can—going into graduate school or an industry career with several years of research already under your belt is a huge advantage.
And instructors like Professor of Chemistry Joseph Keane provided the guidance needed to create a strong foundation in the field…
My Muhlenberg research advisor, Professor Keane, did a phenomenal job preparing me for graduate school by teaching me important lab techniques, refining my technical writing skills and providing plenty of opportunities to present my research both formally and informally. His mentoring has been instrumental in my life and gave me the tools and the confidence to excel in my graduate research lab.
Fromel learned a great deal in the classroom, with one course in particular opening her up to what was possible in the field of chemistry…
The course that had the biggest impact on me was organic chemistry. This [branch] of chemistry was so different from what I had seen in general chemistry and was a lot of fun to learn. I enjoyed this course so much that I served as an organic chemistry learning assistant the next two years, which was a very exciting and rewarding experience.
But it was during a junior year summer internship at Boston-based Vertex Pharmaceuticals that opened Fromel's eyes to a new facet of chemistry she hadn't considered before…
During this time, I gained new research experiences and learned techniques outside my normal Muhlenberg research project, which focused on an inorganic chemistry process with the goal of producing low-cost starting materials for pharmaceutical synthesis. While working at Vertex Pharmaceuticals, I also had the opportunity to interact with individuals across departments at the company and saw a new side of the chemistry field. This is how I became interested in chemical engineering, which brought me to where I am today. I think seeking supplemental research experiences outside Muhlenberg is also extremely valuable in determining what you want to do. Whether these be research experiences for undergraduate programs or industry internships, they can help you to become a more well-rounded researcher and just might spark an interest you otherwise would not have realized.
For Fromel, chemistry became a livelihood, but she believes it's much more than that…
Chemistry is a fantastic major—it teaches you not only the [fundamentals of the discipline] but also how to think critically, approach complex problems and apply course concepts in hands-on lab environments. Take this opportunity to really refine those skills and become a great scientist and problem-solver in general. Your hard work will pay off whether you pursue a career in chemistry or in a different discipline—the skills you learn will travel with you wherever you go!