How Students From Rwanda and Liberia Have Found a Home at Muhlenberg
Since 2014, the College has partnered with an organization that identifies exceptional women from post-conflict countries and supports them as they pursue a U.S. education.
By: Meghan Kita Tuesday, July 27, 2021 09:16 AM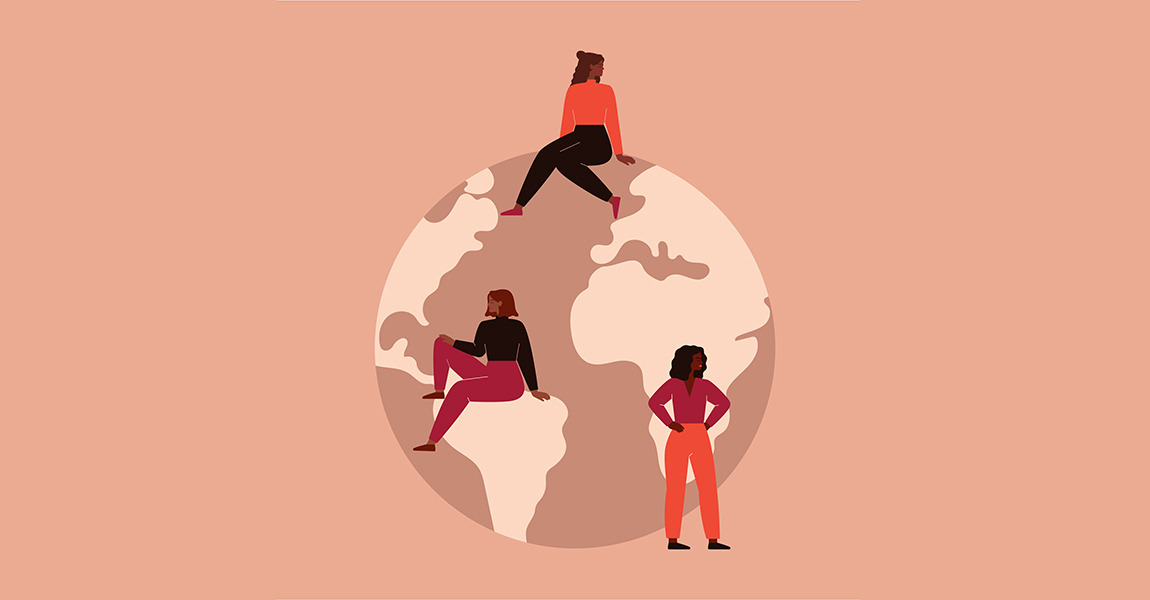 Illustration by iStock
Starting about 10 years ago, Muhlenberg made a concerted effort to recruit outside the U.S. The number of international students on campus peaked at 90 in the 2017-2018 academic year, up from only five a decade before. A small but critical part of this international recruitment effort began in 2014. That's when the College signed on as a partner with the SHE-CAN coalition, which supports extraordinary women from post-conflict countries as they pursue a college education in the United States.
"Everything we do with international recruitment is done with the goal of creating a more global learning experience for all students at Muhlenberg," says Mandi Haines, director of international recruitment. "Being partners with SHE-CAN gives us the opportunity not just to expand the diversity of our international student population but also to give a full scholarship to a student for whom that's really life-changing."
SHE-CAN, which stands for Supporting Her Education Changes a Nation, has sent scholars to Muhlenberg from Rwanda and Liberia. The coalition first recruits a class of scholars via a rigorous application process. Once those scholars have been selected, they take a gap year to study for and take standardized tests and otherwise prepare to apply to U.S. colleges. SHE-CAN also provides a group of mentors to help each scholar.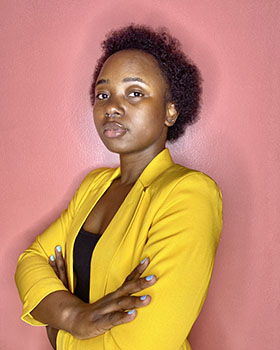 "My mentors helped me throughout my application process," says Jenny Maxwell '24 (pictured, right), a Liberian scholar who plans to major in business administration with minors in innovation & entrepreneurship and women's & gender studies. "They have been a real support system, even before I moved to the U.S. They are not just there for academic support but for moral and emotional support as well."
The mentors and the SHE-CAN staff also help guide scholars toward a partner institution where they'd be a good fit. (Muhlenberg is one of 13 U.S. institutions accepting SHE-CAN scholars.) For Rwandan scholar Eunice Umubyeyi '21, a computer science major with minors in French & francophone studies and statistics, that was Muhlenberg.
"I'm not great with big group settings. I want to know people on a personal level," she says. "Muhlenberg was perfect for that. The small class sizes were amazing. I thrived in that environment. I learned people's names; they learned mine. I felt valued and seen."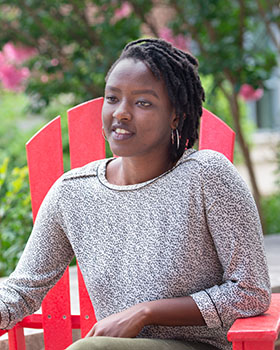 Muhlenberg offers a full cost of attendance scholarship to one SHE-CAN scholar each year, the only full scholarship the College grants to international students. Umubyeyi (pictured, right) says that the College went above and beyond to support her, financially and otherwise, during her time as a student. For example, when she wanted to participate in a short-term study abroad opportunity her sophomore year, the Office of International Student Support—and specifically its director, Tom Janis—helped rally various offices and funding sources to make it happen. She was allowed to stay on campus during winter break, something not all other scholars in her cohort attending other institutions were allowed to do, and she graduated completely debt-free.
"The international students' office is, wow—10 out of 10," she says. "Tom really fought for me to have different experiences and feel supported."
Haines says that the College values its relationship with SHE-CAN because its mission aligns so well with Muhlenberg's.
"SHE-CAN does a lot more than partner with institutions and bring us great students to enroll," Haines says. "They are helping create strong women leaders who will impact their communities and home countries. It's a privilege for Muhlenberg to have a role in that."