Muhlenberg College Announces Faculty Promotions
Five members of the faculty were recently promoted to full professorship by the Board of Trustees on the recommendation of Interim President Kathy Harring.
By: Kristine Yahna Todaro Thursday, May 28, 2020 10:07 AM
These faculty members were promoted from associate professor to professor.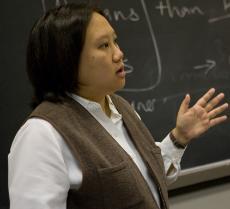 Janine Chi, Professor of Sociology
Chi's research and teaching interests include nationalism and identity politics, diasporic and transnational communities, sociology of development and social change, comparative-historical sociology and the sociology of food. Her recent interests have involved the application of contemporary theories of citizenship and cosmopolitanism to study recent restaurant industry and food trends.
Courses taught include Inequality and Power, Imagined Communities, American Ethnic Diversity and Sociology of Food.
Chi earned her M.A. and Ph.D. from the University of Washington, Seattle, and her B.S. from the University of Iowa.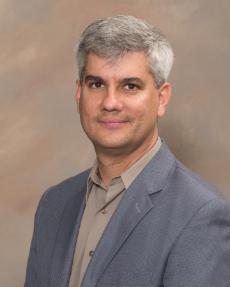 William Gruen, Professor of Religion Studies
Gruen's current research project examines how ancient Christianities are misremembered and misinterpreted in source texts from antiquity.
His courses cover two overlapping concerns: The academic study of Christianity, including its origins in the ancient world, and how we study human culture and religion. Courses taught include Animals & the Sacred, Christian Traditions and New Religious Movements.
Gruen received his Ph.D. from the University of Pennsylvania, his M.A. from the University of Cincinnati and his B.A. from the University of Kentucky.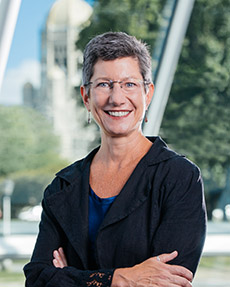 Margo Hobbs, Professor of Art
In her art history courses, Hobbs focuses student attention on primary sources: the art itself. Like all primary sources, artworks demand to be analyzed and interpreted. She is motivated as a teacher by helping students think, talk and write about the complex relationship between art and its history. Courses taught include the introductory Art History Surveys, African-American Art, Modern Art, and Contemporary Art.
Her research focuses on feminist art and artists of the 1970s and 1980s, with a particular interest in representing identity in photography. She has also written about graffiti art and public sculpture.
Hobbs earned her Ph.D. from Northwestern University, her M.A. from School of the Art Institute of Chicago and her B.A. from St. John's College.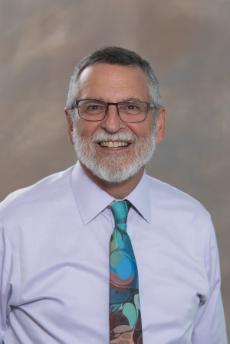 Roland Kushner, Professor of Business Administration
Kushner's teaching addresses management practices and decision-making in various enterprise settings, from small family businesses to global publicly traded firms. Along with in-class study of fundamental issues, his business courses feature hands-on observation and practice of management through shadowing and consulting projects in real-world organizations. Courses taught include Arts Administration, Business & Society, Nonprofit Management and the final Business Strategy and Policy course for business seniors, which integrates the various strands of business techniques from earlier years' courses.
Kushner's scholarship falls into two main areas: The economics and management of arts and culture—for many years, he co-authored the National Arts Index for Americans for the Arts and prepared reports on the role of the arts and culture in communities and the nation—and strategic management in nonprofit organizations, with particular attention to the measurement of organizational performance and capacity.
He received his Ph.D. and M.B.A. from Lehigh University and his B.A. from Carleton University, Canada.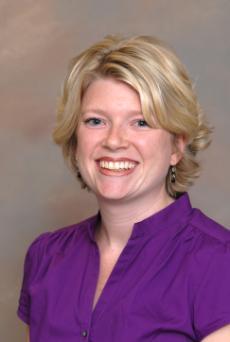 Katherine Richmond, Professor of Psychology
Richmond teaches courses that bring together her passion for psychology, women & gender studies, mental health, and social justice. These include Psychology of Women, Multicultural Psychology, Inside/Out Prison Exchange, Introduction to Women & Gender Studies, Research Methods, Abnormal Psychology and Clinical Case Studies.
Her scholarship focuses on multicultural psychology, gender ideology, men and masculinity, transgender resiliency, feminist therapy and trauma. She also explores how social identity factors, such as gender or race, influence mental health outcomes. Her undergraduate textbook, Psychology of Women & Gender, was published by W. W. Norton in November 2018.
Richmond earned her Ph.D. from Nova Southeastern University and her B.A. from Muhlenberg College.
About Muhlenberg College
Founded in 1848, Muhlenberg is a highly selective, private, four-year residential, liberal arts college offering baccalaureate and graduate programs. With an enrollment of approximately 2,200 students, Muhlenberg College is dedicated to shaping creative, compassionate, collaborative leaders through rigorous academic programs in the arts, humanities, natural sciences and social sciences; selected preprofessional programs, including accounting, business, education and public health; and progressive workforce-focused post-baccalaureate certificates and master's degrees. Located in Allentown, Pennsylvania, approximately 90 miles west of New York City, Muhlenberg is a member of the Centennial Conference, competing in 22 varsity sports. Muhlenberg is affiliated with the Evangelical Lutheran Church in America.