Muhlenberg Announces Appointment of Ira Blum '10 as Director of Leffell Center for Jewish Student Life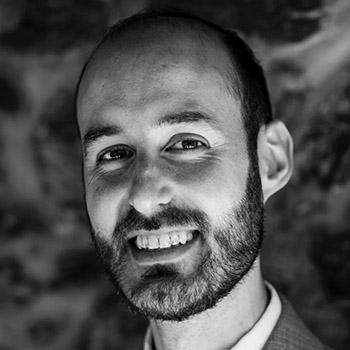 As director, Blum will support an engaging Jewish life experience at Muhlenberg and oversee all aspects of Jewish religious and cultural life on campus.
By: Bill Keller Friday, November 6, 2020 01:44 PM
Blum is a 2010 graduate of Muhlenberg College, where he graduated magna cum laude with a degree in religion studies. He earned masters degrees in Jewish professional leadership and Near Eastern and Judaic studies from Brandeis University.
Since 2013, Blum has served as director of Jewish student life and later as assistant director at Penn Hillel at the University of Pennsylvania. There, he worked with hundreds of students, faculty, staff and community members each semester. His responsibilities included the supervision and development of student leadership opportunities; interfaith fellowship programs; international educational travel; and social justice and engagement efforts.
Blum has completed several fellowships, including the Hillel Fundraising Intensive: The Art & Science of Individual Giving; the Hillel Debra S. and Joseph S. Weinberg ACCELERATE Executive Training Program; and the Shalom Hartman Institute Fellowship for Campus Professionals.
"I believe that the spark [in Jewish student life] really comes from students—their motivations, their passions, their interests, what they're struggling with, what they're thinking deeply about. I believe that students must be empowered to pursue their own Jewish experiences and to build their Jewish identities," says Blum. "I think back so fondly to my experience as an undergraduate at Muhlenberg. So much of who I am today was shaped by those years of my life and the relationships that I built, the learning that took place with professors and staff—including the extraordinary leadership and mentoring I received from former Hillel Director Patti Mittleman—and the sense of community that I came to appreciate. It feels very meaningful to be coming back home."
"Ira stood out among the candidates for Director of the Leffell Center. He has years of experience of Hillel work, especially in outreach and social justice. He has a great presence in conversation, and he can relate to and connect with students, faculty and staff," says Associate Professor of History Mark Stein, who served on the search committee that recommended Blum. "Being a Muhlenberg alum only adds to his stellar qualities. It will be exciting to have him back on campus."
As director of the Leffell Center for Jewish Student Life, Blum will oversee all aspects of Jewish religious and cultural life at Muhlenberg and build a strategy for engaging Muhlenberg's Jewish students. In that role, he will work closely with the College's admissions team to recruit incoming students and work with other College offices to connect and nurture relationships with parents, alumni and external partners. Blum will serve as a member of the College's chaplain's senior team.
Blum will begin meeting with members of the Muhlenberg campus community virtually this fall, including making connections during November's family weekend. He will begin his work full-time at Muhlenberg in January 2021.