The Gift of Lab
A willingness to cold-email scientists he admires landed James Silva '19 his first research gig at Columbia University and ultimately brought him to Muhlenberg.
By: Meghan Kita Monday, March 11, 2019 11:48 AM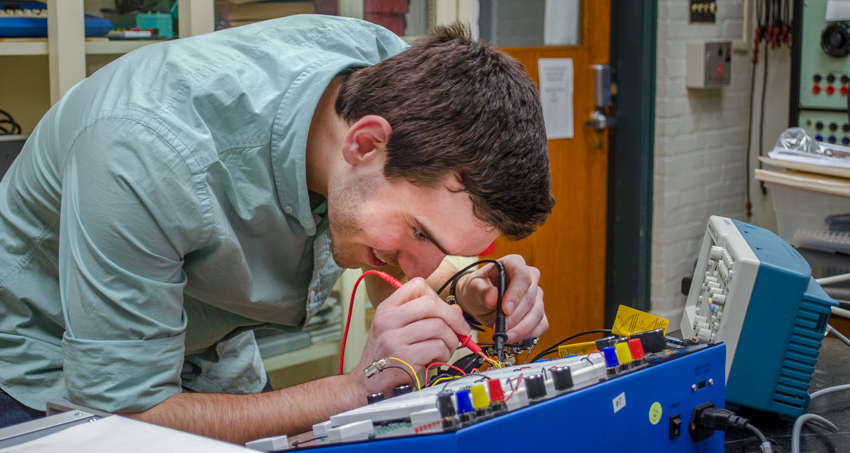 James Silva '19 works in the lab of Associate Professor and Chair of Physics Brett Fadem. Photo by Sammi Singman '20.
James Silva '19, a mathematics and physics double major, got his first taste of scientific research at Columbia University...when he was 15. A high school teacher had encouraged his class to read published papers and reach out to scientists doing interesting work. Silva, who was interested in dark matter—a theoretical form of matter that may make up the bulk of the universe—did some Googling and fired off an email to Columbia's Elena Aprile. Aprile, unbeknownst to Silva, was one of the best-known dark-matter researchers in the world.
"Almost every single professor I've had has known about the woman I emailed directly," he says.
Another researcher at Aprile's lab wrote back and invited him in. Silva learned a suitable-for-his-knowledge-level task—testing the lab's capacitors—and did it throughout the summer.
When it came time to settle on a college, Silva reached out to Muhlenberg's Associate Professor and Chair of Physics Brett Fadem. He'd read about Fadem's research, including his work with Muhlenberg students at Brookhaven National Laboratory through the PHENIX and sPHENIX collaborations, and he wanted to learn more.
"A common thread for me is just sending emails and seeing what happens," Silva says.
What happened was: Fadem invited Silva to visit his lab in Trumbower Hall. That experience, plus the opportunity to do research at Brookhaven, inspired Silva to choose Muhlenberg. The following summer, he was part of Fadem's student team at Brookhaven. That fall, he went with Fadem and the other student researchers to present their findings at the Division of Nuclear Physics Conference in Vancouver. At the conference, he met a professor from the Massachusetts Institute of Technology (MIT) whose colleague was looking for someone who could use Geant4, a particle physics simulation toolkit, to work in his lab the following summer. Silva had learned Geant4 while doing on-campus research with Fadem as a first-year student.
"It's a very hard skill for undergrads to gain because it involves a tremendous amount of physics, C++ and statistics and simulation knowledge," Silva says. "It takes a lot of patience to help someone build those skills."
The MIT research, which Silva is still involved in, has to do with neutrinos, tiny particles that move almost at the speed of light. They're hard for physicists to study because of the difficulty detecting electrically neutral particles and the ease with which they can be confused with low energy neutron signals. His role has been to simulate different ways to shield the lab's detector from neutrons. He describes the work as "on the cutting edge of neutrino physics research," and he credits his Muhlenberg mentor with helping him get there.
"I owe a tremendous amount to Professor Fadem with his patience, compassion and tutelage being integral in my development as a student, researcher and person," Silva says.
Fadem has high praise for Silva, too: "James is a lot of fun to work with because he's incredibly enthusiastic. Every time you pose an idea to him, he's keen to get started and he's got a lot of energy. He's got an extremely positive attitude and he's willing to learn new things."
As graduation approaches, Silva is hoping to soon learn another new thing: what it's like to hold a full-time job. He eventually wants to continue his education, but first, he's interested in spending some time in the workforce. He'd like to find a role in the artificial intelligence field as a machine learning engineer.
"I have a lot of research skills and I have a lot of academic skills," Silva says. "But working in a workplace, and having to meet deadlines not just because of a grade but because that's what the company needs to succeed, changes how you work on things."