The Art of Entrepreneurship
Elmer Moore '99 brings his creative background to the world of business.
By: Jennifer Posh Friday, August 30, 2019 09:58 AM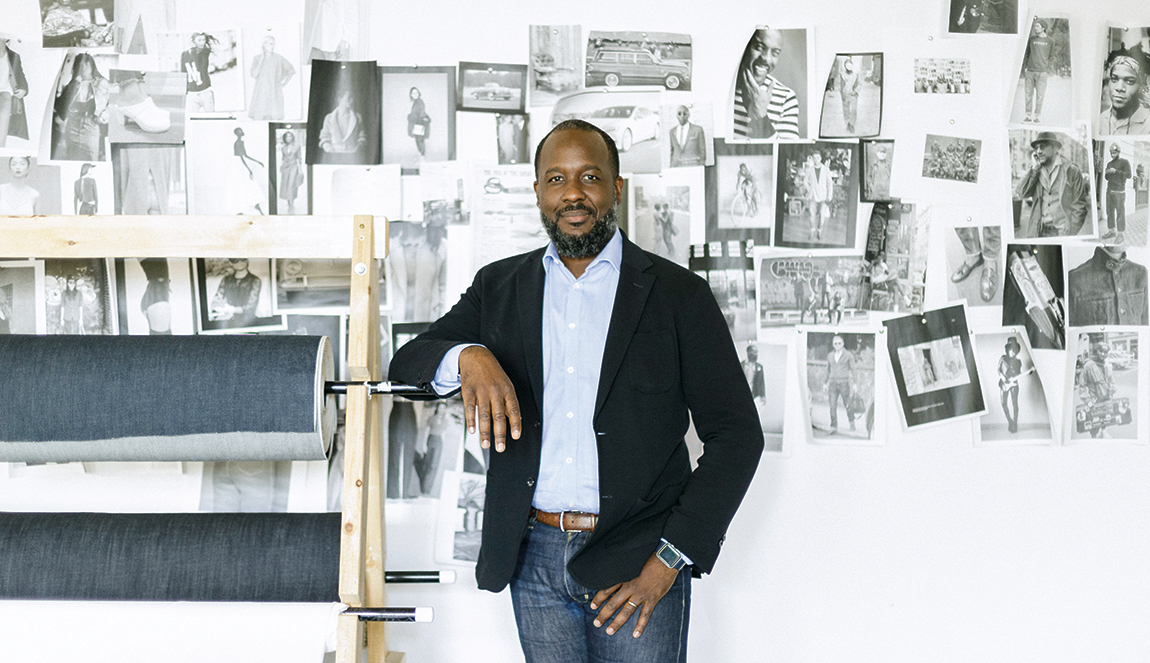 Elmer Moore '99 is pictured in the factory space for his business, Milwaukee Denim Co. His personal entrepreneurial experience helps inform his teaching at Marquette University and his work at Scale Up Milwaukee, which helps businesses accelerate their growth. Photos by Sara Stathas.
In a downtown Milwaukee coffee shop inside a renovated warehouse, Elmer Moore '99 greets the baristas with a brilliant smile. He exchanges handshakes and fistbumps with other regulars before settling in. He speaks with boundless energy and enthusiasm; he asks questions and really listens to the answers. Moore, who was an art major and dance minor at Muhlenberg, has dedicated his life to empowering people to realize their passions. Moore serves as executive director of Scale Up Milwaukee, an initiative of the Greater Milwaukee Committee that helps businesses accelerate their growth through workshops, training and connecting entrepreneurs with resources to help them thrive. In addition, he teaches entrepreneurship in a hands-on workshop at Marquette University.
"We talk about entrepreneurship like it's mostly business, but that's not the hard part," Moore says. It isn't just about building your business or product—it's about building confidence. To him, entrepreneurship is an act of creation and, more than that, a work of art. He cites St. Thomas Aquinas' definition of art, "the right making of a thing to be made," as something that's guided him throughout his career.
He got involved with Scale Up Milwaukee in mid-2014. Not long before, he was on a plane when a brand concept came to him—"Milwaukee Denim"—seemingly out of the blue (jeans). Although he didn't have a background in fashion design, he wasn't a stranger to the world of apparel: A job as director of business development for the men's shoe brand Allen Edmonds was what brought him to Milwaukee the previous year.
He figured he would play with the concept "until I leave [the city] or meet an insurmountable obstacle." He did a little research and sought opinions from friends, sold an introductory product and debated internally if the business was worth pursuing. It was when he began teaching Marquette's New Venture Creation course two years later that he finally committed to making it happen.
"I had a 'come to Jesus' moment," Moore says. "How can I teach this if I'm not doing it?" It was time to bring his business to life and "just go for it." In 2017, he found a factory space and began production. Thus began Milwaukee Denim Co., a company committed to producing premium denim apparel and accessories that are well-made, beautiful and a little bit gritty—just like the city the brand is named for.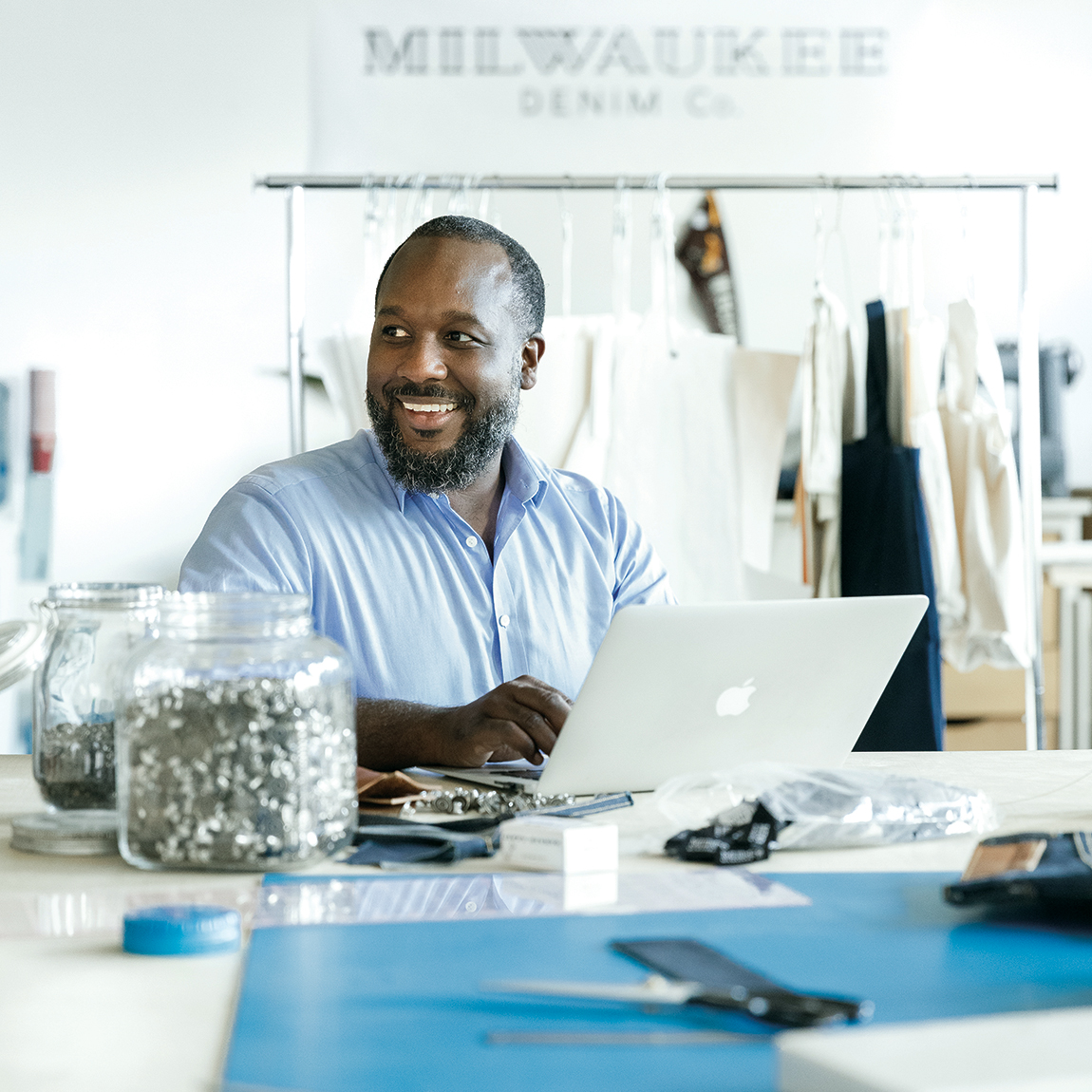 Right now, the company sells one style each of men's and women's jeans and five accessories via its website. Moore is currently working on fundraising and streamlining the production process to better appeal to wholesalers: "We thought it was going to be hard to sell the stuff and easy to make it," he says, when the reality has been the other way around.
Moore appreciates how Milwaukee Denim, his teaching and his work at Scale Up Milwaukee come together under one banner. "I'm one Elmer all the time," he says. "I'm doing one thing three ways."
Moore also connected art and entrepreneurship while at Muhlenberg. During his sophomore year, he and some friends started their own comedy troupe, Uninvited Guests. They were hired to perform for other students at Muhlenberg and traveled for shows at other colleges. In retrospect, it was what Moore described as the "entrepreneurial dream": getting paid to perform when "we would have happily done it because they let us."
Although the journey that brought him to entrepreneurship was a winding one—he worked in higher education for seven years before earning his MBA at Columbia University—he's always been most energized by the desire to create, whatever form it takes, and to give others the confidence and tools to do the same.
"Entrepreneurship is bigger than business," Moore says. It's about capitalizing on yourself and your knowledge, and finding the confidence to know that no one knows your venture better than you do. There's a propensity to always look to the next milestone as a marker of success in entrepreneurship: getting that big investor, selling a multi-million-dollar venture. But Moore sees it a different way: "Every day that your thing exists should be celebrated."