Redistricting Town Hall Explores Gerrymandering in Pennsylvania
Panelists discussed the Commonwealth's troubled history as home to some of the nation's most obviously partisan-drawn districts and offered hope for future change.
By: Bill Keller Wednesday, February 27, 2019 08:30 AM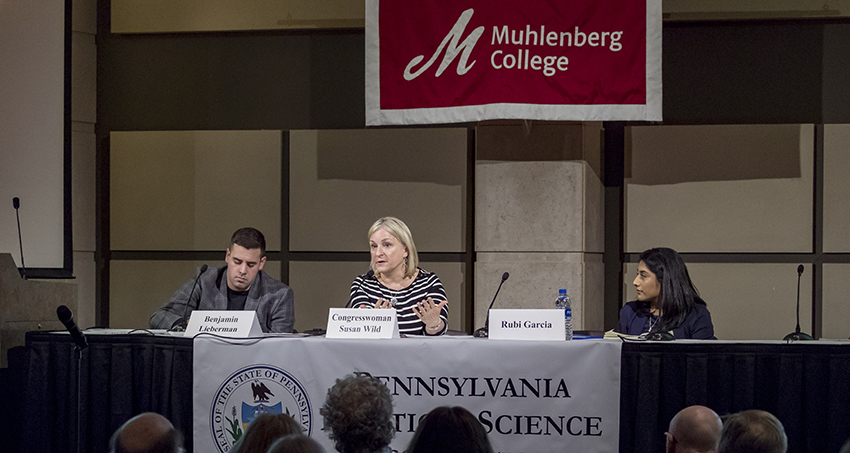 Muhlenberg student Benjamin Lieberman '19 joins Congresswoman Susan Wild and Cedar Crest student Rubi Garcia during the College's recent Redistricting Town Hall.
For decades, Pennsylvania has ranked as one of the least fair states in terms of legislative district maps. Biased districting practices, known as gerrymandering, are the result of partisan politics and point to a lack of accountability for the politicians who draw district borders.
So who was to blame? Historically, offenders spanned both Republican and Democratic party lines. Rather than relying on statistical data, lawmakers repeatedly engaged in "sweetheart gerrymandering" that resulted in districts that remained relatively safe for incumbent officials, providing stability and protection for both major parties. The result was that few races could truly be contested, and close elections became exceedingly unlikely over the years.
On February 21, a series of panels in Miller Forum explored the impact redistricting has had in Pennsylvania. The event, broadcast live, included participants from more than a dozen colleges and universities across the state, who explored how redistricting impacted their own regions.
In Pennsylvania, legislators have the power to design district maps, based on census data, every 10 years. A majority in the state congress (often coinciding with a governor aligned with the majority party) meant that few obstacles prevented the design of maps that favored the party in power. Because legislative regions could be designed without significant oversight, districts were often designed in such a way that the outcome of elections—notwithstanding an unusually overwhelming voter turnout—could be considered a surety. The most recently drawn map, created after the 2010 census, skewed heavily Republican.
"Pennsylvania has such a beautiful history in the fabric of American history and politics—but our voting experience by any metric is subpar," said Chris Borick, professor of political science and one of the event's panelists. "The juxtaposition is particularly problematic and troubling in a place that is often considered the birthplace of American democracy."
Until 2018, maps showed districts that stretched across portions of several counties, occasionally even resulting in non-contiguous district lines, meaning districts would sometimes span non-adjacent regions—an illegal practice in violation of the state constitution.
Borick was joined on the first panel by Carol Kuniholm, Fair Districts Pennsylvania Chair, Jill Greene, Executive Director of the Pennsylvania League of Women Voters and Amanda Holt, a Lehigh County Commissioner who now sits on Governor Tom Wolf's Redistricting Reform Commission.
Holt made headlines in 2012 when she brought suit against the Commonwealth of Pennsylvania for the district maps designed in 2011. After researching the state's constitution, she successfully argued that a provision was being ignored—namely that no counties, towns, boroughs or wards should be divided among legislative districts unless absolutely necessary.
But lawmakers' efforts to redraw the districts to meet Pennsylvania Supreme Court standards fell short in the eyes of Holt and others, who argued that not enough was being done to adhere to a measurable standard of fairness. Holt argued without that measurable standard, legislators can't be held accountable for the districts they design. And so 2018 brought yet another round of redistricting, resulting in a much simpler and contiguous map for the nation's midterm elections.
Pennsylvania is far from the only state that allows legislators to draw district maps, but a recent study by the Electoral Integrity Project, a joint effort by Harvard and Sydney Universities, placed the Commonwealth among the worst offenders in the nation in terms of the lopsided results of the drawing process.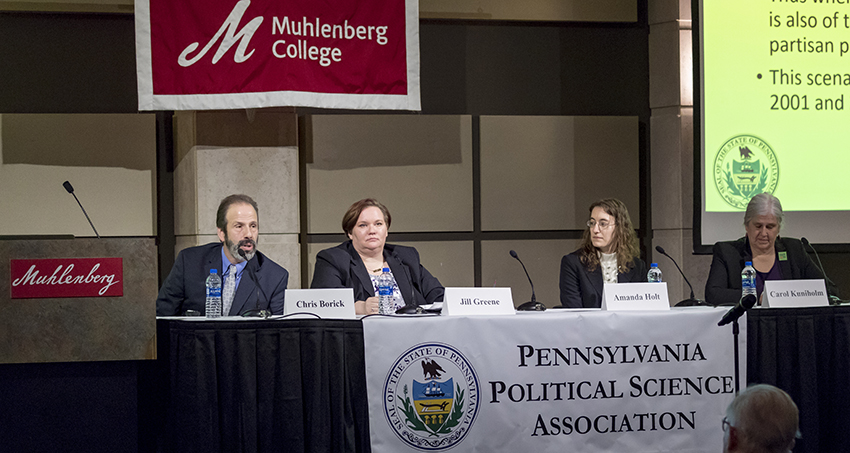 "Gerrymandering is often presented as red against blue, one against another. But political parties are the least important factor," said Carol Kuniholm. "Gerrymandering is about people and about policy. If your legislator is in a safe district, he can ignore you completely."
The second panel brought together Congresswoman Susan Wild, the newly elected representative of Pennsylvania's seventh district, Muhlenberg student Benjamin Lieberman '19 and Rubi Garcia, a senior political science and global studies major at neighboring Cedar Crest College.
Lieberman, a finance and mathematics major, conducted research in 2017 with James Russell, assistant professor of mathematics. Using census and voter registration data, they explored Pennsylvania's districts and used math to randomly draw new district lines that met the state constitution's standards. Their computer model, run thousands of times, continued to suggest the previous map was partisan and flawed.
Wild experienced the redistricting process perhaps more directly than any other federal legislator. She had initially announced her intent to run for the then-15th district before the 2018 maps were announced. When they were, she also entered the race for the newly drawn 7th district. The 2018 election results saw her briefly represent the misshapen and irregular 15th before assuming her current position as representative for the more contiguous 7th. The midterm election results, according to Wild, at eight Democrats and eight Republicans, more accurately portrays the political makeup of Pennsylvania's swing electorate. (Previously, Republicans controlled 13 of 18 districts.)
"I welcome the idea of redrawing these maps. I think we need to do it by way of independent commission," said Wild. "I don't think anybody with political aspirations or somebody in politics now should have anything to do with how those districts are drawn."
Student panelist Rubi Garcia of Cedar Crest College recently participated in a simulation while abroad in Moscow. When discussing how voting districts are structured with scholars from Bahrain, Romania and Spain, the other students expressed disbelief at the district-drawing process in the United States. Both Garcia and Lieberman acknowledged that, for their peers, resolving issues around unfair districts could go a long way towards helping young voters feel that their vote can actually make a difference.
In closing remarks, the panelists acknowledged that a step in the right direction doesn't mean the work is done. After all, the 2020 census means that legislators will debut new maps in 2021.
"Redistricting reform is not a magic bullet," said Greene. "It's the first thing we need to do to get to the other things that we need to fix. We need a lot of reform to make Pennsylvania more of this democratic promise that we all think it should be."