'Love & The Law' offers a trio of musical stories on Muhlenberg Mainstage
Theatre & Dance and Music departments team up for a lively evening of opera and musical theater, April 25-28
By: Sarah Jae Leiber '19 Friday, April 12, 2019 10:54 AM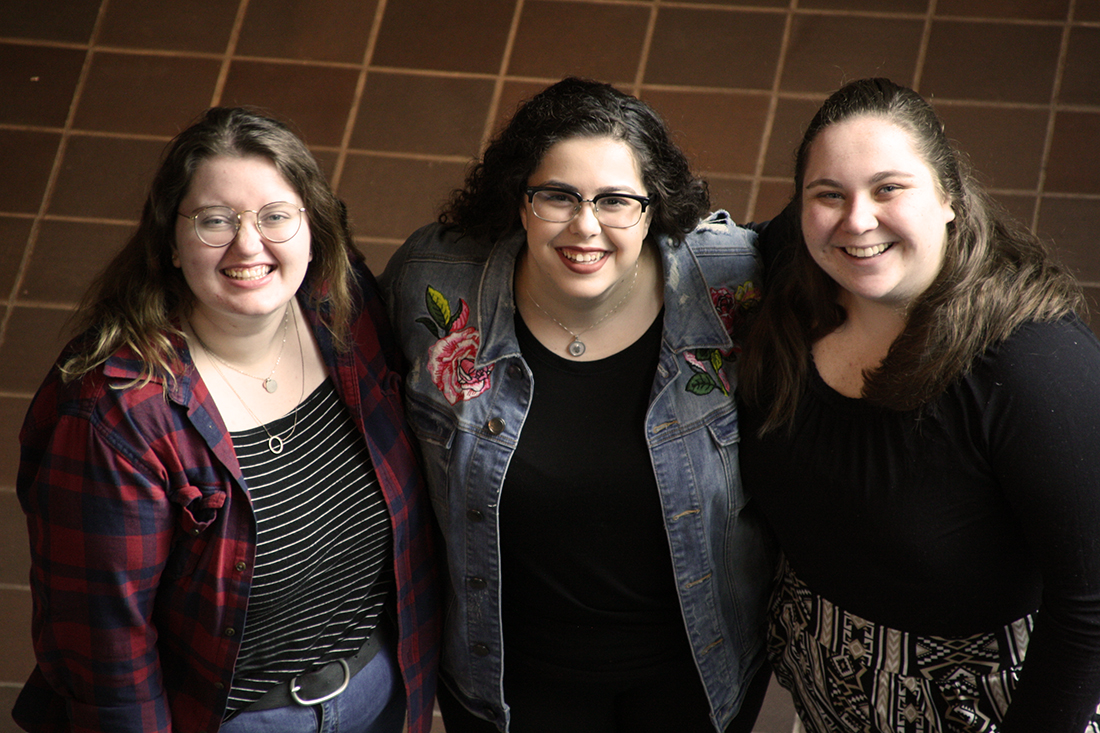 "Love & The Law" directors Jennifer Coté ("The Telephone"), Lior Algrably ("21 Chump Street") and Michaela Barczak ("Trial By Jury").
The Muhlenberg College Theatre & Dance Department and the Music Department join forces for an unprecedented collaborative event: an evening of opera and musical theatre, helmed by three talented up-and-coming directors: Muhlenberg seniors Lior Algrably, Michaela Barczak and Jennifer Coté.
Algrably will direct "21 Chump Street," a 15-minute hip-hop musical by "Hamilton" scribe Lin-Manuel Miranda; Barczak directs "Trial By Jury," an early Gilbert & Sullivan work; and Coté will helm Gian Carlo Menotti's comedic romantic operetta "The Telephone."
"Love & The Law" marks Muhlenberg's first Mainstage festival of student-directed musical theater. The show runs April 25-28 in the College's Baker Theatre.
---
"21 Chump Street" showcases "Hamilton" creator Lin-Manuel Miranda's signature sound in the heartbreaking true story of an honor-roll student, Justin, who falls madly in love with the new girl in class. He'll do anything to impress her—but she's not who she claims to be.
"It's this story of love, drugs and betrayal," says director Lior Agrably '19. "It takes you on an emotional rollercoaster, and it's only 15 minutes long."
Algrably started directing in her junior year of high school and immediately found a passion for it. At Muhlenberg, she assistant-directed "Three Bedroom" and "The Pirates of Penzance" on the Mainstage; she directed "Chump Street" as a Studio Production last fall.
"'Pirates' was very helpful for me in learning how to direct a musical," she says. "I'd never taken a course on that. Charlie is actually the one who told me, hey, you should look into directing 'Chump Street.'"
Algrably and her cast of 13 are passionate about the story they're telling—racial inequities are at the forefront of this story about police misconduct.
"We have conversations with the cast about themes in the play and what it means to them as an ensemble, the majority of whom are actors of color," she says. "We talk a lot about how Justin is only one of the students that were arrested. There were 30 other students. This story just happened to be popularized by the musical.
---
Gilbert and Sullivan's signature wit and charm are on full display in the lively one-act courtroom farce "Trial By Jury," one of the pair's first collaborations, in which a jilted young lady sues her fickle fiancé for breach of contract.
"It's like a combination of 'Judge Judy,' 'The Bachelor,' and 'Jerry Springer,'" says director Michaela Barczak, who has taken the century-and-a-half-old musical and adapted it for modern audiences.
"The fact that the show is public domain and can be messed with really excited me," she says.
Barczak and her production team have taken the 1875 comedy into the digital age by setting it on a courtroom game show, complete with contestants, a host, and a Vanna White-esque co-host. They even have an Instagram account patrons can follow: @TrialByJuryRealTV.
"We're advertising the whole festival, but also treat it like a new season of this trashy courtroom game show where you'll watch this ridiculous case of a man who is trying to break off his engagement to a woman," she says.
While the production design is elaborate and exciting, Barczak maintains her cast, led by Owen Yingling '21 and Aileen Bergin '22, will be the thing to "blow the roof off the room."
"Owen and Aileen's voices were made for this show," she says. "Working with them has been so fun and satisfying. They're always willing to try crazy things."
Barczak has been directing since high school. Her Muhlenberg credits include serving as assistant director and assistant musical director on several Mainstage productions, as well as directing a Studio and several Red Door productions. She was also the musical director of Algrably's last production of "21 Chump Street," on the Studio stage.
"This is an incredible opportunity to see the collaboration between music and theatre," she says, "and also to support these student directors who are trying to do something that's never been done here before."
---
Gian Carlo Menotti's 1946 comic operetta "The Telephone" takes a light-hearted look at love American-style. Ben wants to pop the question—but how can he get a ring on Lucy's finger when her phone won't stop ringing?
"I love this little operetta," says director Jennifer Coté '19.
Coté, who will be attending law school next year, has directed several Red Door productions at Muhlenberg, along with assisting Charles Richter on last summer's "How to Succeed in Business Without Really Trying."
"I learned a lot from Charlie about how to direct a musical," Coté says. Richter is also the artistic director of "Love & The Law."
In order to emphasize the great pool of talent available in the Muhlenberg Theatre & Dance department, "The Telephone" is double-cast. Seniors Candace Belina and Evan Plaza make up one cast, affectionately referred to as "Cevan"—sophomores Marin Diddams and Brandon Goldberg make up the "Marandon" cast.
"I feel like I'm directing two shows right now," Coté says. "Each cast really has its own personality. If you come twice, you'll see two entirely different shows."
Pianist Vincent Trovato will be onstage throughout the performance, interacting with the actors and the world of the play.
"In this world, every apartment has its own pianist," Coté says. "Vinny hangs out and has his own personality and has fun with the cast. He really helps the actors come into the music, which they perform so masterfully. And they're so funny—you'll be laughing, but you'll also be in heaven."
---
"Love & The Law" plays April 25-28. Showtimes are Thursday through Saturday at 8 p.m. and Sunday at 2 p.m. Regular admission tickets are $15. Tickets for youth and LVAIC students and staff are $8.
Tickets can be purchased online at muhlenberg.edu/theatre or by phone at 484-664-3333. Performances are in the Baker Theatre in the Trexler Pavilion for Theatre & Dance, Muhlenberg College, 2400 West Chew St., Allentown.
Founded in 1848, Muhlenberg College is a highly selective, private, four-year residential college located in Allentown, PA., approximately 90 miles west of New York City. With an undergraduate enrollment of approximately 2,200 students, Muhlenberg College is dedicated to shaping creative, compassionate, collaborative leaders through rigorous academic programs in the arts, sciences, business, education and public health. A member of the Centennial Conference, Muhlenberg competes in 22 varsity sports. Muhlenberg is affiliated with the Evangelical Lutheran Church in America.
Muhlenberg offers Bachelor of Arts degrees in theater and dance. The Princeton Review ranked Muhlenberg's theater program in the top twelve in the nation for eight years in a row, and Fiske Guide to Colleges lists both the theater and dance programs among the top small college programs in the United States. Muhlenberg is one of only eight colleges to be listed in Fiske for both theater and dance.