Creators: Noah Dach '16
Noah Dach is taking the circus to new heights.
Tuesday, November 26, 2019 08:00 AM
"Bohemia" photo by Ken Ek.
Creators is a feature of Muhlenberg Magazine where we learn about writers, performers and other artists in our College community. This article was originally published in the Fall 2019 issue of Muhlenberg Magazine.


After his first year at Muhlenberg, Noah Dach '16, a dance major and business minor, returned home to Los Angeles and took an aerial silks class, in which students use sturdy fabric hanging from the ceiling to do acrobatic tricks. Dach signed up to face his fear of heights, and he loved it. When he returned to the College, he took the aerial class offered here and founded a circus workshop with Henry Evans '16. As Dach helped choreograph and produce circus performances as a student, interest in the discipline boomed.
After he graduated, Dach taught an advanced aerial class, aerial composition and a course that teaches circus apparatus other than silks at the College as an adjunct. For each of the last three years, Dach has created a circus show for Muhlenberg's Summer Music Theatre (MSMT); the last in the trilogy, Bohemia, closed in July. This fall, he began a master's program in dance at the California Institute of the Arts. We asked Dach about how circus at Muhlenberg evolved over his time here.
---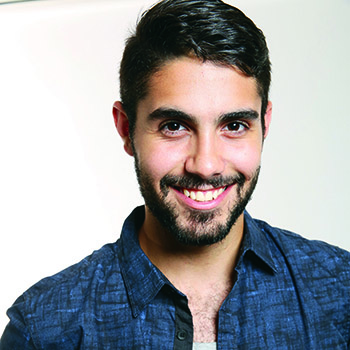 Muhlenberg Magazine When many people think "circus," they think of big-top tents and elephants, but that's not what we're talking about, is it?
Noah Dach The kind of circus we do is unique in that it has a narrative base, but it's all founded on movement. There's no dialogue, it's all movement, and that's what we tell the stories with. So anyone can understand it. If you're a young child, you'll see beautiful images and spectacle and amazing tricks. If you're an adult, you'll be able to connect with these very intense or deep-thinking emotional stories and narratives.
MM What are your MSMT circus shows about, and how do they tie together?
ND The three shows are connected through a family: The first show, Wild, is about a young boy who runs away from home and his mom and dad who go looking for him. [The second show], TAL, is the story of the mom when she was growing up and deciding what she wanted to do with her life. Finally, Bohemia is the story of dad and his group of friends in 1972 dreaming about the future. One of them wants to be an astronaut, another one wants to be a rock star and one of them just wants to fall in love. And it's the journey of where they all end up in their lives and how they stay connected.
MM What was the appeal of bringing your shows to MSMT?
ND The program is really amazing because it brings in a wide range of talents, from professionals to students at the College and alumni, for a really amazing summer of performances for the community. There was a goal I wanted to reach: to be the highest-grossing youth show for MSMT. The joke was you could never beat Seussical, [which ran in 2013]. Wild came close and then TAL did it—TAL beat Seussical.
MM Why did you decide to pursue your master's, and are you planning to continue circus in some capacity?
ND I loved teaching at Muhlenberg, but in order to be a full-time faculty member and enter into the higher education side of this work, you really need a master's. My circus work definitely won't be stopping. Cal Arts has asked me to teach a circus class. I'd like to keep creating work and to be able to provide other people with the opportunity to create work and be artists. That's the most important part of what I've done with circus at Muhlenberg. We had aerialists and dancers and actors and gymnasts, and I wanted to provide a space for them to utilize their skills.