Behind the Scenes at the NFL
During an internship with the league's Player Health and Safety Department, Melissa Klein '19 saw the breadth of the work that happens to promote safety at all levels of the sport.
By: Meghan Kita Wednesday, March 20, 2019 02:55 PM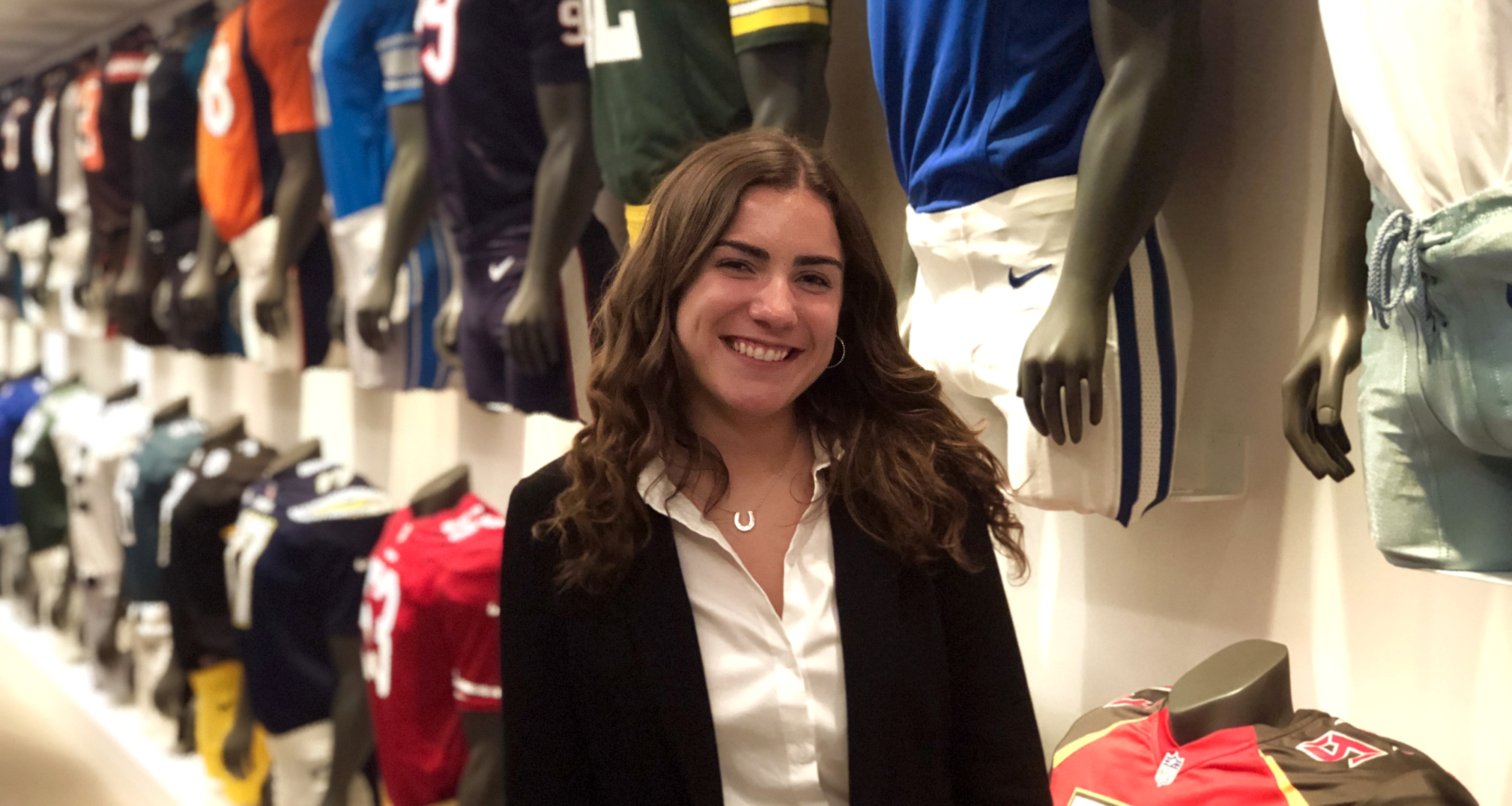 Public health major and dance minor Melissa Klein '19 interned with the NFL's Player Health and Safety Department.
The effect of head injuries on professional football players has made headlines and inspired Hollywood films (2015's Concussion) as research on the long-term complications from repeated trauma has accumulated. So when public health major and dance minor Melissa Klein '19 landed an internship with the Player Health and Safety Department at the NFL's New York City headquarters last year, she figured head injuries would be her focus.
"Concussions are the only thing anybody ever talks about, but there was so much more to it than that," Klein says.
For example, she helped keep tabs on the community programs each NFL team runs to promote total-body injury prevention in youth football players. She collaborated with the Youth Football Department at the Jets training camp to obtain and present new helmets to underprivileged children in the area. And she traveled to an NFL medical summit in Chicago, where she got to meet and hear presentations from trainers, neurotrauma consultants, epidemiologists and the NFL's chief medical officer.
One focus of the summit was the rule changes instituted in the 2018-2019 season to promote player health and safety. One altered the format of kickoff, which Klein says is the play that has historically resulted in the most injuries, often to the lower extremities. But the rule change that had fans, players and coaches up in arms was the addition of a penalty on any player who lowers his head as he goes in for a tackle.
"Lowering the head was putting players in really bad positions and causing bad injuries to the neck and spine, so the NFL penalized it," Klein says. "It was something the coaches and athletic trainers had to push on their teams a lot this year. They had to relearn the game of football."
When Klein found out she'd gotten the internship—a blend of her academic interests (in health, anatomy and kinesiology) and extracurricular interests (in the New York Giants)—she immediately shared the news with Assistant Professor and Director of Public Health Chrysan Cronin. Klein, who was in Cronin's Occupational Health class at the time, says, "I remember her being just as proud as my mom when I told her I finally got it."
"Melissa's internship with the NFL provided her with an opportunity to actually practice what she has learned in her public health classes," Cronin says. "She was able to examine the occupational health risks associated with playing professional football and strategize ways to minimize or eliminate that risk."
Looking ahead, Klein wants to continue helping people achieve better health—whether they're professional athletes or not—possibly in a care coordinator role. Her main takeaway from her experience at the NFL? "It helped me know that I want to keep doing something that matters."