You've Got a Friend in Pennsylvania
This bond between a local couple and a senior from Vietnam shows what's possible when members of Muhlenberg's Board of Associates are able to connect with international students.
By: Meghan Kita Tuesday, October 30, 2018 01:59 PM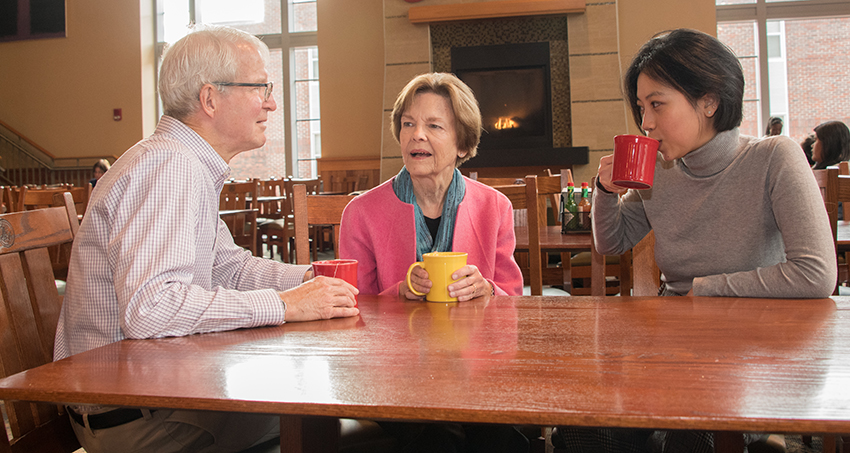 Tony and JoJo Muir struck up a friendship with Ha Anh Truong '19, an international student from Vietnam.
On an early autumn day in 2015, Ha Anh Truong '19, an economics and religion studies major from Hanoi, Vietnam, decided to go for a walk around Allentown's West End, the neighborhood that surrounds the College. As she headed down Liberty Street, admiring the just-emerging fall foliage, she noticed a man in the yard in front of his home.
"I said hi," Truong recalls. "He asked if I was a Muhlenberg student, and I said, 'Yes, I'm a freshman from Vietnam.'"
Coincidentally, the man had recently visited Vietnam with his youngest daughter.
"They had been to my city and they loved it, so we had a cool conversation about Vietnam," Truong says.
The man was Tony Muir, who has been on Muhlenberg's Board of Associates, a group of local community leaders that works closely with the College, for 20 years and is currently its president. Out of that initial meeting began a friendship that has lasted throughout Truong's time at Muhlenberg. Tony and his wife, Sara (who goes by JoJo), host Truong for holiday meals when she remains on campus. The Muirs have had her over for Christmas-tree decorating and family picnics. They've taken her to the Allentown Symphony, and to Bethlehem during the holiday season.
"As my adult children say, 'Mom and Dad adopted another daughter,'" JoJo says.
The Muirs have also welcomed Truong's friends, as well as more first-year international students, into their home.
"If you're visiting in a foreign country and you're invited into someone's home, that puts a whole new light on your experience," Tony says. "Students who come here for four years should spend time with people in the neighborhood."
The Board and the Office of International Student Services are working together to create opportunities for more of these friendships to develop. Board members and international students have a chance to meet at an annual networking Mocktail; this year's event took place earlier this month.
"The Mocktail event grows the rich connection the College has with the Board of Associates, who in turn are building positive relationships with our students," says Director of International Student Support Tom Janis. "It fosters meaningful connections for both parties."
For the Muirs, that means learning about other cultures and hearing what students from those cultures think of Muhlenberg, Allentown and the United States. For Truong, her friendship with the Muirs helped ease the homesickness she experienced during her first year.
"Coming here and finding out people actually took interest in my country, some of them even visited, and they live a few hundred feet away, that was very surprising to me," she says, adding that, when she first arrived, she was the only Muhlenberg student from Vietnam. "I feel like I have a family connection in town, and the concept of family connection is really special to me. I am an international student who used to have no other Vietnamese around me, and my entire family is back in Vietnam. They've come the closest to being my American parents here."