When Seeing Red Is a Good Thing
The Cardinal Key Society, a group of friendly, knowledgeable students, will be working to ensure Commencement goes smoothly for graduates and their guests.
By: Meghan Kita Thursday, May 17, 2018 09:25 AM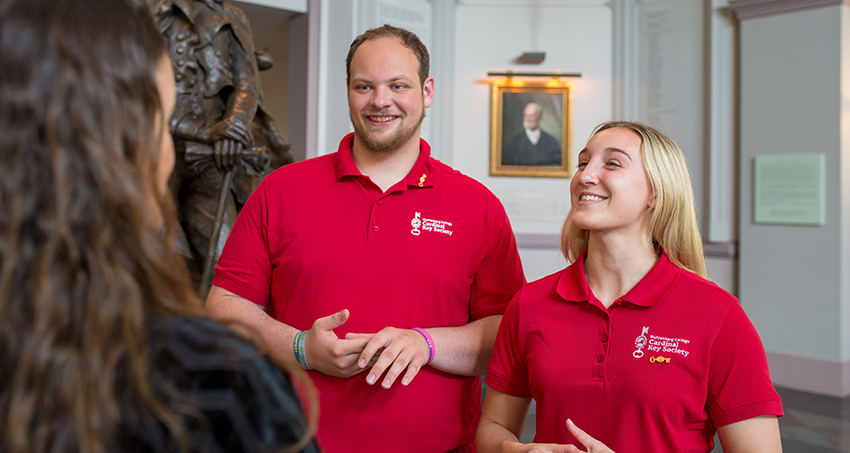 Michael Bonaddio '20 and Ashley Polera '20 are members of the Cardinal Key Society. Photo by Bill Keller.
Audience members who attended Muhlenberg's 169th Commencement, held on May 21, 2017, likely remember a pleasant, sunny morning on the College's front lawn. Ask the graduates and faculty, though, and they might recall sweating through their dark caps and gowns beneath a cloudless sky. Luckily, a special group of students—the Cardinal Key Society—were on hand to assist.
"The professors and deans were like, 'I can't get up, but I need something to drink,'" recalls Michael Bonaddio '20, a business administration and finance major who is vice president of the Cardinal Keys. "We helped get them water and made sure everyone stayed cool."
Though this year's Commencement forecast currently calls for plenty of clouds in the sky, the Cardinal Keys, an organization whose approximately 50 members help organize and staff various College events, will be working rain or shine. Whether festivities are held in Memorial Hall or on College Green, you'll find these students—dressed in bright red polos and khaki pants, or, as Michael jokes, "the Target outfit"—with smiles on their faces, ready to answer questions, give directions and help in any other way they're needed.
"They play a really important role in a lot of big campus events—we always say that Alumni Weekend and Commencement couldn't happen without them," says Emma Hamm '15, assistant director of alumni and parent engagement, co-advisor of the Cardinal Keys (with Tara Simpson '02, assistant director of alumni affairs) and a member of the group during her four years at Muhlenberg. "They are our extra arms and legs but they're also filled with knowledge."
The Cardinal Key Society dates back to 1940, when six members of the class of 1942 decided to form a group to help welcome visitors to campus. Today, the Keys' biggest events are the ones Hamm mentioned, but members are also involved in Orientation Weekend, Honors Convocation, donor dinners and various other campus events.
"We're definitely a group that the College goes to to be the best representatives of the school, to put our best foot forward and to show Muhlenberg is a great place to be," says Ashley Polera '20, an accounting and finance major who joined the Cardinal Keys her first year. "Visitors know if they look at a Key that we're a student who loves Muhlenberg and that we're there to help and offer support."
And this Friday, "every little thing people don't realize someone has to do, we'll be doing them," Michael says, "and making sure the seniors and parents enjoy their last day on campus."