"Moving Stories" Showcases Student Choreographer Work in a Nationally Acclaimed Dance Program
The Nov. 8-10 dance performances display the talent of 10 young choreographers as well as faculty choreographer Teresa VanDenend Sorge, with more than 60 dancers.
By: Ashley Veglia '21 Wednesday, November 7, 2018 11:37 AM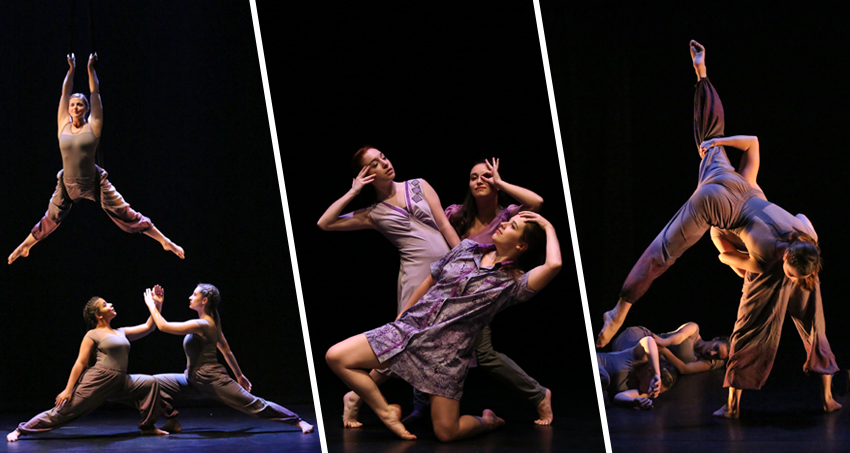 "2017 Moving Stories" images by Lady Deryn Photography
Muhlenberg College dancers tell their stories through movement, as the Muhlenberg Theatre & Dance Department presents "Moving Stories," a showcase for dance works created by emerging choreographers, November 8-10 in the College's Baker Theatre.
Artistic Director Megan Flynn says the program "celebrates the diversity of the choreographers who are crafting original dance works from source material as unique as their artistic point of view."
"These talented choreographers are finding a range of inspirations, from broad themes of love and loss to the idiosyncrasies within Italian street culture or the Zen concept of Ensō — the discipline of drawing a circle," Flynn says.
The concert will showcase the work of 10 student choreographers as well as faculty choreographer Teresa VanDenend Sorge. VanDenend Sorge is a full-time lecturer at Muhlenberg in the Department of Theatre & Dance, and currently teaches classes in Modern Dance, Dance Education and Dance and Society. She is also the director of the Muhlenberg Community Dance Center.
For this production, VanDenend Sorge will restage a dance originally created in 2014 with her collaborator Adam Kerbel. Previously, the piece has been performed in the Philadelphia Fringe Festival, the Temple Dance Alumni Showcase, inHale Performance series and at Koresh Dance Company.
"I thank my students for gracefully stepping into this dance, into this experience and into this world," VanDenend Sorge says, "and for sharing with me in the continued evolution of this work."
"Moving Stories" will feature more than 60 dancers from the department's dance program, which is among the most highly regarded programs of its kind. The concert features costume and lighting designs by the department's acclaimed professional staff.
The 11 original dances feature styles inspired by jazz, ballet, modern, hip-hop and Butoh, a Japanese dance-theatre style. The dancers investigate a variety of themes as diverse and complex as the concerts choreographers.
Choreographer Heather Downey '20 created a piece inspired by her work as a mathematician. The piece derives choreographic patterns from advanced mathematical concepts, which Downey hopes will help audiences understand her work in mathematics.
"In terms of the rehearsal process, we sometimes gather at the whiteboard for a mini math lesson so that the cast can better understand the work they are dancing in," she says. "The enthusiasm in rehearsals has led to a piece that has more of a jazzy feel, which I hope will allow the audience to feel the same joy that I feel when I do mathematics."
Choreographer Timothy Janovsky '19 derives influence for his piece from his experiences abroad in Arezzo, Italy.
"I was intrigued by the intricate hand gestures used to communicate and the ever-present European romanticism," he says. "My working is a dance-theatre exploration of character and communication set in an Italian piazza."
"Moving Stories" runs Nov. 8-10 in the Baker Theatre, Trexler Pavilion for Theatre & Dance, Muhlenberg College, 2400 Chew St., Allentown.
Performances are Thursday and Friday, Nov. 8-9, at 8 p.m.; and Saturday, Nov. 10, at 2 and 8 p.m. Tickets are $15 for adults; $8 for patrons 17 and under; and $8 for students, faculty and staff of all LVAIC colleges. For groups of 15 or more, tickets are $13.
Tickets and information are available at 484-664-3333 or muhlenberg.edu/dance.
The Mainstage performance series is produced by Muhlenberg College's acclaimed Theatre & Dance Department, The Princeton Review consistently ranks Muhlenberg's production program in the top 20 in the nation, including a No. 7 ranking in its current college guide. The Fiske Guide to Colleges lists both the theatre and dance programs among the top small college programs in the United States.
Founded in 1848, Muhlenberg is a highly selective, private, four-year residential college located in Allentown, Pa., approximately 90 miles west of New York City. With an undergraduate enrollment of approximately 2200 students, Muhlenberg College is dedicated to shaping creative, compassionate, collaborative leaders through rigorous academic programs in the arts, sciences, business, education and public health. A member of the Centennial Conference, Muhlenberg competes in 22 varsity sports. Muhlenberg is affiliated with the Evangelical Lutheran Church in America.
To arrange an interview or photo opportunity with Megan Flynn, program chair Karen Dearborn or any of the student choreographers, please contact Scott Snyder, at 484-664-3693 or scottsnyder@muhlenberg.edu.