Meet the Staff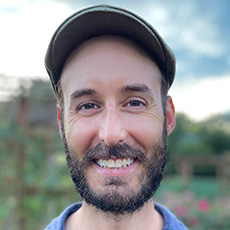 Ira Blum ✉
Director
Ira is honored and grateful to return to his alma mater at Muhlenberg College as Director of the Leffell Center for Jewish Student Life.
Over the last decade, Ira has engaged one-on-one with thousands of college students, supporting them along their paths of Jewish self-authorship. Before Muhlenberg, Ira served as Assistant Director at Penn Hillel, helping to shape a vibrant and dynamic Jewish life on campus.
Ira has helped students learn and grow in areas of diversity, equity and inclusion, alongside partners such as the Albert M. Greenfield Intercultural Center for their spring break experience focused on civil rights history and the historic relationships between Black and Jewish communities. Additionally, he has facilitated an annual fellowship called Alif Bet that brings together students who speak Hebrew and/or Arabic. He has also traveled internationally with students to Israel, Rwanda and Poland.
At Penn, Ira was certified as an Anti-Violence Advocate (AVA) from Penn Women's Center, and he completed I-CARE Training with Penn's Counseling and Psychological Services to identify the signs of distress and mental health crises that can affect college students. Ira is also recognized by Penn's LGBT Center as a "Safe Space" for lesbian, gay, bisexual, transgender, queer, questioning, ally and intersex students. Additionally, Ira has participated in Hillel's Debra S. and Joseph S. Weinberg ACCELERATE Executive Training Program, preparing top-level professionals to become Hillel directors, as well as Hillel's Fundraising Intensive. Ira has been committed to advancing the Hillel movement by mentoring colleagues, contributing to field-wide learning materials such as "Jewish Sensibilities" and teaching Springboard Social Justice and Ezra cohorts.
Ira holds dual master's degrees in Jewish Professional Leadership and Near Eastern and Judaic Studies from Brandeis University. He currently lives in Allentown with his wife, Risa, and their cat, Pumpkin. He is looking forward to returning to Muhlenberg, building new relationships with students, nurturing leadership and provoking emotional, intellectual, social and spiritual growth during critical years of young adulthood. Please click here to find a time to connect.
---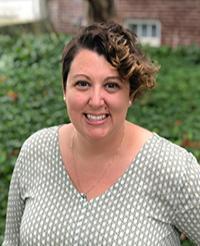 April Cunningham ✉
Assistant Director
April has more than a decade of experience working with Jewish students at Muhlenberg Hillel. She joined the staff in 2008 as the Office Manager before being promoted to Assistant Director of The Leffell Center for Jewish Student Life. April is honored to have had the privilege of engaging with so many students throughout her time at Muhlenberg. The relationships she has fostered with students, parents, alumni, and community members have been integral in creating experiences and opportunities for our Hillel as well as enriching the diversity of Jewish life on campus.
April is a proud Alvernia University alumna holding a bachelor's degree in psychology. Before coming to Muhlenberg, April worked at her alma mater, first in Institutional Research and later in Community Engagement, helping to connect college students with local youth in an afterschool program focused on outreach, mentoring, and creating a safe haven for young people.
April lives in Reading with her husband, Josh and their two children, Benjamin and Brenna. She enjoys traveling, kayaking, photography, and will never turn down chocolate. She is a swim mom, a dog mom, and the Hillel mom. Above all, April wants students to know that they always have a space in her office to come and chat, laugh, cry, or just be. "Being with students is what fills me up. It is what surpasses all of the other work that I do. Meeting a student where they are and being with them in their best and most challenging moments, humbles me to my core." Please click here to find a time to connect.
---
Anna Wolfe
Slifka-Nadich Rabbinic Intern
Anna Wolfe is thrilled to be joining the Muhlenberg Hillel staff as their Rabbinic Intern! She is a second year rabbinical student at the Jewish Theological Seminary in NYC. Anna is currently a Forman Social Change Fellow through the New Israel Fund. Over the summer, she worked at the Brandeis Collegiate Institute as a Program Fellow. In her first year at JTS, Anna interned with Hillel International, teaching their Jewish Learning Fellowship to small Hillel campuses that lacked the resources and staff to facilitate the program on their own. Prior to rabbinical school, she worked for four years as Mishkan Chicago's Family Program Coordinator, and as a founding educator at their progressive religious school, the Mensch Academy. During that time, Anna also wrote and performed her solo play, In Her Footsteps, through the Greenhouse Theater's Trellis Playwright Residency. She grew up in Milwaukee, WI and holds a BA in acting with a minor in gender studies from Columbia College Chicago. Anna is passionate about using her background in theater and the arts to bring more wonder, personalized connection, and accessibility to Jewish life. She is also passionate about mint chocolate chip ice cream.