Heide Fasnacht
Past Imperfect
November 19 - February 8

Invertigo A, 2019, 48" x 60"
Martin Art Gallery is pleased to host Heide Fasnacht for her exhibition, Past Imperfect, in the main Gallery, and adjacent Galleria display spaces at Muhlenberg College. We will hold a public reception on Tuesday November 19, from 5:30 – 7:00pm. Additionally, Fasnacht will give an artist talk on Thursday January 23rd at 7:00pm, in the Recital Hall, adjacent to the Gallery.
Heide Fasnacht has returned to painting after several decades. This return has ushered in a commensurate new area of interest: the depiction of neglected and long forgotten playgrounds. This work is more personal in nature than her previous sculptures. The bodily feelings evoked by climbing and swinging include vertigo, confusion, excitement and mastery. All of this and more are explored through the more direct and fluid medium of paint.
For this show, Fasnacht is working from scanned negatives which she digitally manipulates and prints in a cut up and collaged layer over wooden panels. She then applies paint to the surfaces, inexorably tying the two media together. Our focus alternates between photographic and painted images, allowing for the emergence of improvised spaces of playful engagement. Complicated by their dystopian monochromatic tenor, the obliterated settings have a frenetic Rube Goldbergian feel. Ladders, tightropes, swings, and cats make these dreamscapes a kind of diagram that outlines the machinery of childhood.
Fasnacht has shown an abiding interest in states of instability. These concepts have been explored through large scale drawings and sculptures, photo-based work, and prints. The aftereffects of historical occurrences (iconoclasm), risk economics (implosions) and geological processes (earthquakes & implosions) are revealed in fracturing and damage. Deforming and reforming reveals fissures: damage and contortions on the landscape, in culture, in the built environment. Fasnacht's process reflects these shifting events in both content and process. Her works have been on view at Preview Berlin, Qbox Gallery and Art Athina in Athens Greece, Kent Gallery, Socrates Sculpture Park, and the American Academy of Arts & Letters in NYC.
Since her first one-person show at P.S. 1 in 1979, Fasnacht has exhibited worldwide. She has been in exhibitions at MOMA, The Aldrich Museum for Contemporary Art, RAM Galerie, Rotterdam, Galeria Trama in Barcelona, The Worcester Art Museum and many others. She is in many permanent collections including: the MFA Boston, the Philadelphia Museum of Art, the Fogg Art Museum at Harvard University, The Walker Art Center and the Yale University Art Gallery. Fasnacht is also the recipient of numerous awards, including The Guggenheim Fellowship, several National Endowment for the Arts, New York Foundation for the Arts, The Gottlieb Foundation Grant, and two Pollock-Krasner Foundation Fellowships. She has taught at Harvard, Princeton, U Penn, UCLA, Parsons School of Design, and others. Further visiting lectures include Yale, The Whitney Museum, RISD and VCU.
The Martin Art Gallery is open Tuesday - Saturday 12 - 8pm, While works in the Galleria space can be seen anytime the Center for the Arts is open, typically 9am - 9pm
Download the press release for this exhibition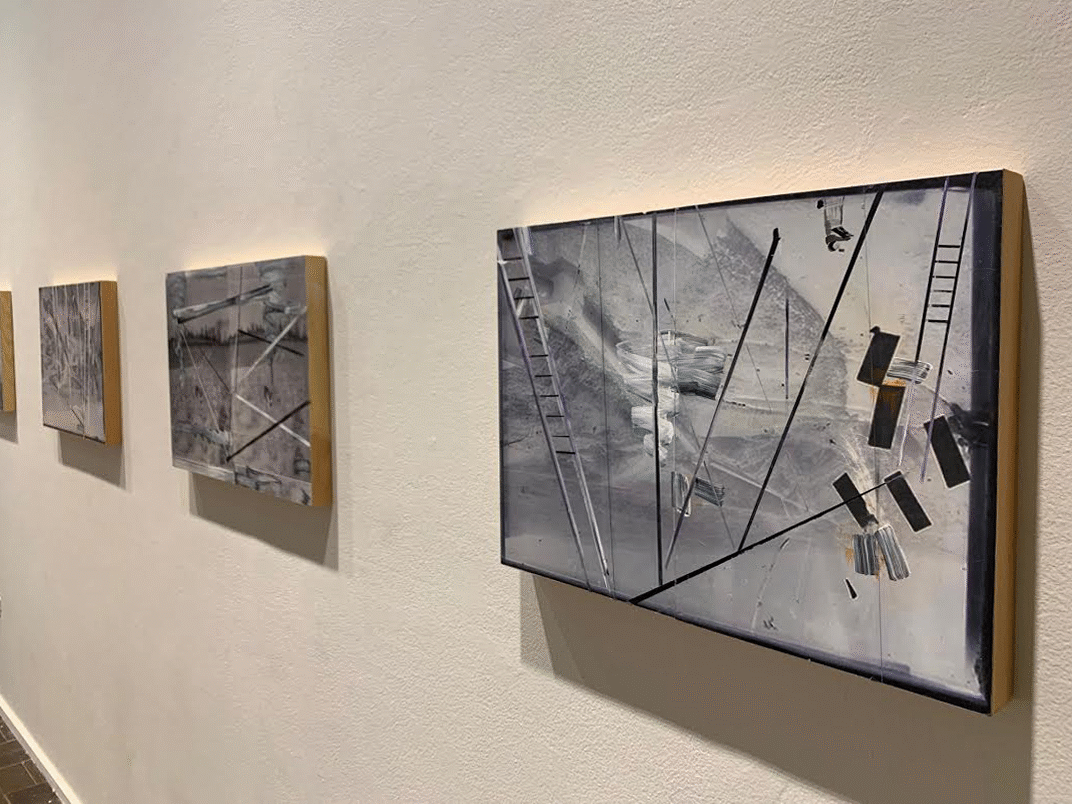 ---
Adam Diller
Project 02
November 7 – January 5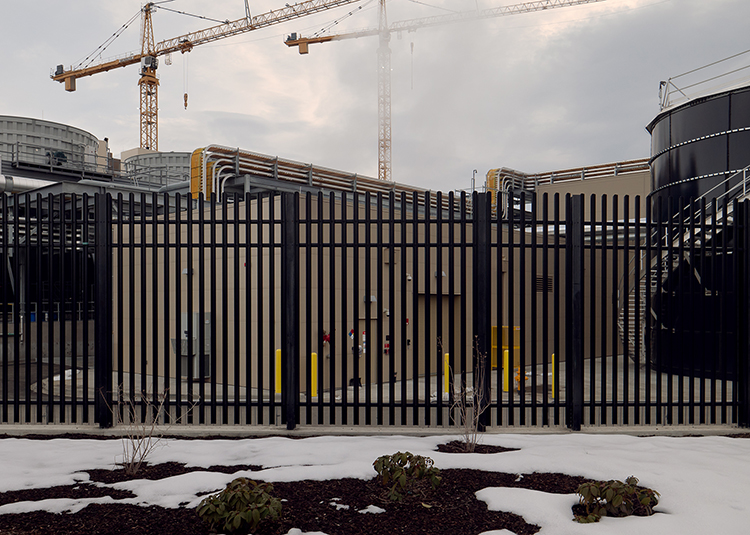 Google Data Center Fence, 2019, Archival Inkjet Print
We are pleased to host Adam Diller for his exhibition, Project 02, in the Martin Art Gallery at Muhlenberg College. We will hold a public reception on Tuesday November 19, from 5:30 – 7:00pm. Additionally, Diller will give an artist talk on Thursday November 7th at 7:00pm, in the Recital Hall, adjacent to the Gallery.
Project 02 spirals outward from the security fence at Google's data center in The Dalles, Oregon to expand our understanding of the cultural and ecological underpinnings of the internet. The photographic, video, audio, and archival media exhibition traces the entanglements of Google's first hyperscale data center (completed in 2006) with the process of settler colonialism in the Northwest. By expanding scales of time and space to consider the last 100 years in a fifteen-mile stretch of the Columbia River, the infrastructure of the internet becomes entangled with the arrival of settlers on the river, the history of dam building, and indigenous peoples' struggles for sovereignty.
Project 02 interweaves archival photographs and films from the United States Army Corps of Engineers, the Department of the Interior, and the Bonneville Power Administration with contemporary images by the artist of the Google data center, active indigenous fishing sites, The Dalles Dam, and the Columbia River. The exhibition organizes this material spatially in the gallery. Audio recordings bleed into one another, archival photographs sit next to contemporary images, and the scale and duration of video challenges experiences of space and time. The overall effect is an immersion in a disparate body of media emerging from and around the Google data center.
Inherently speculative and associative, the exhibition reconsiders the boundaries of Google's data center and expands our understanding of the decisions bound up with this massive infrastructure. More broadly, Project 02 leads us to consider long-term implications of the internet's central role in our culture. What are ways to push beyond the self-representations of the tech industry to think more deeply about this massive change in our cultural and information infrastructure? Who determines the long-term goals of this infrastructure? To whose benefit? How are data centers' needs for massive quantities of electricity and water negotiated with other uses of water and power? This project hopes to provoke questions such as these, through photographs, video, and audio related to Google's data center in The Dalles, OR.
Adam Diller's film, audio, and installation work explores human-nonhuman ecologies through a practice informed by phonography, critical geography, and landscape film. He has performed and exhibited throughout the U.S. and abroad in venues such as Big Sky Documentary Film Festival, Crossroads Film Festival (SF Moma), Anthology Film Archives, Athens International Film and Video Festival, Visible Evidence, Interfilm (Berlin), Prvi Kadar (Sarajevo), New York Independent Documentary Festival, London International Documentary Festival, Kassel Documentary Film and Video Festival, Northwest Film Forum, Montreal Underground Film Festival. He is currently a PhD candidate in Documentary Arts and Visual Research at Temple University.
Download the press release for this exhibition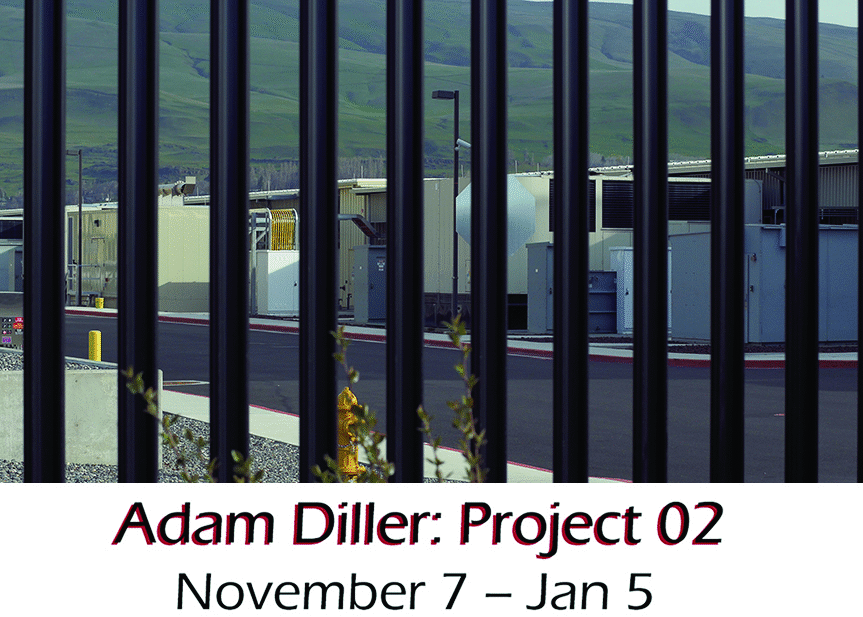 ---
Ongoing Events and Exhibitions:
Jen Huh : God's Eyes


God's Eyes by Jen Huh will remain on extended loan and is on view in the Baker Center for the Arts Galleria through 2018. Jen Huh is showing five of her God's eyes sculptures as an overhead installation adjacent to the pitched glass atrium ceiling.
---
The Martin Art Gallery is open Tuesday - Saturday 12 - 8pm, and The Martin Art Gallery's Galleria Space is open Monday - Sunday, 9:00am - 11:00pm*. All of our exhibitions and programming are free and open to the public. For further information, please call us at 484 664 3467
Artists may submit an exhibition packet or proposal for consideration to the gallery. Packets should include contact information and web portfolio link. Our gallery mailing address is: Martin Art Gallery, Muhlenberg College, 2400 Chew St., Allentown, PA 18104. Proposals will be accepted on an ongoing/rolling basis, and prospective artists will be contacted by the gallery. Please do not submit original art work as the gallery cannot be responsible for caring for or returning unsolicited submissions. Promotional materials submitted for consideration will not be returned.


All art images are the property of Martin Art Gallery, Muhlenberg College, Allentown, Pennsylvania. Any reproduction or distribution of this material without the expressed, written consent of the Martin Art Gallery is prohibited and a violation of federal law. All rights reserved.