New Director of Dance Jeffrey Peterson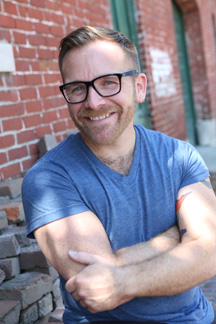 Allentown, PA (9 April 2020) — The Muhlenberg Theare & Dance Department announces that Associate Professor Jeffrey Peterson has accepted the role of Director of the Dance Program, effective July 1, 2020. Peterson returns from a year spent on sabbatical leave, pursuing creative and research interests.
"It's a privilege and an honor to take the reins as Dance Program Director," Peterson says. "I'm grateful to Jim for his work this past year, and to Karen for her tireless work developing this program into all of what it is today."
Professor James Peck, who has been serving in the role of interim director, says he will continue to work with Peterson in the coming months to ensure a smooth and successful transition. Dance Professor Karen Dearborn, the program's founding director, remains in the role of dance recruitment director, and will serve again this year as artistic director for the "Master Choreographers" concert.
"I'm thrilled that Jeffrey has agreed to accept the role of Director of Dance," Peck says. "It's an important moment for the Dance Program. It has been my privilege to serve this year as a bridge between two exceptional educators. Karen Dearborn founded the program more than 25 years ago and in that time has shepherded it into a national leader in dance education in the context of the liberal arts. She is, deservedly, an icon.
"Jeffrey, I'm sure, will also prove to be a superb leader. He will both cultivate the humane spirit that pervades the Dance Program and take it in exciting new directions. I can already see that he will lead the program with vision, integrity, and that enlivening dollop of wry wit he brings to every exchange."
---
Jeffrey Peterson is an associate professor of dance at Muhlenberg, teaching studio coursework in jazz, modern, partnering, composition, and Laban Movement Analysis. He holds an MFA in dance from New York University's Tisch School of the Arts, a BFA in dance from the University of Minnesota, Twin Cities, and a certification in Laban Movement Analysis and Bartenieff Fundamentals from Integrated Movement Studies. Early performing highlights include performing in the colorguard of the Madison Scouts Drum and Bugle Corps, as well as dance works by Chris Aiken, Zvi Gotheiner, Bill T. Jones, José Limón, Doug Varone, and Johannes Wieland.
Jeffrey began his professional dance career in national tours with JAZZDANCE by Danny Buraczeski. Since then, he has performed in the work of Clare Byrne, Edisa Weeks, and Stephan Koplowitz, and with the Minnesota Opera, among others. His choreographic work, called "poetic precision" by The Minneapolis StarTribune and "moving and heart-racingly joyous" by The St. Paul Pioneer Press, has been commissioned by Dance New Amsterdam, Movement Research at Judson Church, and Rhythmically Speaking.
Jeffrey's choreography has been seen at venues in Philadelphia, New York City, Minneapolis, Vancouver, Los Angeles, and around the Lehigh Valley. At Muhlenberg, he has choreographed for six Master Choreographers concerts, The Mystery of Edwin Drood, Chicago, and the Shakespearean adaptation O War. Mr. Peterson's ongoing creative and scholarly work includes choreographic projects as well as research on the application of Laban and Bartenieff Studies to dance, colorguard, and life.