Math & CS Activities
Pi Mu Epsilon|Robotics|Math Competition|Picnic
Pi Mu Epsilon National Mathematics Honor Society:
Founded in 1914 at Syracuse University, the purpose of PME is the promotion of scholarly activity in mathematics among the students in academic institutions. This honor society currently has over 300 chapters at colleges and universities throughout the United States. The Muhlenberg College chapter was granted a charter from the national organization in 2003. Selection to Pi Mu Epsilon is based on national standards and represents the most outstanding achievement in the mathematical sciences.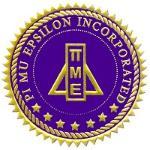 ‌
Aside from the honor itself, membership includes several benefits. Among these are a subscription to the Pi Mu Epsilon Journal, which is devoted to topics in mathematics accessible to undergraduate students, and access to travel funds for conferences.
Pi Mu Epsilon Photos
---
Robotics: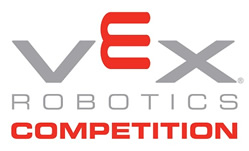 Each year students design, build, and program robots to compete in the Vex College Competition. The Competition consists of an autonomous period and a remote controlled period to score as many points as possible.
Robotics Photos & Videos:
---

Muhlenberg College hosts an Annual High School Mathematics Competition every February. Teams of three students from Lehigh Valley area high schools come to campus to compete against each other. Prizes are awarded to both the department and students from the winning and runner-up teams. A commemorative tee-shirt is given to each participating high school student. Muhlenberg College Math Club members volunteer to work the contest.
Three Contest Components:
Rapid responses to Short-Answer Questions
Written responses to longer Open-Ended Problems
Math Games
What do all the rows, columns and diagonals add up to in the Dürer's Magic Square?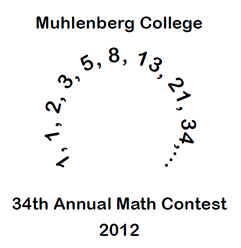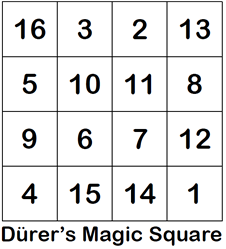 Math Contest Photos: 2013, 2012, 2011, 2010
---
Every spring the Math Club hosts the Annual Math Club Picnic. This is where Math, Computer Science, and Physics Faculty, Majors, and Minors BBQ your favorite foods and relax outside in the beautiful Allentown Rose Garden Park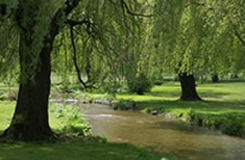 ‌.
Picnic Photos: