Community Message: In Defense of DACA
President Williams writes to the Muhlenberg community
Tuesday, September 5, 2017 01:15 PM
To the Muhlenberg Community:
Muhlenberg College is committed to a nation in which all students can pursue pathways to powerful outcomes. For more than 169 years, Muhlenberg College has worked to help students develop their future roles in advancing a better society.
In accordance with our commitment to diversity and inclusion, I have previously spoken out in support of the DACA program. Uprooting these young people would be a severe injustice and send all the wrong messages about who we are as a nation.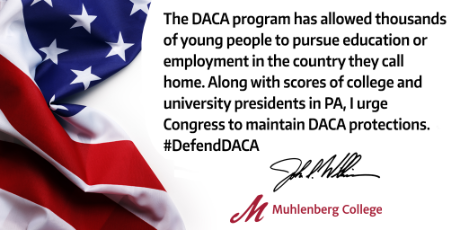 ​We add our voices to those who urge Congress to maintain DACA protections. I encourage all members of the Muhlenberg community – including students, faculty and staff – to reach out to our elected representatives in both houses of Congress to urge them to take swift legislative action to protect these young people by statute.
Sincerely,
John I. Williams, Jr
President