Senior Theatre & Dance Students Lead Production for Local Children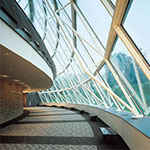 The Muhlenberg team works in collaboration with one another and the Allentown Jewish Community Center community to put on a production of "Schoolhouse Rock Live!"
By: Clarissa Shirley '22 & Sarah Wedeking '24 Thursday, April 21, 2022 11:47 AM

Students rehearse at the JCC
A group of theatre & dance students are taking the skills they've learned at Muhlenberg out into the community. Savannah Hastings '22, Arianna Tilley '22 and Abigail Sherman '22 are the creative team behind Schoolhouse Rock Live! at the Allentown Jewish Community Center's (JCC) Stagemakers Theatre Arts Program. This is the JCC's first full-scale production since the start of the pandemic in March 2020.
"The pandemic has stripped children of a portion of their youth," says Hastings, who directs the production. "To bring some of that feeling of community and play, in person, back to them is incredible."
The Stagemaker Program gives Allentown children, ages 4 to 14, a chance to perform onstage in a full-scale musical. It also provides a semester-long professional experience to graduating college theatre artists. This year's team includes Hastings, choreographer Tilley and musical director Sherman. Performances run April 28 and May 1; tickets and information are available at lvjcc.org/stagemakers.
Heather Lavin '08, program coordinator at the JCC, says that the children have been positively affected by the experience, which she attributes to the Muhlenberg team's work ethic and the department's multidisciplinary approach to theater and dance.
"The holistic view they have gained from their studies has given them the ability to show the children a well-rounded approach to the performing arts," Lavin says. "It's really great to see them draw those connections across the other areas that they study and be able to create a well-rounded experience as these children learn about theatre for the first time."
Hastings agrees that the Muhlenberg team has benefited alongside the cast of children.
"I think it is wonderful to have the opportunity to expand outside of Muhlenberg's campus," Hastings says, "and use the skills that I have learned to help do something positive in the community."
Schoolhouse Rock Live! is a musical based on ABC's cartoon series of educational short films that ran Saturday mornings from 1973 to 1984.
"I used to watch it every day on VHS tapes, and I am still obsessed with the music," Tilley says. "Those songs got me through [Advanced Placement] U.S. Government in high school."
While Tilley feels a personal connection to the material, she says that what really drew her to the project was the chance to empower children as they learn to sing and dance.
"I just love working with kids—watching them get excited about dancing and being on stage," Tilley says. "I remember that passion and drive as a kid. I have made it my personal goal to give everyone a spotlight to shine and steal the stage, and it has been a joy choreographing those moments and watching their faces light up."
Lavin says she enjoys the opportunity to connect with current and future Muhlenberg students.
"I want students to know that it's a place that they can come for employment and experience," Lavin says. "I hope it kind of gets passed down from student to student."
As commencement in May approaches, Hastings is grateful for the opportunity to work in a professional environment. She says it has helped her to know what kind of leader she wants to be in the future.
"I want to be a leader who listens, who is organized, and is dedicated to their community," Hastings says. "Wherever I go, I feel prepared and ready for the challenges that will be thrown my way."
About the Muhlenberg College Theatre & Dance Department
Muhlenberg offers Bachelor of Arts degrees in theatre and dance. The Princeton Review ranked Muhlenberg's theatre program in the top twelve in the nation for eight years in a row, and Fiske Guide to Colleges lists both the theatre and dance programs among the top small college programs in the United States. Muhlenberg is one of only eight colleges to be listed in Fiske for both theatre and dance.
About Muhlenberg College
Founded in 1848, Muhlenberg is a highly selective, private, four-year residential, liberal arts college offering baccalaureate and graduate programs. With an enrollment of approximately 2,200 students, Muhlenberg College is dedicated to shaping creative, compassionate, collaborative leaders through rigorous academic programs in the arts, humanities, natural sciences and social sciences; selected preprofessional programs, including accounting, business, education and public health; and progressive workforce-focused post-baccalaureate certificates and master's degrees. Located in Allentown, Pennsylvania, approximately 90 miles west of New York City, Muhlenberg is a member of the Centennial Conference, competing in 22 varsity sports. Muhlenberg is affiliated with the Evangelical Lutheran Church in America.