Downtown Allentown Summer Internship Was a Perfect Fit for Prelaw Senior
Simone Kaye '23, whose primary interest is in criminal justice reform, worked with a nonprofit organization that serves formerly incarcerated women.
By: Meghan Kita Thursday, November 10, 2022 03:02 PM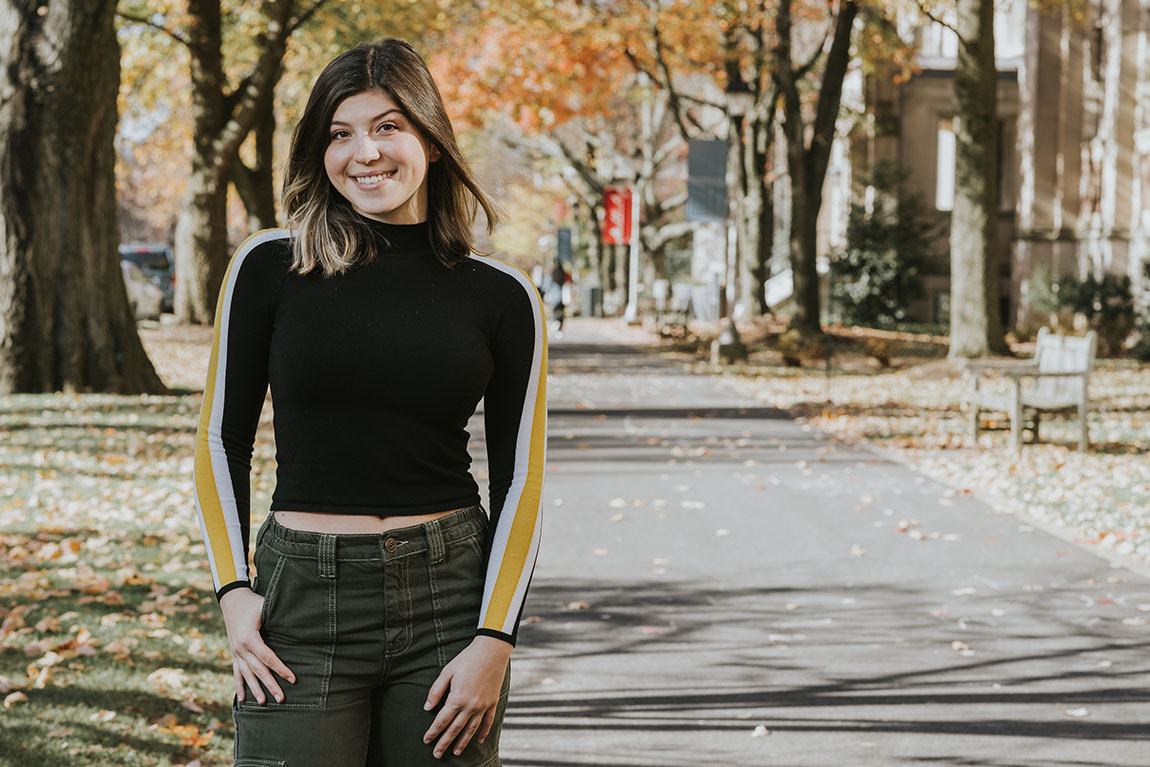 Simone Kaye '23, a prelaw philosophy major. Photo by Marco Calderon
As a summer intern at SELF! Women's Reentry, Simone Kaye '23 worked in downtown Allentown at the SELF! House, which provides shelter and a variety of services for women who were just released from incarceration.
"I was lucky to have a really hands-on experience," says Kaye, a prelaw philosophy major. "I was able to go to the Lehigh County Courthouse for status hearings with one client. I would take notes and also provide moral support … The [client] I bonded with the most, I brought her to this place where they have career-ready clothing for women starting a new job … I was very involved in the day-to-day needs of a lot of the residents, which made it feel a lot more personal and gave me a deeper understanding of the experiences that people re-entering society from being incarcerated face."
Kaye's path to the internship began with the Graduate School Preparatory Program, which she joined as a junior first-generation student with a goal to attend law school. Her mentor, Professor of Political Science Mohsin Hashim, noted that her academic performance positioned her well for law school and recommended that she pursue an internship as her next step. She saw a flier for the Office of Community Engagement's Community Internship Program, which provides a stipend as well as housing, and found the opportunity with SELF! Women's Reentry on Handshake, the platform the Career Center uses to connect students with internships and jobs.
"I knew I was primarily interested in prison reform, criminal justice reform and going to law school, so I thought, 'This is perfect. It's exactly what I want to work on,'" Kaye says. "I worked closely with the Career Center to put together a cover letter and resume — I had never applied to an internship before. They were extremely helpful."
Since the internship ended, she has focused on finishing her senior year strong. In consultation with Professor of Political Science and Prelaw Advisor Jack Gambino, whom Kaye describes as "an incredible resource," Kaye is choosing to take a year off before law school so she can dedicate time and energy to LSAT prep. Between her classes, her work as a writing tutor and her involvement in the performing arts, her remaining time at Muhlenberg is packed enough — and she wouldn't have it any other way.
"Because this is a liberal arts school, you can take part in the arts without having to sacrifice your other academic interests," says Kaye, who attended an arts high school in Florida and originally intended to be a theatre major. "My friends went off to BFA programs where you eat, sleep and breathe theatre, and you don't really have time for anything else. I knew that I had other things I wanted to explore. I'm president of the a capella group [InAcchord] that I'm in. I'm the president of the A Capella Council. I'm in a musical right now. It's just awesome, because I get to take part in those things while still pursuing my career path."
The Harry C. Trexler Trust provided a grant that allowed for stipends for Community Internship Program participants.