Muhlenberg Signs Admissions Agreement with Reading Area Community College
The new partnership provides a guaranteed pathway for Reading Area Community College associate's degree graduates into Muhlenberg's accelerated bachelor's degree programs.
Tuesday, September 20, 2022 11:00 AM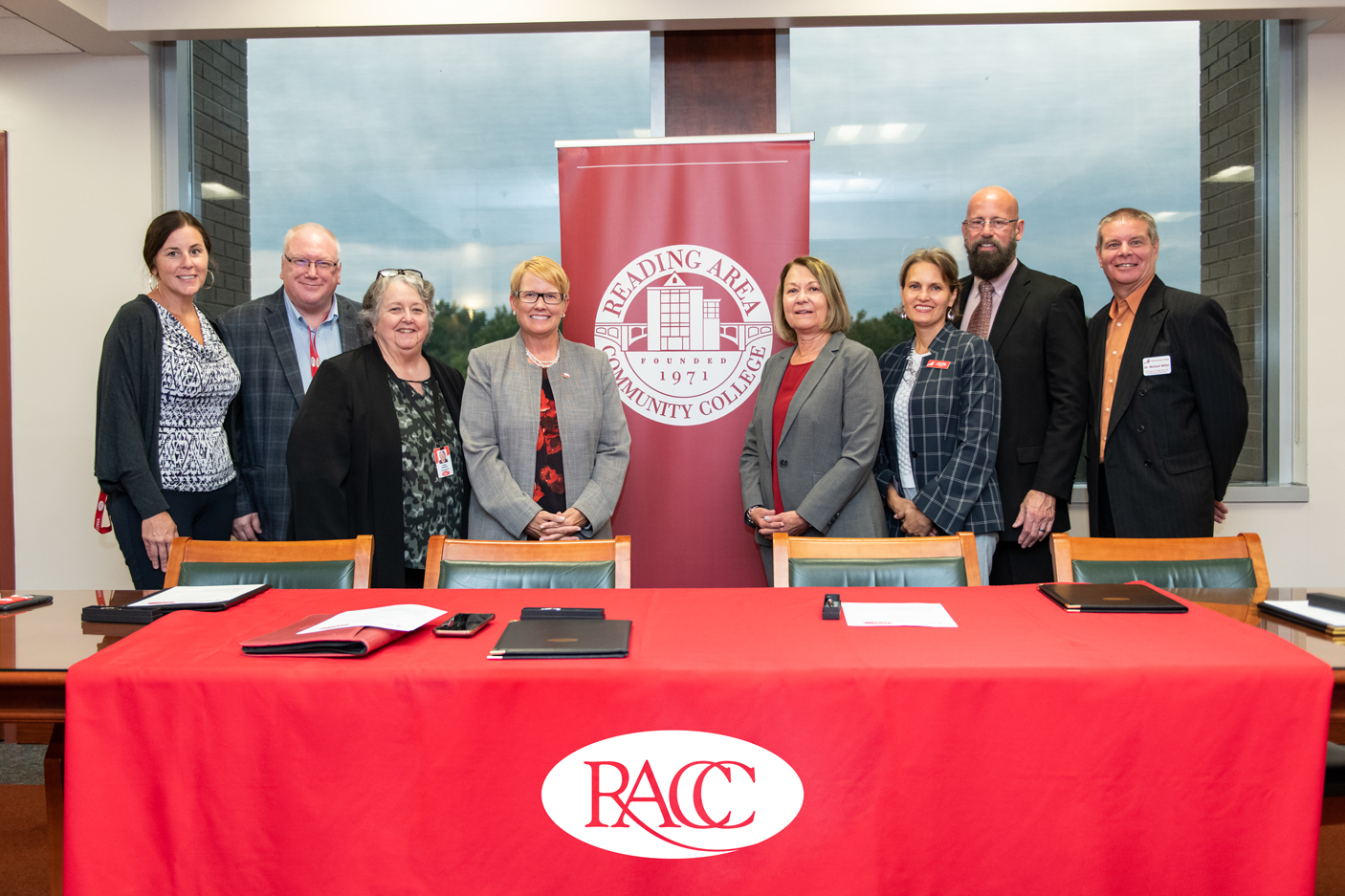 From left: RACC Director of Academic Partnerships Kristen Marcinko; RACC Associate Provost Kevin Coots; RACC Senior Vice President of Academic Affairs and Provost Cynthia Seaman; RACC President Susan Looney; Muhlenberg President Kathleen Harring; Muhlenberg Provost Laura Furge; Muhlenberg Vice President and Executive Director of Graduate & Continuing Education AJ Lemheney; Dean of Continuing Education Michael Miller. Image courtesy of Reading Area Community College.
On Monday, September 19, Muhlenberg College announced a new admissions agreement with Reading Area Community College (RACC). The new program allows RACC students who graduate with an associate in arts, associate in science or associate in applied science degree guaranteed admissions to the Muhlenberg College School of Continuing Studies accelerated degree program.
Admitted Muhlenberg students may earn a bachelor's degree in business administration (including concentrations in healthcare management, project management, human resources leadership and supply chain management) and information systems management. Muhlenberg's fast-paced, cohort-based model allows students to graduate in just 22 months.
"The new admissions agreement between Reading Area Community College and Muhlenberg College will expand access to our College's transformative education for Pennsylvania students. This partnership will provide a direct pathway to a Muhlenberg degree for the talented graduates of RACC programs," says Muhlenberg College President Dr. Kathleen Harring.
"This pathway is the result of great cooperation and collaboration between faculty and deans of our respective institutions and will serve well both the needs of our institutions and, more importantly, those of our students," says Reading Area Community College President Dr. Susan Looney.
The agreement with RACC builds upon the number of admissions pathways for adult students to a Muhlenberg education; the College has existing agreements with Lehigh Carbon Community College, Northampton Community college, Bucks County Community College and Montgomery County Community College.
About the Muhlenberg College School of Continuing Studies
For more than 100 years, Muhlenberg College's School of Continuing Studies has provided lifelong learners the opportunity to continue and enhance their education in ways that recognize their experience, maturity, motivation, life circumstances and capacity for independent scholarship. Through a rich variety of certificates and baccalaureate degrees, the School of Continuing Studies aligns a rigorous, high-quality and student-centric curriculum with the needs and trends of our regional economy.