In Memoriam: Sam Laposata
Former Dean of the Evening College (now the School of Continuing Studies) Sam Laposata died on Sunday, September 11.
Wednesday, September 21, 2022 03:20 PM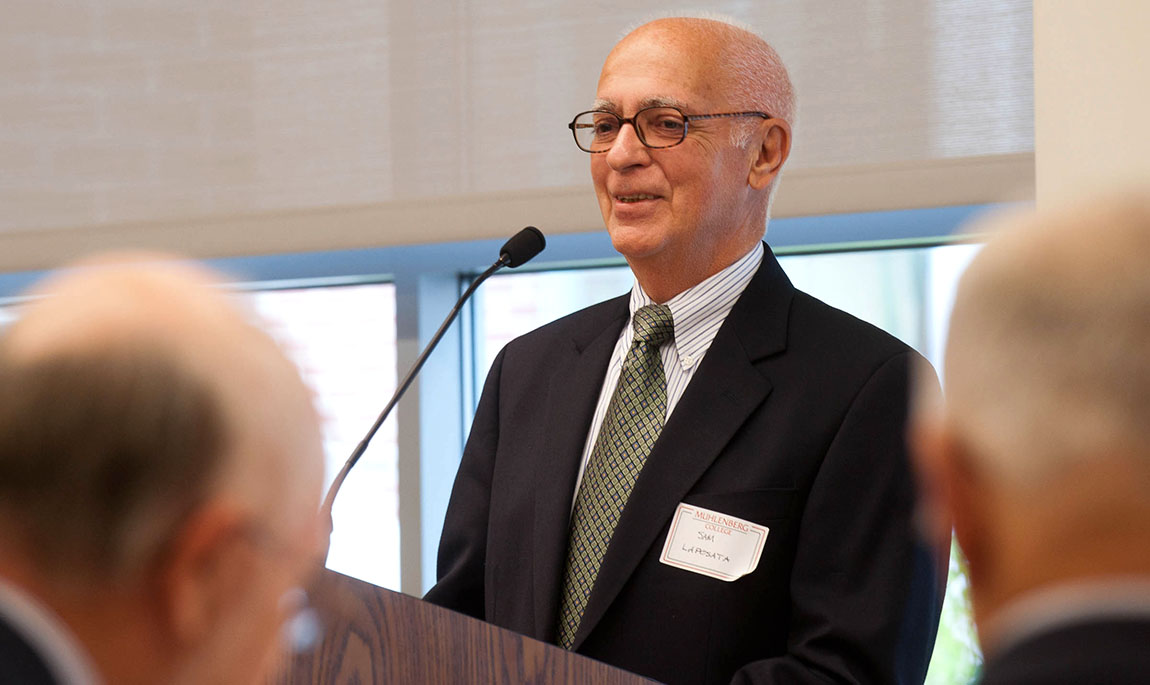 Sam Laposata at an Alumni Weekend event in 2011. Photo by Tom Amico
A celebration of Laposata's life will take place Saturday, September 24, at 11 a.m. at Stephens Funeral Home (274 North Krocks Road, Allentown, Pennsylvania). Calling hours begin at 9 a.m.
Sam Laposata spent 20 years teaching at Muhlenberg. He joined the College in 1993 as dean of the Evening College (now the School of Continuing Studies), a role he retired from in 2002. He continued to teach until 2013 as a visiting professor of economics and served as a resident director for the Muhlenberg in Maastricht program, teaching and assisting students studying in the Netherlands.
He earned bachelor's and master's degrees in mathematics from Penn State University and a second master's degree and a doctorate, both in economics, from the University of Pittsburgh. Laposata completed all his higher education as an adult, part-time student over the course of 18 years. Prior to Muhlenberg, he taught at Penn State, Virginia Commonwealth University and the College of William & Mary. He also worked as chief economist at Virginia Power in Richmond and served as an economic advisor to Virginia governors and state governmental agencies.
At Muhlenberg, Laposata co-created the accelerated degree program for adult learners, which launched in 1996. He taught economics and statistics, two difficult topics, and was known for his patience with students and his creativity in presenting the material to make it understandable to the entire class. He was a gifted mentor whose background working in industry helped him guide students on their journeys into the working world and gave him a different perspective on teaching than that of lifelong academics. He remained good friends with many of his students. In 2009, he established the Dr. Samuel M. Laposata Wescoe Student Scholarship to support adult learners at Muhlenberg.
Laposata was a kind, caring colleague whose door was always open. His research interests included the gender earnings gap; he conducted a longitudinal analysis of Muhlenberg graduates' salaries with Senior Lecturer Emerita in Business Gail Eisenberg that, like many other studies, found a significant disparity between men's and women's earnings. His intellectual curiosity continued into his retirement as he audited classes at Muhlenberg.
Survivors include his wife of 28 years, Kathryn Price Laposata; his six children, Samuel, Katherine, Sara, Theresa, Mary and Elizabeth; nine grandchildren; and seven great-grandsons.