Building a Strong Foundation for Veterinary School, in the Classroom and the Lab
Undergraduate research experiences, rigorous coursework and close faculty mentorship helped Jess Sommer '21 on her way to the University of Pennsylvania School of Veterinary Medicine.
By: Meghan Kita Monday, November 21, 2022 10:54 AM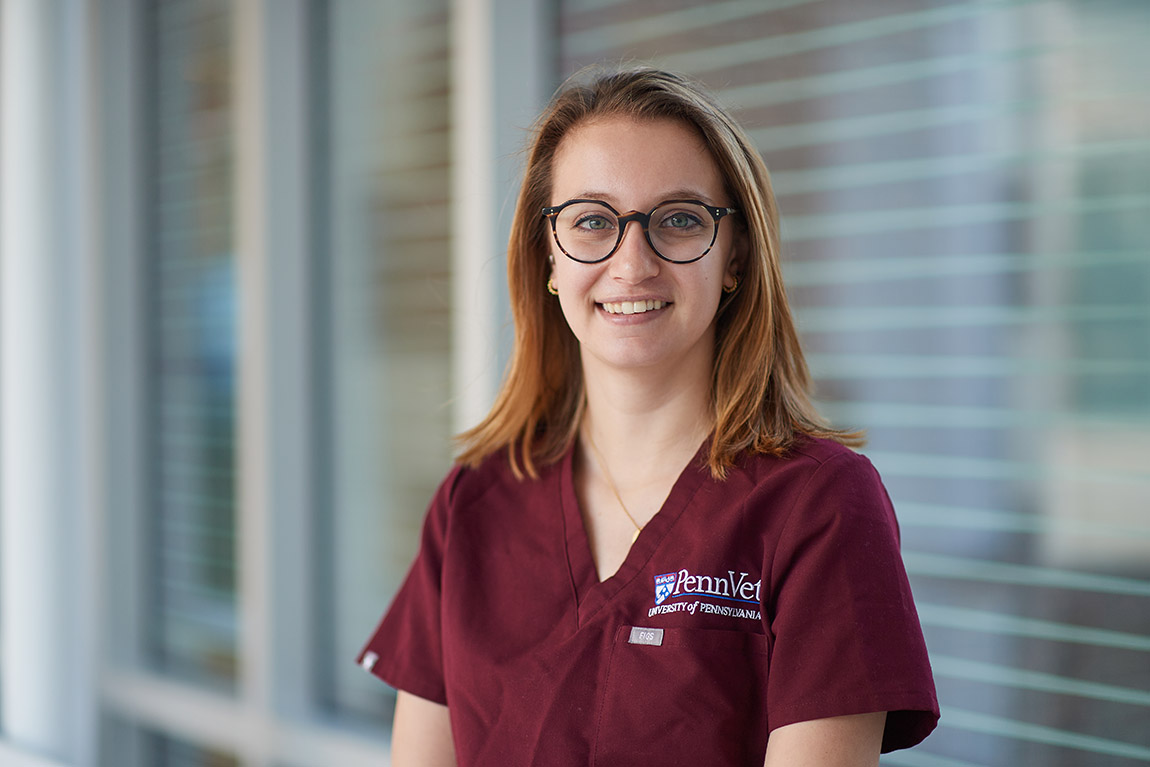 Jess Sommer '21. Portrait by Justus Henry
Like more than half of all Muhlenberg students, Jess Sommer '21, who's currently enrolled at the University of Pennsylvania School of Veterinary Medicine, studied abroad: She went to Israel during the fall of her junior year. When COVID moved her classes remote as a senior in the fall of 2020, she saw an opportunity to return.
"I made the best of the situation and I found this [bumblebee] lab in Israel. I had seen it in some of the literature we'd read [in Professor of Neuroscience and Biology and Chair of Neuroscience Jordanna Sprayberry's lab]," says Sommer, who began working on Sprayberry's bumblebee research as a sophomore. "The fall of my senior year, I decided I would do an internship program at the Hebrew University in Jerusalem. I would work in this lab during the day and, because of the time difference, I'd take my Muhlenberg classes at night."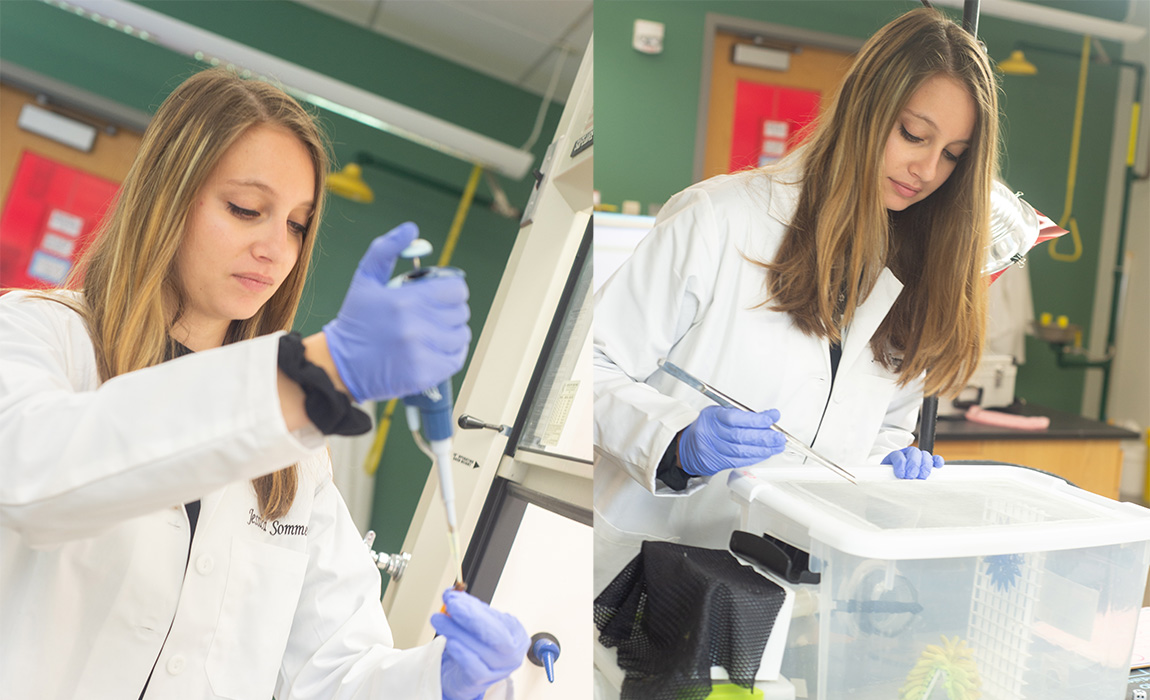 Sommer conducting summer research as an undergraduate in 2019. Photos by Kate Ekanem '21
Sommer, who was a prevet biology major and Jewish studies minor at Muhlenberg, also stayed connected to the Sprayberry lab during that time: She and another student reviewed hundreds of existing papers on bumblebee foraging and assembled the papers' findings into one paper with a clear, universal set of definitions. Their work was published earlier this year.
"Even though we're no longer working directly in research, the research never leaves us," Sommer says of herself and her labmates who continued in graduate programs. "Whether it's dental or veterinary medicine or human medicine, there's always research going on. To be able to have that experience in undergrad, not only to understand how the scientific process works but to understand what goes into writing a paper, has been invaluable."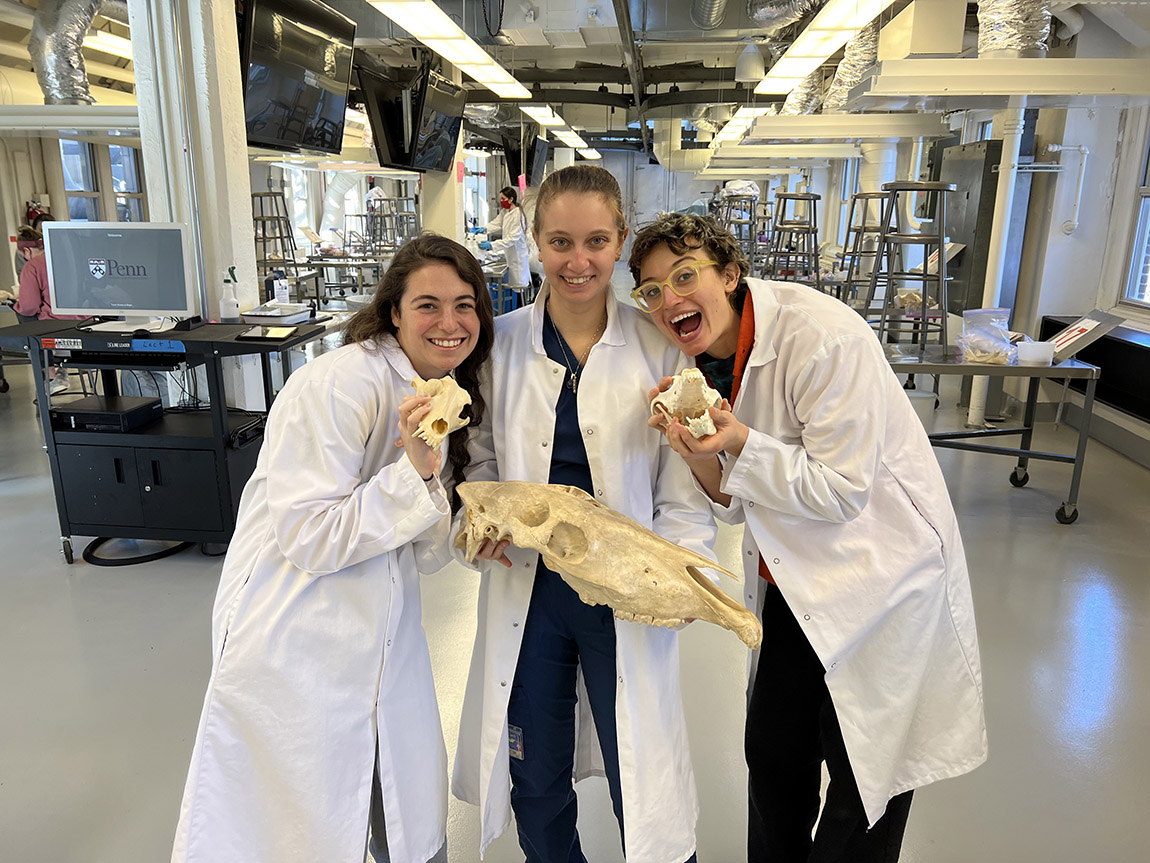 Sommer (center) and Penn Vet classmates celebrate the end of their anatomy course.
The work she did in her Muhlenberg courses — and the close relationships she formed with her professors — also helped prepare her for the rigors of veterinary school.
"All the core classes I took at Muhlenberg definitely prepared me in the way they were supposed to. I had the study tools I'd been taught by professors that I probably wouldn't have learned if I'd gone to a larger school," says Sommer, who keeps in touch with Sprayberry and other Muhlenberg faculty. "It was definitely a change having all my classes be so large [in veterinary school]. I had to get used to the idea that I wouldn't have that close relationship with every professor. I'm definitely thankful I got to have that experience in college. It prepared me to thrive in this kind of environment."