Political Science Majors Take Leadership Roles in Local State Senate Campaign
Cydney Wilson '23 and Zaire Carter '22 are working for candidate Nick Miller in the leadup to the May 17 primary.
By: Meghan Kita Tuesday, May 10, 2022 08:49 AM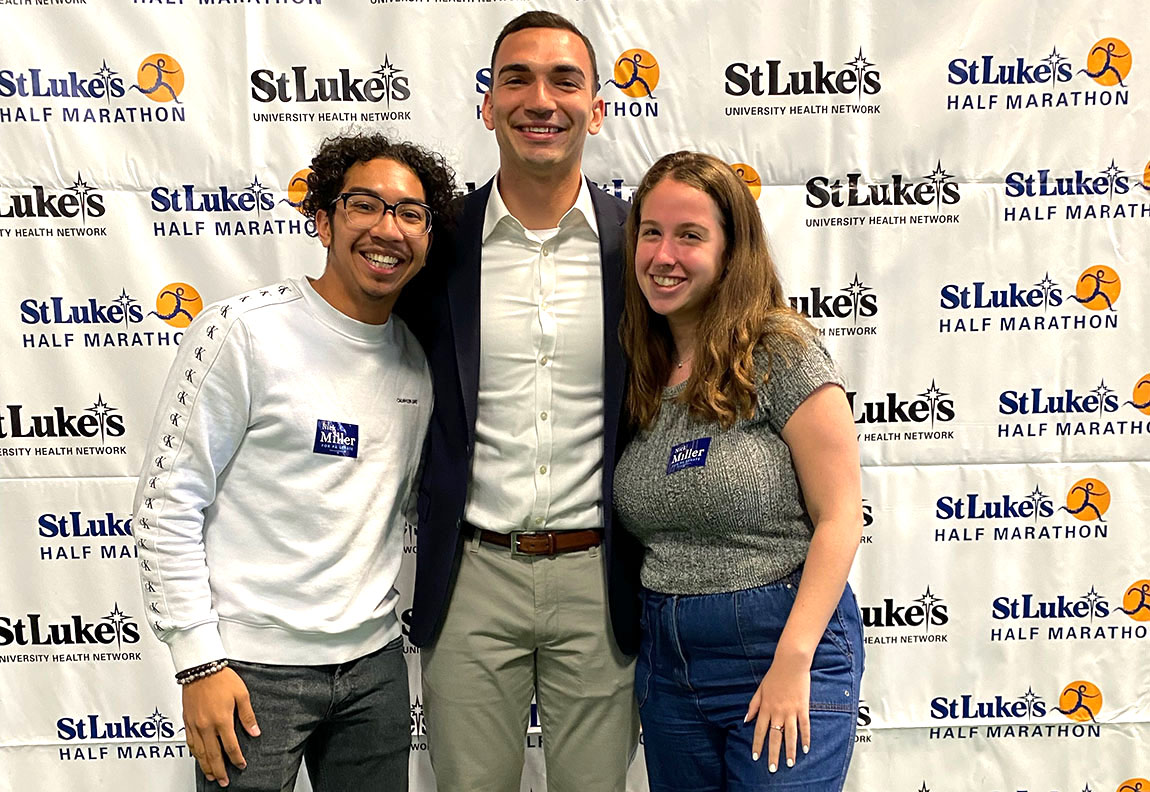 Zaire Carter '22, candidate Nick Miller and Cydney Wilson '23
Allentown School Board member Nick Miller is running in the Democratic primary for Pennsylvania State Senate in the redrawn District 14, which includes the city of Allentown. At 27, he's a young candidate, and he's found young talent at Muhlenberg to support his campaign: Cydney Wilson '23 is serving as Miller's campaign manager and Zaire Carter '22 is serving as his political director.
Typically, college students involved with a campaign might be doing things like phone banking or canvassing, Carter says: "We've both done that work and we both will continue to do that work, as there are many times during a campaign where it's all hands on deck. But the ability to run a campaign, to have high-level discussions about strategy and then implement it, it's quite an honor to have at this young of an age."
Wilson, a political science and self-designed women's, gender & sexuality studies double major and Africana studies minor, joined the campaign first. She knew Michaela Boyer '20 from when they were both part of the College Democrats. Boyer, who worked on Allentown Mayor Matt Tuerk's campaign, recommended Wilson for Miller's campaign. Wilson started as a field director in mid-March and quickly moved into the campaign manager role.
Miller asked Wilson if she knew anyone interested in policy and endorsements work, and she immediately thought of Carter, a political science and theatre double major who's also student body president. He joined the campaign near the end of March.
Wilson's role involves collaborating with Carter and the campaign's communications director, overseeing interns (including Muhlenberg students Katie Conlon '24 and Marissa Scharf '24) and volunteers, planning events and helping brainstorm and execute campaign strategy. Carter cultivates language to share the candidate's policy stances and secure endorsements.
The campaign will first focus its outreach on voters who've requested mail-in and absentee ballots in the leadup to the May 17 primary. That day, Wilson, Carter and the rest of the campaign staff and volunteers will be out at polling places, working to answer questions and raise awareness of their candidate. Whatever the result, the experience has been invaluable.
"I think that I will walk away from this experience with an impossible to count number of things that I've learned," Wilson says. "I've learned so much about collaboration and working with others and the importance of working in a team as well … There's no way that one single person can win an election. I knew that, but to see it in action is incredibly valuable and it's something that I'll definitely take forward with me."