Exhibiting Leadership
As president and executive director of the National Building Museum in Washington, D.C., Aileen Chumard Fuchs '01 tells the stories of the spaces people design, construct and inhabit.
By: Meghan Kita Thursday, November 17, 2022 08:06 AM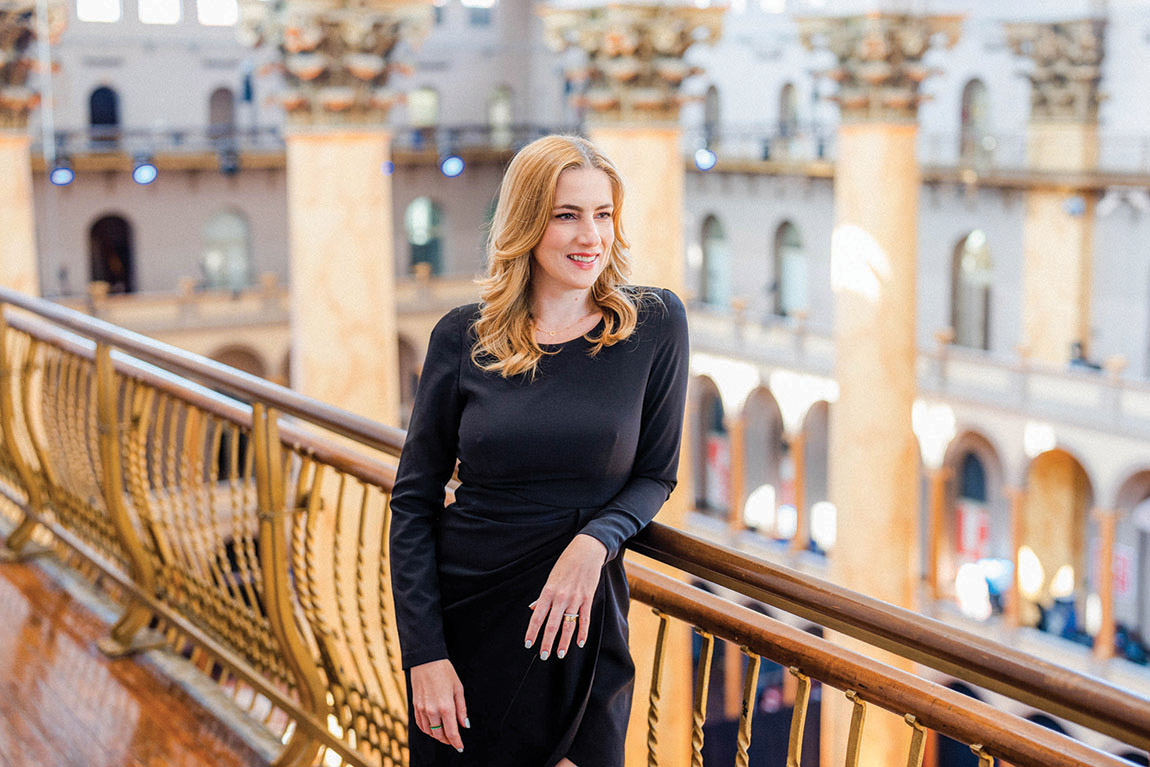 Aileen Chumard Fuchs '01, the president and executive director of the National Building Museum in Washington, D.C. Photos by Joshua Fernandez
Dutch colonists brought the first enslaved Africans to the city now known as New York in 1627. Enslaved people would go on to build the wall Wall Street is named after and the Financial District's Trinity Church, among other landmarks. The New-York Historical Society describes the city as "the capital of American slavery for more than two centuries."
In 2005, the society's museum debuted a two-year exhibition called Slavery in New York. It was the museum's largest exhibit ever, taking up its entire nearly 9,000-square-foot first floor. It included ledgers from slave ships, objects created by enslaved New Yorkers, documents from early abolitionists and much, much more. When Aileen Chumard Fuchs '01 visited the exhibit, it changed her life.
"I had a light-bulb moment: This is the kind of storytelling I want to do," says Fuchs, who is now the president and executive director of the National Building Museum in Washington, D.C. "Exhibitions are storytelling, and they're history, and they are dramatic and they are amazing."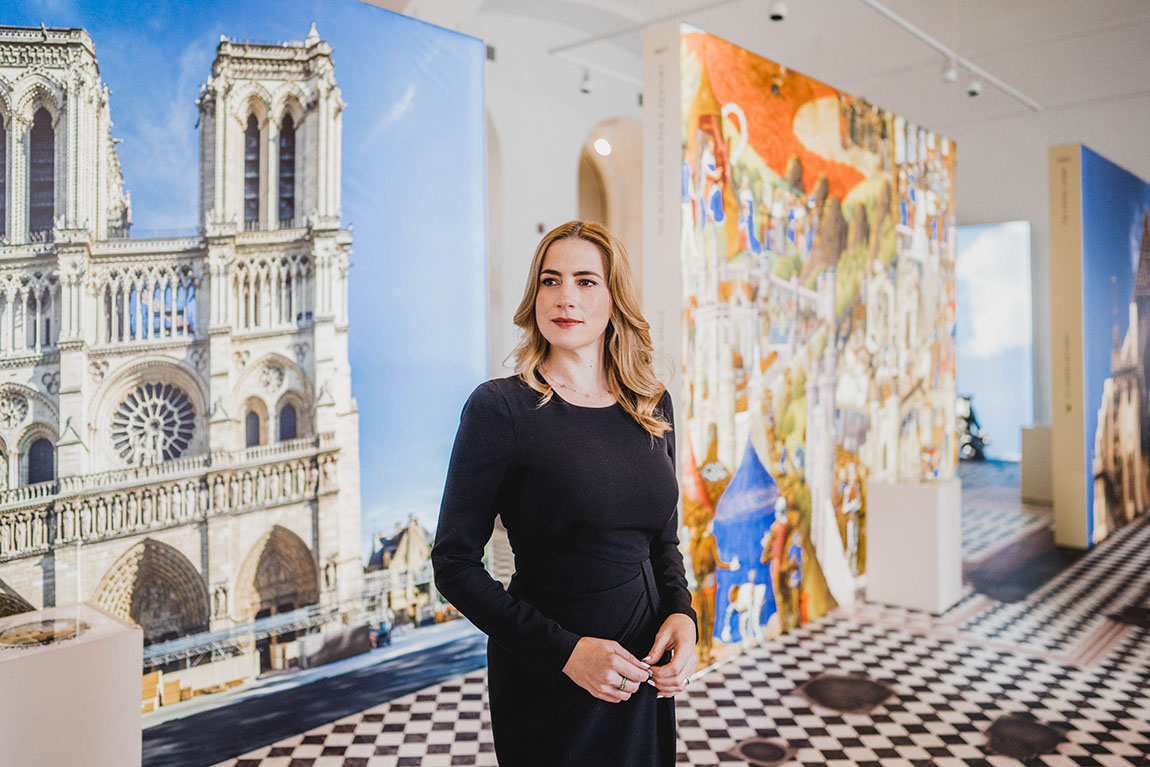 Fuchs, who studied theatre and English at Muhlenberg, went on to earn a master's from New York University in public/applied history, which is "about how you interpret history for the public — it's a museum field," she says. She then landed a job with the American History Workshop, which had curated Slavery in New York. There, she worked on exhibitions that appeared in museums in New York, Philadelphia and Washington, D.C.
"I learned so much about the collaborative process between researchers, designers, fabricators and institutions needed to put on these massive-scale exhibitions and uncover new avenues to engage audiences at different levels with different stories," she says.
She took the experience she gained to the Brooklyn Navy Yard, a historic site turned national model for urban industrial development. She helped launch its permanent exhibition about its evolution since it opened as a major shipbuilding facility in 1801. During her six years there, she built public programming around the yard's diverse tenants, worked on the establishment of an on-site high school that would teach students some of the trades practiced there and launched a visiting artists program to enhance the 300-acre space and showcase local talent.
In 2017, she took on the role of president and CEO at Staten Island's Snug Harbor Cultural Center & Botanical Garden. Like the Brooklyn Navy Yard, it was a sprawling, city-owned property that served as a hub for its local community. Its makeup, though, was quite different: 28 historic buildings (including an art museum, a children's museum and a music venue) with a variety of architectural styles, plus 14 botanical gardens. As leader, she would not only be responsible for generating a vision for these cultural spaces. She was also to serve as property manager, which meant overseeing the maintenance of 200-year-old buildings and the 83-acre grounds.
"I happily took on a massive challenge there," she says. "I saw how [the site's] success could transform that community … It seemed like such an incredible challenge and opportunity to lead."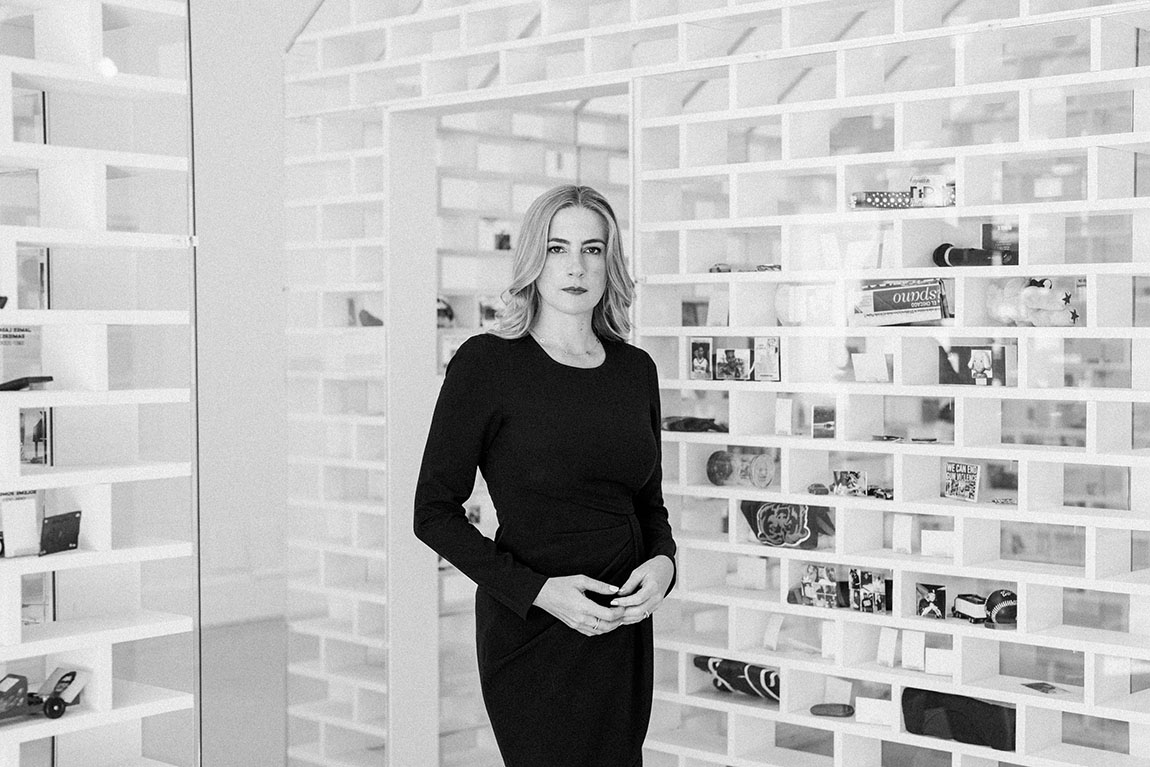 Fuchs in front of the Gun Violence Memorial Project at the National Building Museum
At Snug Harbor, she developed a 20-year master plan for the site. She also launched the multi-weekend NYC Winter Lantern Festival, which evolved to feature more than 1,000 elaborate lanterns in more than 50 different displays, live performances, a skating rink, food vendors and gifts for purchase from local artists.
"We needed something big and destination-making that would draw more audiences to the site and put us on the map but also bring elements together for one cohesive visitor experience," she says. "The first year we did it, everyone said that no one's going to come to Staten Island during the holidays, and we had 150,000 people."
In 2021, she was recruited to her current role at the National Building Museum, which "inspires curiosity about the world we design and build," per its mission statement. Current exhibits include a virtual reality exploration of the reconstruction of the Notre-Dame cathedral after its 2019 fire and The Wall/El Muro: What Is a Border Wall?
"Many people said, 'Are you sure you want to do something that's that political when you first start?' And my position is, it's not political," Fuchs says. "The wall itself is one of the most significant built environment projects we have as a nation. Let's look at it through that lens. The team who developed it did an incredible job."
Just over a year into her role, Fuchs is still learning the city and getting to know the large network of people who support the museum and its work. She has overseen the development of the institution's four pillars (equity, environment, innovation and wonder) that will serve as a framework for its future. And she is looking forward to growing as a professional in her first nationally-facing museum role.
"As a leader, you develop trust by finding ways to authentically engage with people, and through that engagement, you demonstrate your values," she says. "I hope to grow as a leader, to really walk the walk on all of that, so that I can unlock the extreme potential of this institution."