Senior Athletes Face Tough Choices
The NCAA granted an extra year of eligibility due to the pandemic, but deciding whether to use it—and, if so, where to use it—has weighed on members of the Class of 2021.
By: Mike Falk Wednesday, February 17, 2021 01:44 PM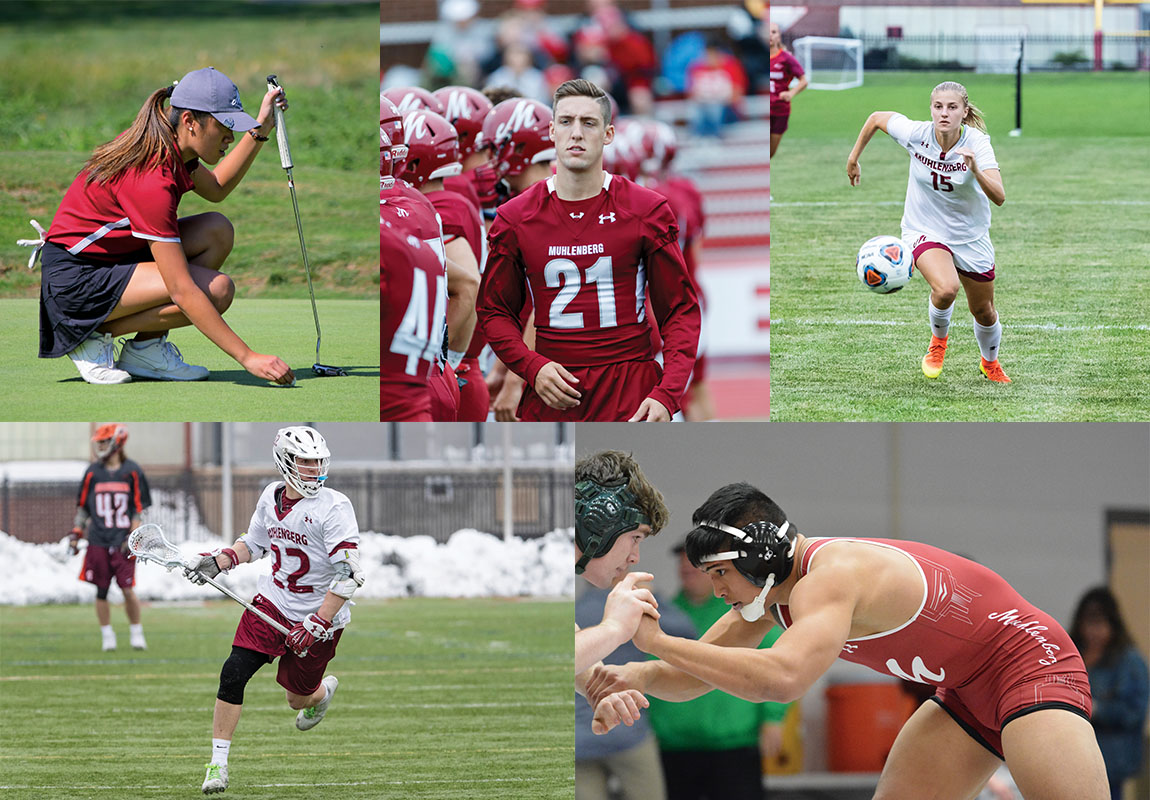 Clockwise from top left, Katie Chen '21, Peter Taylor '21, Mia Mulin '21, Mike Cannon '21, Ethan Grossman '21
Ethan Grossman '21 has set several school records on the field for the Muhlenberg men's lacrosse team, and last March he set an off-field record—quickest decision made about future athletic career post-pandemic.
The Mules had just defeated Oneonta in their final game before being sent home, and in the locker room, Grossman told Head Coach Jake Plunket, "I'm coming back [to play another year]!"
Grossman will actually get to play two extra years: The NCAA granted waivers for athletes who played spring sports in the 2020 season and for all athletes in the 2020-2021 school year, meaning that competing does not exhaust a season of eligibility.
After earning his undergraduate degree in May, Grossman will enroll in the Master of Organizational Leadership program in Muhlenberg's School of Graduate Studies and be eligible to continue his career as a Mule in the 2022 and 2023 seasons.
"This is such a good opportunity," says Grossman, who expects the master's degree to help him down the road when he's running his own business. "I thought, why not go to a great academic institution for grad school. I've been working my whole life for [lacrosse], so there was no reason I shouldn't still be playing. It was kind of an easy decision to make."
It wasn't so easy for some other Mules in the wake of announcements that often brought bad news. The Centennial Conference canceled championships for fall and winter sports and, at press time, had not reached a decision on spring sports. In February, Muhlenberg announced it would follow protocols to work toward competition resuming in late March, conditions permitting.
Some of the options for seniors: Forego your last year of athletics participation and graduate on time? Take a gap semester or year and return in 2021-2022 with the hopes of a normal schedule? Transfer and play as an undergraduate or graduate student elsewhere?
Soccer player Mia Mulin '21 turned her dilemma into a senior art thesis, chronicling her decision-making process in In the Eyes of a Student-Athlete—COVID-19, a digital storybook that combines photos and digital files with hand-drawn text.
During most of her time at Muhlenberg, Mulin frequently went home to Connecticut to visit her grandparents. She moved into an off-campus house in Allentown last July but was concerned about traveling between states and having contact with both her teammates and her grandparents.
"What do I do?" asks Mulin in her storybook. Later she concludes, "Do what is right. Do what makes you happy."
Ultimately, she chose her immediate family over her Muhlenberg soccer family. She graduated in January and, after a tearful virtual goodbye to her fellow Mules, plans to finish her soccer career closer to home as a graduate student at Southern Connecticut State University, where she will pursue a master's in sport and entertainment management.
"I still love Muhlenberg and I wished it could have been different in the end," she says. "But this is just where I needed to be."
Peter Taylor '21 felt he needed to be on the football field and called his choice to return for a ninth semester at Muhlenberg "kind of a no-brainer."
Taylor was a valuable contributor for the Mules as a sophomore in 2018, but he missed the 2019 campaign with a torn knee ligament and was relegated to being a spectator as Muhlenberg advanced to the national semifinals. A sense of unfinished business factored into the decision for Taylor, who plans to enter the sports marketing field.
"We have one more semester left to play football and we can work the rest of our lives," he says. "So why not?"
Wrestler Mike Cannon '21 also made the decision to extend his academic and athletic career, but unfortunately for him, his fifth year was to have been 2020-2021.
Cannon missed his freshman season with an injury, qualifying for a medical redshirt. But he won't get the chance to use it—although the NCAA waiver would allow him to compete in 2021-2022, he decided to enter the Doctor of Physical Therapy program at DeSales University, which doesn't have a wrestling team, in the fall.
"It's just something I had to mentally prepare myself for, kind of telling myself, 'Hey, you loved wrestling, but at the end of the day, it's just a sport and there's more to do after that,'" he says.
Golfer Katie Chen '21 is mentally prepared for whatever comes in the spring, having already experienced two season cancellations. (Although its championship season is in the spring, golf also competes in the fall.) Chen showed great improvement in Fall 2019 but has not competed since. The biology major, who plans to take a year off before entering medical school in the fall of 2022, says she's pondered the idea of playing golf as a graduate student. For now, she is just waiting to hear the next announcement.
"If I get my season, of course I want to play," she says. "But if I don't, I honestly wouldn't be as heartbroken as I thought I would be if my last senior season was last spring, for example. I've already settled with it."