Reminiscing Analytically
As beloved Professors of English David Rosenwasser and Jill Stephen retire, they reflect on their Muhlenberg legacies and hopes for the future of the Writing Program.
By: Megan Bungeroth '07 Wednesday, July 14, 2021 00:11 PM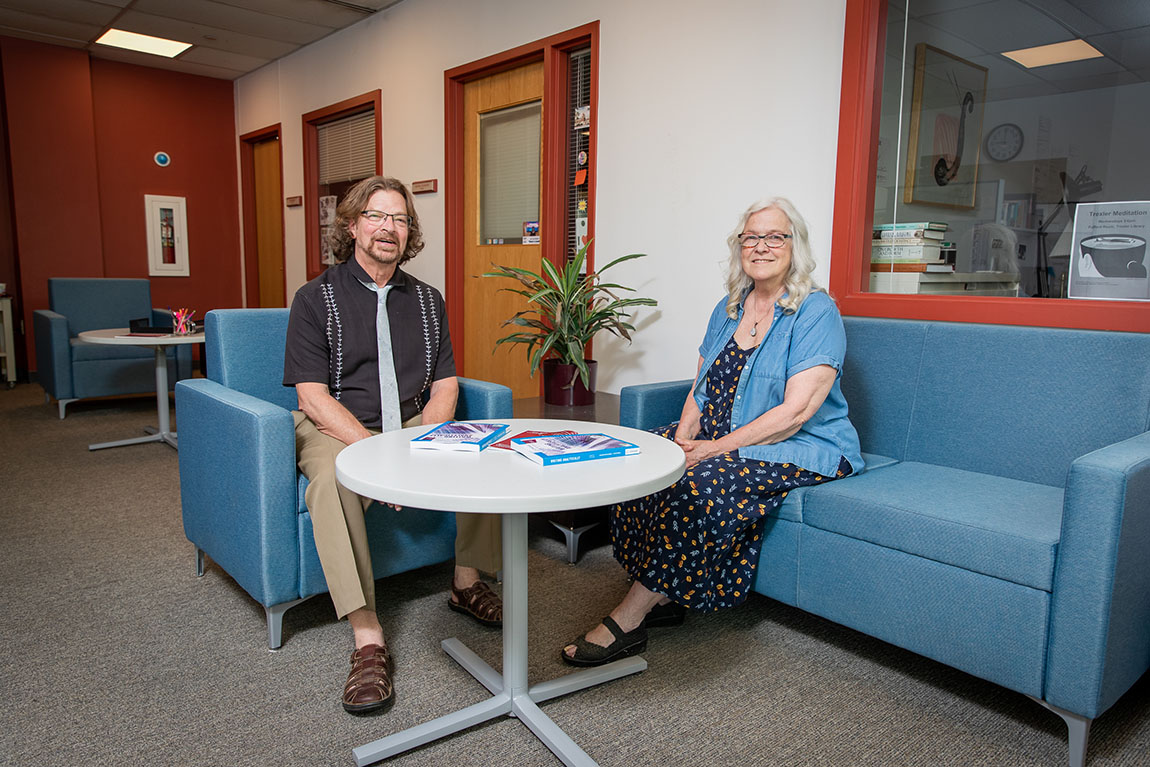 Professors of English David Rosenwasser and Jill Stephen. Photo by Marco Calderon
As I settle into a Zoom call with Professors David Rosenwasser and Jill Stephen to chat about their time at Muhlenberg, I am reminded of the feeling of being in one of their classes—even though the subject matter is well-trod for them, we are having a wholly unique conversation, unearthing observations and ideas that have never before been spoken aloud. That's the experience they've given to so many students over their decades teaching in the Department of English.
As the co-founders of the Writing Program, Rosenwasser and Stephen began thinking about the importance of teaching writing shortly after they arrived as professors in 1985 and 1987, respectively.
"We asked faculty, what do you want from student writing? And they answered, 'We want them to have ideas.' So we said, 'Well, what does it mean to have an idea and how do you go about having one?'" Rosenwasser says.
In attempting to answer that question, the pair developed the Writing Across the Curriculum Program, requiring all students, regardless of their major, to take two writing-intensive courses. It was refreshing, Stephen says, to find faculty in agreement that students "don't learn to write in one semester."
This exploration led to the publication of their co-authored book, Writing Analytically, in 1991, now in its eighth edition. The book became an academic hit, adopted as a primary textbook for large schools including Indiana University, Syracuse University and The Ohio State University.
In 1992, Rosenwasser and Stephen worked with the faculty Academic Policy Committee to replace first-year composition as a requirement with the First-Year Seminar (FYS) Program, a curricular change for which the faculty voted unanimously. The first-year seminars sneak an intense introductory writing education into courses with titles like Do Robots Dream?; Quentin Tarantino, Film Geek; and Coffee: The Great Soberer. Every seminar is devised and taught by full-time faculty members.
"It's an opportunity to teach something they might not get an opportunity to do in their departments," Stephen says. "There's a built-in reward, and then for the College, there's a reward because it's a form of faculty development. They're really thinking about what they want to teach and why."
Rosenwasser and Stephen have co-directed the College's Writing Across the Curriculum Program since its inception in 1989. Since 2007, they have also co-directed the Writing Center and the FYS Program. They recruit and train a staff of more than 50 student tutors for whom they team-teach a semester-long course on the history and practice of writing instruction.
Former Interim Provost Bruce Anderson lauds Rosenwasser and Stephen's work on the Writing Program and notes how well it prepares alumni for jobs and graduate schools.
"Their book and emphasis on writing analytically has helped thousands of students over the years become stronger, more thoughtful writers," Anderson says.
The Writing Program is led with an approach that elevates students' ideas rather than telling them what they're doing "wrong."
"Teachers who are involved in writing-intensive courses, it changes their pedagogy, and it becomes more student-centered and oriented," Rosenwasser says.
When he first started teaching, he would plan out his questions in advance. But he soon put the onus on the students, asking "what did you learn?" and letting the conversation flow from there. "Classes are increasingly more improvisatory, so the teacher ends up learning along with the students," he says.
That habit has filtered down to other faculty members who teach writing-intensive courses.
"Jill and David have inspired countless Muhlenberg faculty to joyfully experiment in the classroom, ceding a little bit of their professorial authority in order to accompany their students on new intellectual journeys," says Associate Professor of Media & Communication and Film Studies Amy Corbin, who serves as director of the Writing Program Committee.
Both professors have developed student-favorite specialties within the English Department. Stephen specializes in poetry, and her course Milton and the Age of Revolution became one of Muhlenberg's most popular. Every year for the past 30 years, students have clamored to read Paradise Lost with Stephen.
Rosenwasser has crafted several senior seminars in Irish literature and contemporary plays. He will often invite Associate Professor of Theatre Troy Dwyer to teach students the basics of Irish dialect, so they can hear the musicality of the language when it's read aloud in class.
Looking ahead, Rosenwasser and Stephen say they might take a break from academic writing, but they won't be leaving the analytical lens behind.
"As it turns out, Dave and I really love interviewing," Stephen says.
They frequent local farmers markets and are fascinated by the stories of the vendors there; an interview series on the purveyors of small-batch kombucha and organic produce might be their next joint project.
When imagining the future of the Writing Program, both posit that it may shift to be more electronic, to eventually abandon the standard essay for other forms of expression in a digital age. But they hope it doesn't lose its core philosophy that writing is about discovering and fostering new ways of thinking.
"I think the act of sitting down and trying to figure out what you think about something and being able to inhabit that space long enough to have ideas—that's what a liberal arts education can do for students," Stephen says. "And I hope that continues to happen."