Personally Speaking: Giovanni Merrifield '23
Giovanni Merrifield is a sociology major and Africana studies minor from Standish, Maine.
Tuesday, July 13, 2021 08:21 AM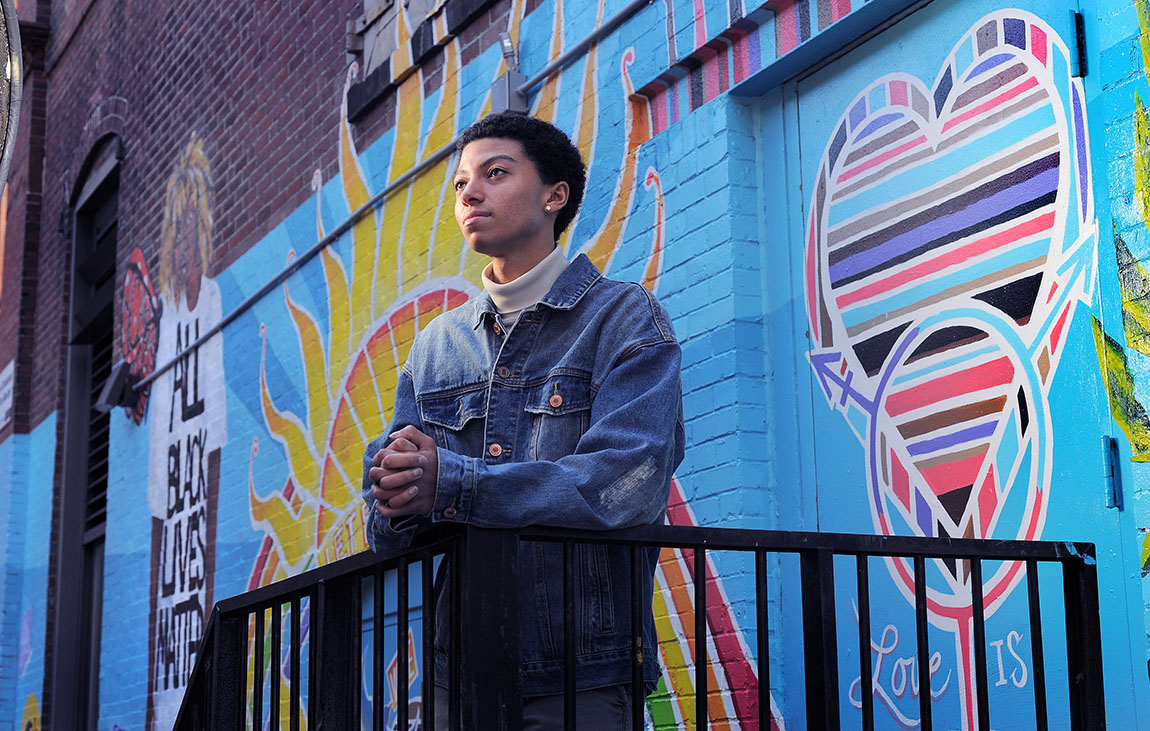 Giovanni Merrifield '23. Photo by Fred Field
Personally Speaking is a feature of Muhlenberg Magazine in which our writers interview students and alumni about their own personal stories. This article was originally published in the Summer 2021 issue of Muhlenberg Magazine.
He hoped to be less overbooked at Muhlenberg than he was in high school ...
"It's a funny story. I had come to college hoping not to do much in the way of extracurricular activities because my high school career was very, very busy. So my goal in college was to kind of relax."
... but he now holds positions in four College clubs and organizations.
"I got involved and one thing led to another. The Emerging Leaders Program (ELP) looked interesting—I applied and was accepted. As a sophomore, I am a mentor, and I make sure my community has what it needs to succeed. My friend was the previous president of Black Students Association, and she wanted to train someone to be the president for future years. Because there weren't other candidates, it sort of slid into my hands. Another friend introduced me to the Bow Tie Club [a program that pairs students who identify as men with children at Roosevelt Elementary School who identify as boys in a mentorship], for which I'm now a co-coordinator. I really wanted to help these kids, usually boys of color who are at risk for not graduating. I wanted them to see that they have potential, no matter what anyone says. As for my involvement in the Men of Color Network, it happened like all the other groups. I was introduced through mutual connections. I went to a meeting and they needed a secretary, so I applied for it."
Hailing from Maine, he never saw what "authentic, raw Blackness" really was …
"My town is very, very conservative. I come from a place with a lack of diversity. I knew Muhlenberg College was predominantly white, so I was surprised that after my first year I found my own community, primarily through ELP. I had always dreamed about going to a historically Black college or university (HBCU). It was a fantasy. Because of this, the Office of Multicultural Life's 2020 cultural immersion spring break trip, in which we toured [HBCUs] Howard University and Morgan State University, was very important. When I went to these universities with the Muhlenberg College program, there was a huge sense of belonging that I had never felt in my whole life. I am truly a different person because of that trip."
... and his experiences as a Black person helped draw him to his fields of study.
"I chose sociology because I realized, in order to understand the implications of oppressive systems that affect my community, I needed to have and use a sociological lens. Through that lens, I won't just see what's going on above the surface level but also below it. By understanding the systems, I can begin to dismantle them to further the progression of the Black community. I can start implementing programs to stop the high-school-to-prison pipeline, the stigma of mental health issues in the Black community, the transphobia and transmisogynoir that precede attacks on Black trans folks, the food deserts, the drug crisis, the cycle of poverty, police brutality and so much more. That is why I also chose Africana studies—I needed to learn how much we've been through as a people to truly understand the specific areas that needed the most help, support and awareness in the Black community. Not only that, but the U.S. educational system seems to avoid teaching Black history in high school, so I felt it was necessary to educate myself on the wonderful and magnificent achievements my community has accomplished. Without Black history, there would be no U.S. history."
He calls the College's custodial and dining services staff his family.
"A lot of my professors happen to be white, and I love them, but I don't see myself in those professors. The custodial and dining staff, those are my family members. We have a bond, a connection. Before I left campus because of the pandemic, I asked Guillermo [Rosario, a member of the housekeeping staff], or Jerry, as we call him, if he was able to leave. He told me his job doesn't stop because there's a pandemic. He's such a genuine and caring person like all of the custodial and dining staff, who truly make my time at Muhlenberg so wonderful."