Meet Our New Faculty
Muhlenberg welcomes 26 new full-time educators to campus this fall, including tenure-track and visiting faculty members and Consortium for Faculty Diversity fellows from a variety of disciplines.
By: Kristine Yahna Todaro Monday, September 13, 2021 08:00 AM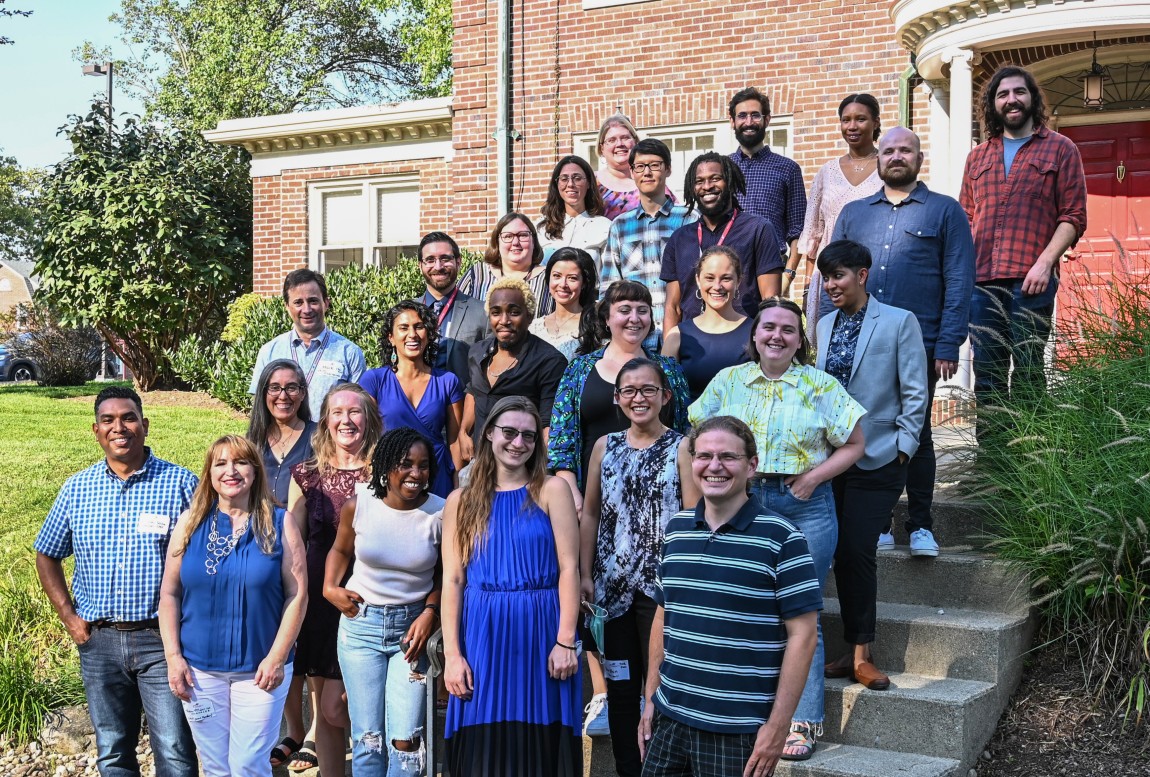 New Muhlenberg faculty members participated in an orientation program on campus in August.
Fatoumata Binta Bah, Education Consortium for Faculty Diversity Fellow
Bah received her Doctorate of Philosophy in multicultural & equity studies in education from The Ohio State University and M.S. in human development & family studies and B.A. in women's studies from the University of Delaware. Guided by a central focus on the naming and theorizing of the specificity of anti-blackness, Bah utilizes Afro-pessimism, critical race theory and cultural studies to examine and address anti-blackness in educational policy and programmatic reform initiatives. Bah is committed to illuminating how systems of power operate within and outside of educational contexts, to systematically subject Black students to psychic and material harm.
---
Joshua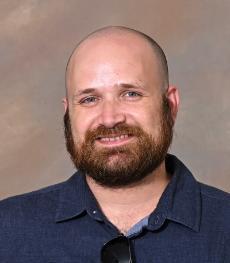 Barsczewski, Assistant Professor of English and Writing Program Director
Barsczewski joins Muhlenberg from Elmira College in New York, where he was an assistant professor of English and director of the Academic Writing Program and Writing Center. He earned his Ph.D. and M.A. in English from the University of Massachusetts Amherst and B.A. in English literature from the University of Pittsburgh. His research interests include queer academic literacies and composition pedagogy.
---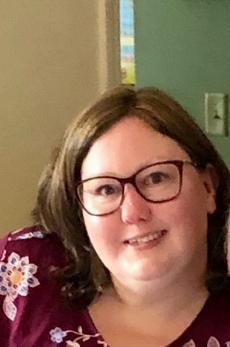 Lindsay Burt, Visiting Assistant Professor of Political Science
Burt received her Ph.D. and M.A. in political science from Syracuse University. Additionally, she earned an M.A. in international development from American University and a B.A. in international relations from the University of Delaware. Her research and teaching interests include global health governance, sustainable development, health and development, international relations theory, international organizations and global governance and qualitative methods. Burt also held a teaching position at American University.
---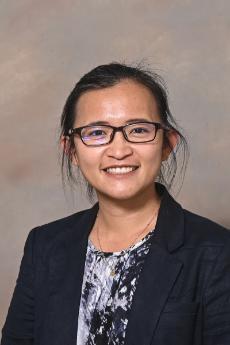 You-Shin Chen, Assistant Professor of Scenic Design
Chen has extensive professional experience in scenic design including opera, musical theatre, theatre and dance as well as film and collaboration for live performances in unconventional theater settings. She has her M.F.A. from the Tisch School of the Arts at New York University and a B.A. from National Taiwan University. Chen has been a guest artist and lecturer at Princeton University and done professional scenic design in educational settings at Princeton, Columbia and Yale Universities; New York Film Academy; and others.
---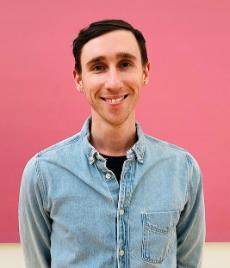 Will Detlefsen, Visiting Assistant Professor of Theatre
Detlefsen received an M.F.A. in Directing from the University of California, San Diego and a B.F.A. in Theatre from New York University. As a director, he is dedicated to transforming classic texts into contemporary new works of theatre, as well as guiding new play processes. He most recently was an advanced directing teacher at O'Neill National Theatre Institute in Connecticut and an instructor at the University of California, San Diego.
---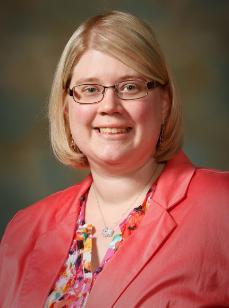 Catherine Hessick, Visiting Assistant Professor of Marketing
Hessick most recently was a lecturer in the marketing department at James Madison University. She earned a Doctor of Philosophy in business administration, marketing from the University of South Alabama, an M.B.A. in marketing, sports & entertainment management from the University of Dallas and a B.S. in business administration with marketing from Franciscan University. Hessick's teaching interests include business ethics, advertising, digital marketing and marketing research ad analytics.
---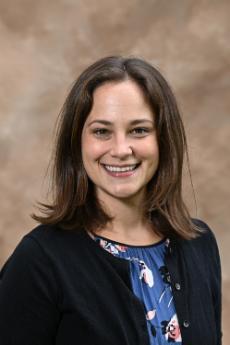 Alissa Hochman, Visiting Assistant Professor of Clinical/Counseling Psychology
Hochman completed her Ph.D. and M.A. in clinical psychology at the University of Massachusetts Boston and her B.A. in psychology from Brandeis University. She was most recently a visiting assistant professor of psychology at Haverford College. Hochman's teaching and research focus on the intersection between social justice and mental health. In her research, she uses a constructivist perspective to examine how to increase engagement in social justice activities, empower individuals facing discrimination, understand the impacts of discrimination and intervene to increase people's understanding of personal bias and systemic oppression.
---
Kim Hoeckele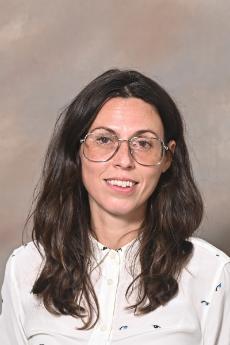 , Assistant Professor of Photography
Hoeckele holds an M.F.A. in studio art from Hunter College of the City University of New York and an B.F.A. in photography from Georgia State University. She most recently was an adjunct faculty member at Parsons School of Design and at New York University. Her teaching specializations span photographic and lens-based practices, and her research focuses on gender and representation across genres of photography. Hoeckele describes her primary teaching goals to support the growth of critical image-makers and to provide students with the tools to adapt and problem solve.
---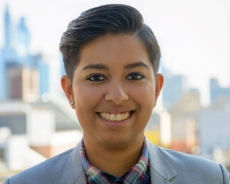 Archana Kaku, Political Science Consortium for Faculty Diversity Fellow
Kaku received her Ph.D. and M.A. in political science from the University of Pennsylvania. Her research and teaching interests include power and resistance, politics of the body, postcolonial theory and critical approaches to the Canon. She also works in gender & sexuality studies. She has taught and worked in student advising at Temple University, Bryn Mawr College and the University of Pennsylvania.
---
Michael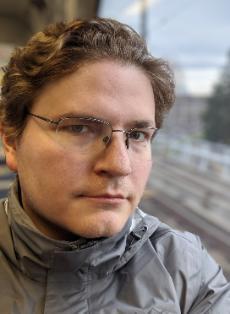 Karcher, Assistant Professor of Statistics
Karcher earned his Ph.D. in statistics at the University of Washington, where he did research in statistical genetics and astrostatistics and instructed in undergraduate and graduate statistics classes. From his undergraduate studies at Swarthmore College to his postdoc at Fred Hutch Cancer Research Center, his research interests have primarily been in epidemiological statistics, viral phylodynamics and cosmological simulation using and advancing a variety of methods from Bayesian statistics, machine learning and stochastic processes.
---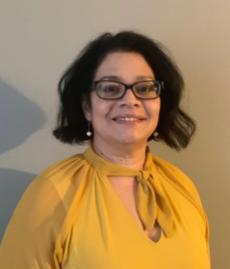 Gisela Lebrón, Visiting Lecturer of Spanish
Lebrón joined Muhlenberg as an adjunct faculty of Spanish in 2020. She has also served in an adjunct capacity for Lehigh Carbon Community College, Northampton Community College and DeSales University and as a teacher of Spanish at Lehigh Valley Christian High School. Her research achievements have been on the impact of ESL strategies in the modern language class. Gisela earned her M.A., TESOL from DeSales University and B.A. in elementary education from Universidad Interamericana in San Juan, Puerto Rico.
---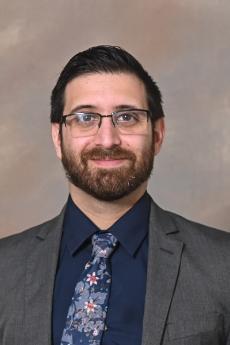 Edward A. Lenzo, Visiting Assistant Professor of Philosophy
Lenzo received his Ph.D. in philosophy from the University of Memphis this past May. He earned his M.A. in philosophy from Colorado State University and B.A. in philosophy from Rutgers University. Lenzo's areas of specialization are philosophy of mind with an emphasis on cognitive science and psychopathology and continental philosophy, and he identifies areas of competence in ethics, including biomedical, ancient Greek philosophy, logic and modern philosophy.


---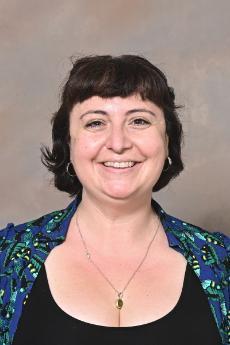 Jamie McKittrick, Visiting Assistant Professor of Acting
McKittrick has a diverse CV as an actor, director, movement practitioner, choreographer, teacher, devisor and intimacy choreographer. She is a Muhlenberg alum, receiving her B.A. in theatre and dance and subsequently getting an M.F.A. in contemporary performance from Naropa University. McKittrick most recently was an adjunct professor of acting and visiting professor of directing at Webster University Conservatory of the Arts and an adjunct at Lindenwood University.
---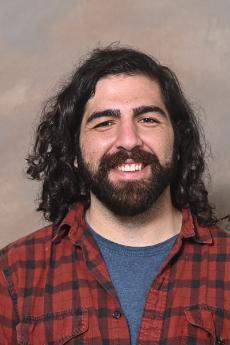 Ali Mctar, English Consortium for Faculty Diversity Fellow
Mctar grew up on the far southern border of California. He majored in critical theory at Williams College, where he arrived wanting to study history and political science and left wanting to be an English professor and work on critiques of the law, mostly in poetry. After college, he spent a year living in Quaker communities in Rwanda, South Africa and Nepal to learn how international Friends lived out their peace testimony in countries with histories of conflict. After that, in 2015, he moved to Princeton for a Ph.D. under Nigel Smith, where he studied early modern literature and Antinomianism, which is to say a version of Christian anarchism and its literary off-shoots, particularly in John Milton's prose and poetry, and especially in Paradise Lost. His work takes seriously the possibility that there exists forms of morality that don't describe their commitments as laws, as well as modes of social life not governed by legal codes, courts or enforcers, and that literature often summons us to this life outside the law.
---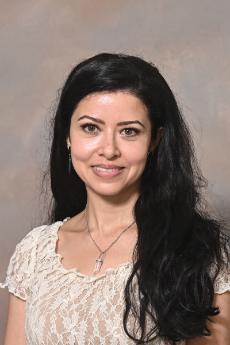 Tiffany Montoya, Philosophy Consortium for Faculty Diversity Fellow
Montoya received her Ph.D. in philosophy from Purdue University, and a B.A. in philosophy and English from the University of New Mexico. She specializes in social and political philosophy, ethics and philosophy of race, but is also trained in the methodological traditions of 19th- and 20th-century continental philosophy. Her current research involves investigating and critiquing the presupposed assumptions of human ontology within capitalism and liberalism, as well as analyzing how these assumptions can lead to an array of ethical problems (from environmental destruction to the diminished health and well-being of underprivileged populations). She is working on creating/uncovering a new ontological foundation (i.e. philosophical anthropology) from which we can build a more ethically based political economy. Her goals for teaching are to create better citizens and humans who can think critically about complex social/political and ethical issues, who have the courage to reflect on their own presuppositions and who can connect more fully with their own humanity and that of others.
---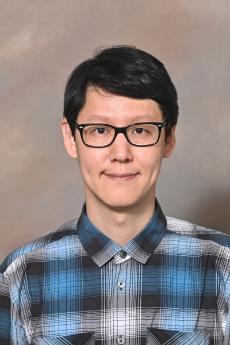 Yangbin Park, Visiting Assistant Professor of Printmaking
Park completed his M.F.A. in printmaking at Tyler School of Art and Architecture, Temple University; B.F.A. in studio art at the School of the Art Institute of Chicago; and B.F.A. in fiber art and B.D.D. in digital design from Gachon University in Seongnam, Korea. Most recently, Park was a lecturer in the art department at Chungnam National University and previously taught at Seoul Women's University. His technical expertise lies in traditional and contemporary processes of printmaking, painting and drawing, fiber arts and digital design. Drawing from a variety of a shared visual culture and historical references—including but not limited to personal narrative, historical events, public phenomena and contemporary literature—Park investigates the intersection of place, identity and history.
---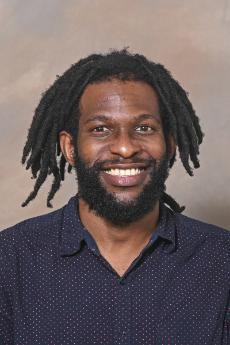 Justin Preddie, Psychology Consortium for Faculty Diversity Fellow
Preddie earned his M.A. and Ph.D. in psychology (social) as well as a graduate certificate in women, gender and sexuality studies from the University of Kansas and B.A. in psychology from Hampton University. His primary research uses intersectionality as a theoretical and methodological framework to understand how race, ethnicity and gender impact judgments of sexual orientation. He also has a secondary line of work that examines constructions of national identity, perceptions of threat and anti-immigrant attitudes. He is currently teaching a course in multicultural psychology.
---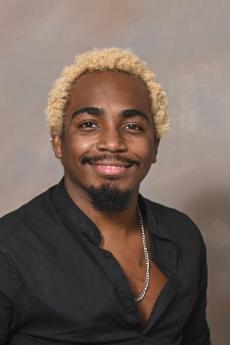 Nigel Semaj, Visiting Assistant Professor of Theatre – Directing
Semaj comes to Muhlenberg from Long Island University, where they were an adjunct professor with courses in drama, directing, script analysis and production. Additionally, they have been a visiting guest artist/director at Lycoming College and instructor at The New School in New York City. Semaj's directing experiences and expertise lie in Black and queer theatre.

---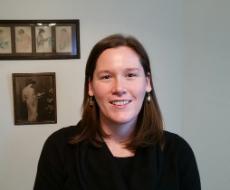 Julie Shoults, Visiting Lecturer of German and Women & Gender Studies
Shoults has served as an adjunct professor with the Department of Languages, Literatures and Cultures since the spring of 2017. She has a Ph.D. and M.A. in German studies as well as a graduate certificate in women's studies from the University of Connecticut and a B.A. in German and English from Moravian College. Her research and teaching interests include all levels of German language and culture, gender and socialism; women's socialist literature; East Germany and East German literature and film; Modernism and modernist literature; German expressionism; female authors and artists of expressionism life writing; autobiographical genres; gender and war; gender and violence; gender and sexuality studies; and feminist theories and movements.
---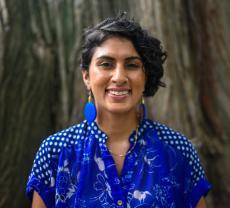 Sheena Sood, Visiting Assistant Professor of Sociology
Sood earned her Ph.D. in sociology from Temple University in 2019 and her B.A. in sociology and international affairs from Emory University. As a holistic educator, she brings a wide range of teaching experiences inside and outside the academy to the table and is excited to connect with the students at Muhlenberg. She is currently teaching two sections of Introduction to Sociology and a Social Movements, Protest and Conflict course. In the spring, she plans to offer a signature course, Sociology of Yoga. Her early research looked at South Asian American political groups in the northeast U.S. and used one-on-one semi-structured interviews and participant observation to examine how they engaged in political action and social justice advocacy. Sood's newer research project brings a critical lens to the practice and popularity of yoga. This project, 'Omwashing' Yoga: Weaponized Spirituality in India, Israel and the U.S., considers the ethical implications of yoga and mindfulness programs being routinely and increasingly used by authoritarian regimes and law enforcement institutions around the globe. She is published in peer-reviewed journals and also has a significant presence in the popular press, including as a guest on the Conspirituality podcast. Sood is actively engaged in healing and racial justice movements in Philadelphia. Learn more at sheenashining.com.
---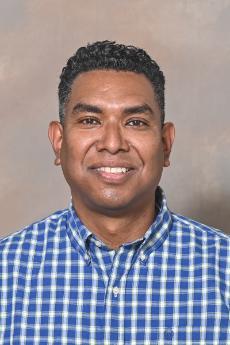 Ricardo Sosa, Lecturer of Spanish
Sosa has been an instructor at the University of North Georgia as well as Miami University, where he also received his M.A. in Spanish language and literature. He received a B.A. from the Universidad del Atlántico. Ricardo has had many roles in the Department of Spanish and Portuguese at Miami as an academic advisor, the director of the Spanish writing and tutoring center, the placement exam coordinator, the Spanish Table coordinator and Study of the United States Institutes Program coordinator.
---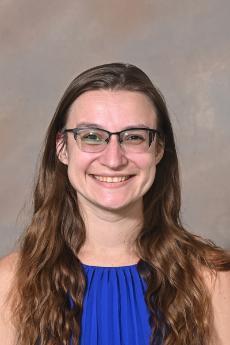 Lauren Warning, Visiting Assistant Professor of Chemistry
A Muhlenberg alum in chemistry, Warning received her Ph.D. in chemistry from Rice University. Her thesis work included the characterization of protein-nanoparticle interactions via optical methods and the development of a virtual chemistry lab for remote teaching during the COVID-19 pandemic. Warning's chemical education research interests include alternative/supplemental virtual teaching methods and their impact on student success and learning.
---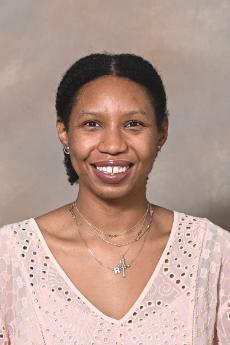 Robyn Watson, Visiting Lecturer of Dance
Watson received her B.A. in theatre from Temple University. She most recently was the tap director at Nolte Academy in Iowa City and has served in an adjunct professor role at Bryn Athyn College and Temple. While Robyn specializes in tap, she is also trained in ballet, jazz and modern dance. She has spent the majority of her dancing career under the artistic direction of Tony-Award-winning choreographer Savion Glover.
---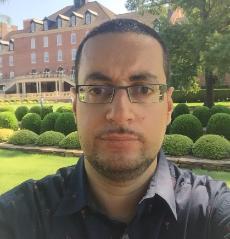 Liran Yadgar, Lecturer of Hebrew
Yadgar earned his M.A. and Ph.D. in Near Eastern languages and civilizations from the University of Chicago and B.A. and M.A. in Middle Eastern history from Tel Aviv University. He was most recently an assistant professor of Hebrew at the Defense Language Institute Foreign Language Center in Monterey, California. He served as a postdoctoral scholar at Yale, UCLA and Oklahoma State University. His area of expertise is the history of Jews in the premodern Middle Eastern lands with a focus on readings in Arabic, Judeo-Arabic and Hebrew. At Muhlenberg, he offers classes in modern Hebrew and Israeli society and culture.
---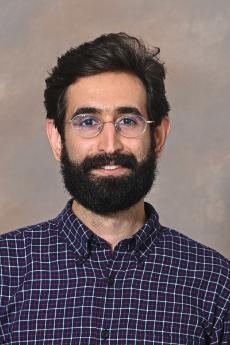 Hamed Yaghoobian, Assistant Professor of Computer Science
Yaghoobian comes to Muhlenberg from the University of Georgia, where he earned his Ph.D. in computer science. His B.S. in electrical engineering is from Azad University, Mashhad Branch. He enjoys teaching a wide range of computer science and AI courses, particularly the ones in which technical concepts can be infused with critical perspectives toward enriching students' technological imagination, broaching limits and generating new possibilities for pushing beyond the typical use of computational systems. His current research interests are at the intersection of Natural Language Processing (NLP), Human-Computer Interaction (HCI) and Explainable AI (XAI), primarily focusing on computer-mediated practices in everyday life.
---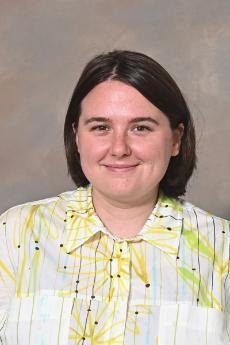 Lucille Zipf, Visiting Assistant Professor of Biology
Zipf was most recently a visiting lecturer in environmental studies at Wellesley College. She has a Ph.D. in biology: ecology, behavior & evolution from Boston University and a B.S. in environmental science from Brown University. Her primary goals as a science educator are to encourage students to interrogate their interactions with the natural and built environment, build the necessary foundation of theory and practice needed to understand biological processes and encourage students to reexamine their and other environments with critical thought. In addition to her research as a community ecologist, she is passionate about science communication and outreach.