Kevan Shah '22 Named a 2021 Goldwater Scholar
Designed to encourage outstanding students to pursue research careers in the natural sciences, engineering and mathematics, the Goldwater Scholarship is the preeminent undergraduate award of its type in these fields.
By: Kristine Yahna Todaro Thursday, April 8, 2021 11:41 AM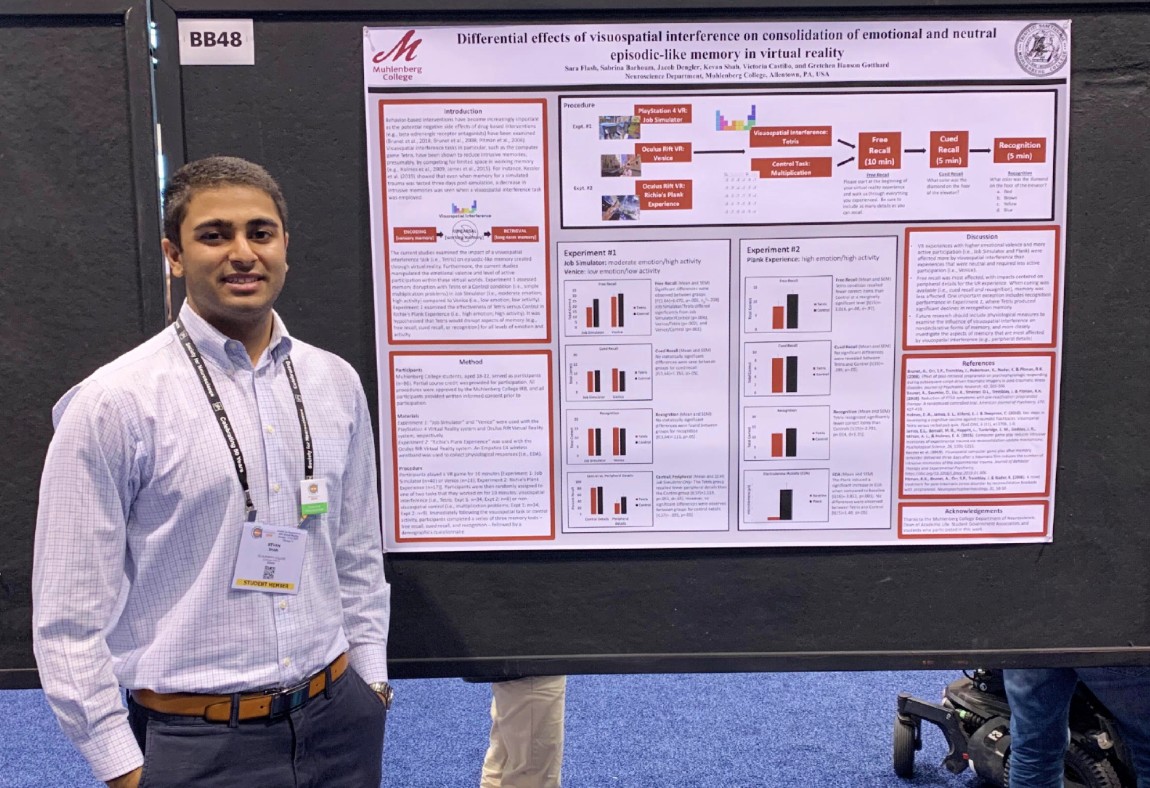 Shah presents research at the Society for Neuroscience (SfN) Conference in Chicago in fall 2019.
Kevan Shah '22 is one of 410 college students from across the United States selected as a 2021 Goldwater Scholar.
The Goldwater Scholarship is one of the oldest and most prestigious national scholarships in the natural sciences, engineering, and mathematics in the country. It provides up to $7,500 per year for the cost of tuition, fees, books and room and board.
"I've always been fascinated by science from an early age thanks to incredible mentors like Ms. Donna Leonardi at the Bergen County Academies, Dr. Gretchen Gotthard here at Muhlenberg College, and Dr. Sarah Canetta at Columbia University Medical Center," says Shah, who was also recently named a Newman Civic Fellow and a Truman Scholar Finalist.
"I've been fortunate enough to learn the joys of research and discovery in their labs. Muhlenberg, in particular, gave me the chance to conduct research as early as my freshman year, and I jumped on that opportunity," says Shah, a public health and neuroscience major. "I joined the Gotthard Lab, which focuses on behavioral neuroscience, and traveled with fellow students to present our research findings at an annual international conference in Chicago."
He added, "In a year when our commitment to science has become the light at the end of the pandemic tunnel, I could not be more grateful for these mentors, the opportunities at Muhlenberg, and the support of the Goldwater Foundation for ensuring the importance of science in the years ahead."
From an estimated pool of over 5,000 college sophomores and juniors, 1256 natural science, engineering and mathematics students were nominated by 438 academic institutions to compete for the 2021 Goldwater scholarships. Of those students who reported, 198 of the Scholars are men, 207 are women and virtually all intend to pursue graduate school. Fifty-one Scholars are mathematics and computer science majors, 291 are majoring in the natural sciences, and 68 are majoring in engineering. Many of the Scholars have published their research in leading professional journals and have presented their work at professional society conferences.
Goldwater Scholars have impressive academic and research credentials that have garnered the attention of prestigious post-graduate fellowship programs. They have been awarded 94 Rhodes Scholarships, 150 Marshall Scholarships, 170 Churchill Scholarships, 109 Hertz Fellowships and numerous other distinguished awards like the National Science Foundation Graduate Research Fellowships.
The Barry Goldwater Scholarship and Excellence in Education Foundation was established by Congress in 1986 to serve as a living memorial to honor the lifetime work of Senator Barry Goldwater, who served his country for 56 years as a soldier and statesman, including 30 years in the U.S. Senate.