Telling the Lost Stories of a 40-Year-Old Pandemic
The integrative learning course HIV and AIDS in the Lehigh Valley draws upon Trexler Library's LGBT Community Archive as well as local speakers to bring the crisis to life.
By: Caitlin Giddings Tuesday, October 5, 2021 04:19 PM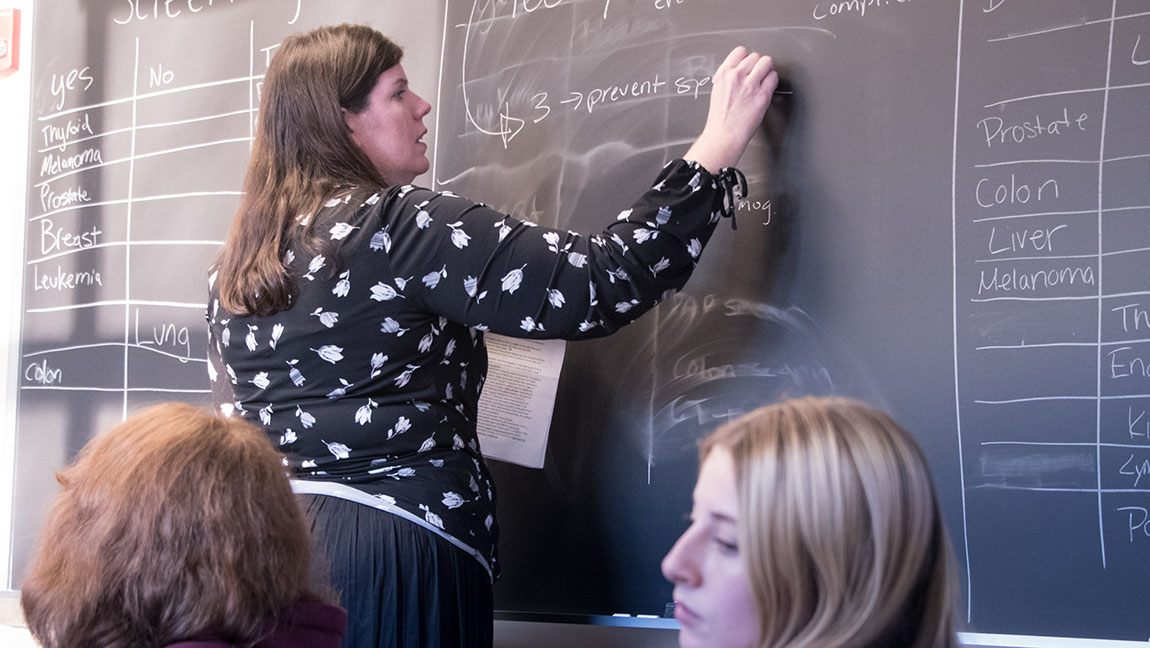 Teaching and Learning Librarian Rachel Hamelers teaching another one of her integrative learning courses, Scientific Communication, in Fall 2019. Photo by Tom Amico
Most recorded history from the height of the HIV/AIDS crisis focuses on the virus' effects on communities like New York City and San Francisco—big cities seen as the epicenters of U.S. gay life. But HIV and AIDS in the Lehigh Valley, an integrative learning course taught by Teaching and Learning Librarian Rachel Hamelers, brings to life the lost stories of those affected by HIV here in the Valley, spotlighting the impact on regions of all sizes and connecting local faces to an overwhelming epidemic.
Hamelers created the class in 2019 to make use of Trexler Library's Lehigh Valley LGBT Community Archive, a program of the Bradbury-Sullivan LGBT Community Center in partnership with Trexler Library. The archive had recently acquired materials from local AIDS advocacy organization Fighting AIDS Continuously Together (F.A.C.T.), including organizational records and memorabilia from fundraising events. More recently, through grant-funded initiatives, the archive has gathered oral histories from local individuals who lived through the height of the AIDS epidemic in the 1980s and 1990s.
For students in Hamelers' course—all of whom were born after the height of the HIV/AIDS crisis in the U.S.—those stories leave a big impression. Throughout the '80s and '90s, there was a huge rift between what was being reported about HIV/AIDS in mainstream media and the information relayed in community newsletters. Newspapers like The Morning Call often used stigmatizing and othering language to talk about who contracted the disease. But community newsletters shared helpful resources for those who showed symptoms or tested positive, such as lists of local doctors willing to treat HIV-positive patients. Sifting through the archive's contents not only personalizes the crisis but also fills in those gaps.
"Looking at newspaper articles [about HIV/AIDS] from the time, you don't have that perspective that it's actually affecting people," says Kristen Leipert, the digital projects archivist who administered the archive from 2018 until mid-2021. "But with the oral histories, students get to meet the people involved and realize: 'They were just our age, in their 20s, just living and partying, and then they also had to deal with this."
Now in its third year, the course feels more relevant than ever, as students navigate the health risks and hardships of one epidemic while studying another. They've dug deep into differences and parallels between today's pandemic and the height of HIV/AIDS, particularly with regard to which communities are impacted, "how people want to try to blame pandemics on groups of people," as Hamelers puts it, and messaging around protective equipment.
The class also hosts local speakers to talk about their involvement in the community and HIV advocacy over the past four decades. It wasn't all gloom at the time—staff at the two long-standing gay bars in Allentown, Candida's and Stonewall, used to play pranks on each other and throw fundraiser parties for friends with HIV/AIDS. The archives go beyond the science of the virus to tell the story of a vibrant but embattled community dealing with an unprecedented public health crisis.
Hamelers says graduates of the class—who come from disciplines all over Muhlenberg, including theatre, biochemistry, public health and more—express gratitude not just for learning more about HIV/AIDS but also for gaining a richer understanding of what it was like to be out as an LGBTQ person in the '80s and '90s as compared to today.
"A lot of the people in the archives are still in the community," Hamelers says. "The Lehigh Valley happened to have some really strong advocates who worked hard to educate and take care of people and fundraise, and we're happy to get to tell these stories that haven't been told in 30 to 40 years—and maybe never told."