Alum Wins Emmy for Documentary Series
Jess Kasza '11 is part of the production team for PBS's "Prideland," which tells the stories of LGBTQ Americans in the South.
By: Meghan Kita Friday, October 8, 2021 04:08 PM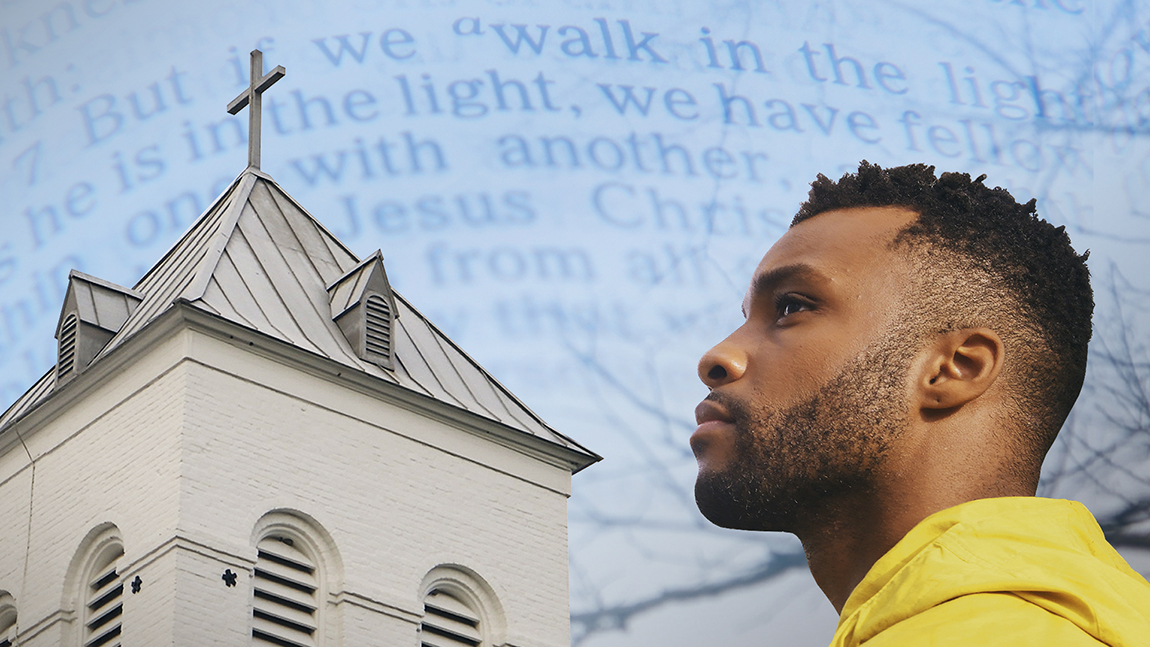 "Prideland" host Dyllón Burnside in a still from the second episode of the Emmy-winning PBS web series
In the first episode of PBS's Prideland, viewers learn that the South is home to more queer people than any other region in the U.S. despite it being among the least welcoming from a policy standpoint. For example, it's legal in most Southern states to fire someone for being LGBTQ, and many Southern states prohibit LGBTQ individuals from adopting children.
But, says host Dyllón Burnside, "The South is changing. That's because so many LGBTQ people and their allies have decided that nothing should prevent them from living authentically, without fear, wherever they may call home."
Over the course of six episodes, each less than 10 minutes long, the web series tells the stories of some of these individuals. The episodes originally appeared on PBS.org and YouTube in the late spring and early summer of 2020, and comments gave the team at PBS some insight into how the stories were resonating.
"We got a lot of really wonderful feedback from people saying they experienced something similar and were very happy to have the representation, or they moved away from their communities and were wondering if they should have stayed," says Jess Kasza '11 (pictured), director of operations for PBS Digital Studios.
This June, Kasza and her colleagues learned the Academy of Television Arts & Sciences also enjoyed Prideland, enough that it was nominated for an Emmy in the Short Form Non-Fiction Program category. On July 18, her manager and his husband appeared on a livestream of the ceremony to accept the award on behalf of the Prideland team.
PBS started working on the series in late 2019. Kasza, who was involved from the earliest idea stages, was the executive in charge of production: She managed funding and agreements and worked closely to bring on the production company and ensure they understood PBS's vision and goals for the project. The bulk of the filming took place in early 2020, much of it just before the pandemic hit, and Kasza and her team coordinated a plan to release the episodes both digitally and in an hour-long broadcast special to air during Pride month.
"We wanted to reach all Americans where they are," says Kasza, who was a media & communication and anthropology double major at Muhlenberg. "We wanted to find the audiences on broadcast, YouTube, PBS.org—wherever we could possibly reach them. It was the first time PBS was doing that big of a multiplatform project of this nature."
Right now, Kasza is working on administering a Corporation for Public Broadcasting grant that's providing funding for member stations to launch their own digital series that elevate diverse voices. The continuation of Prideland depends on funding and additional creative discussions, but Kasza hopes to oversee the production of another season.
"One of my personal goals is to see other regions represented," she says. "I know there are a lot of meaningful stories of struggle and triumph across the country in the LGBTQ community that we could shed light on with this series."