50 Years of Title IX Explores History of Student-Athlete Experience at Muhlenberg
On November 16, Muhlenberg student Genna Cicchetti '22 presented her research into Muhlenberg's archives and convened a panel that discussed their own experiences with equity in women's sports.
By: Bill Keller Thursday, November 18, 2021 11:46 PM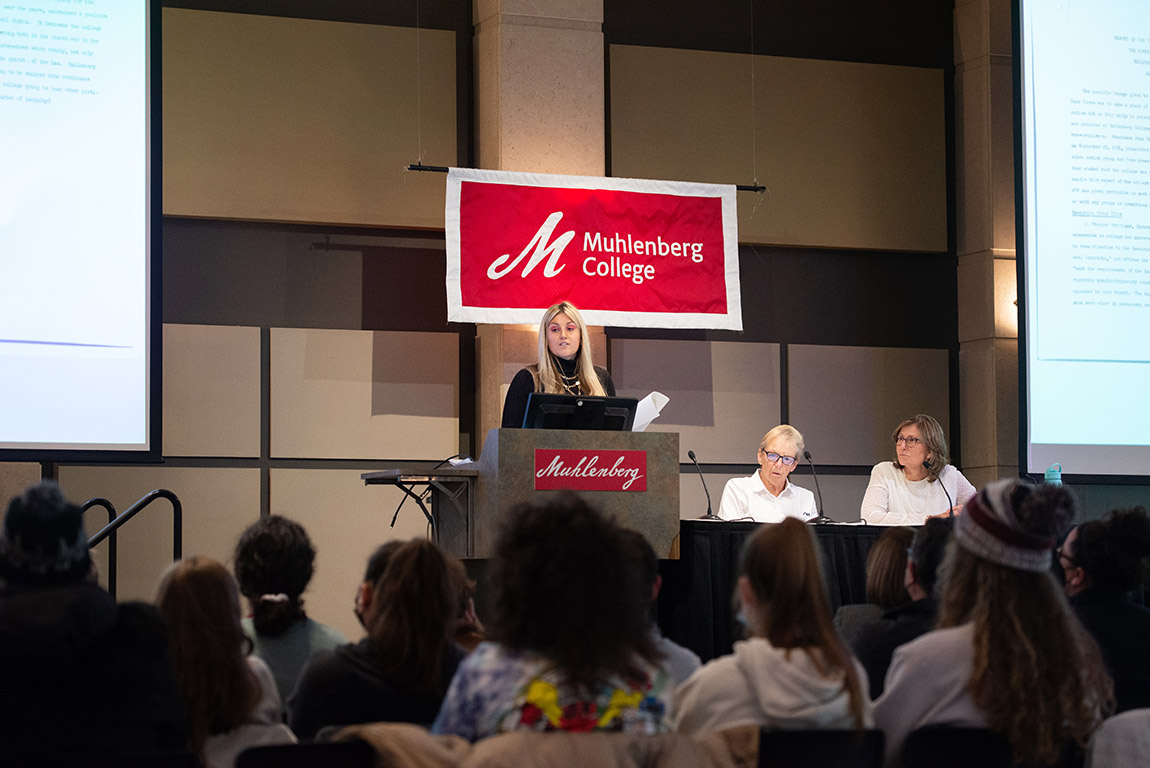 Genna Cicchetti '22 presents research that explores Muhlenberg's history with women's sports and Title IX.
Joining Cicchetti for the panel were Ruth Gibbs, who served as Muhlenberg's softball coach for 12 years before retiring in 2008, and Lynn Tubman, Muhlenberg's athletic director and the first woman to permanently fill that role.
Cicchetti interviewed former Muhlenberg associate athletic director Connie Kunda as part of her research. Kunda, who was not able to attend the panel, began work at Muhlenberg in 1966 as a faculty member in the physical education department. She was denied tenure and promotion by the College, though Kunda argued that male colleagues with the same credentials were granted those distinctions. When Kunda objected, her contract was terminated. In Kunda v. Muhlenberg College, a federal judge agreed with Kunda that she was inappropriately denied tenure and granted her reinstatement with backpay. She returned to the College in 1979 and completed 34 years of service at Muhlenberg.
Stories like Kunda's are what helped demonstrate the need for and importance of federal sex-based discrimination protections in education. Title IX was passed in 1972 as part of a series of educational reforms. The federal law prohibits sex-based discrimination in schools or other educational programs that receive federal funding.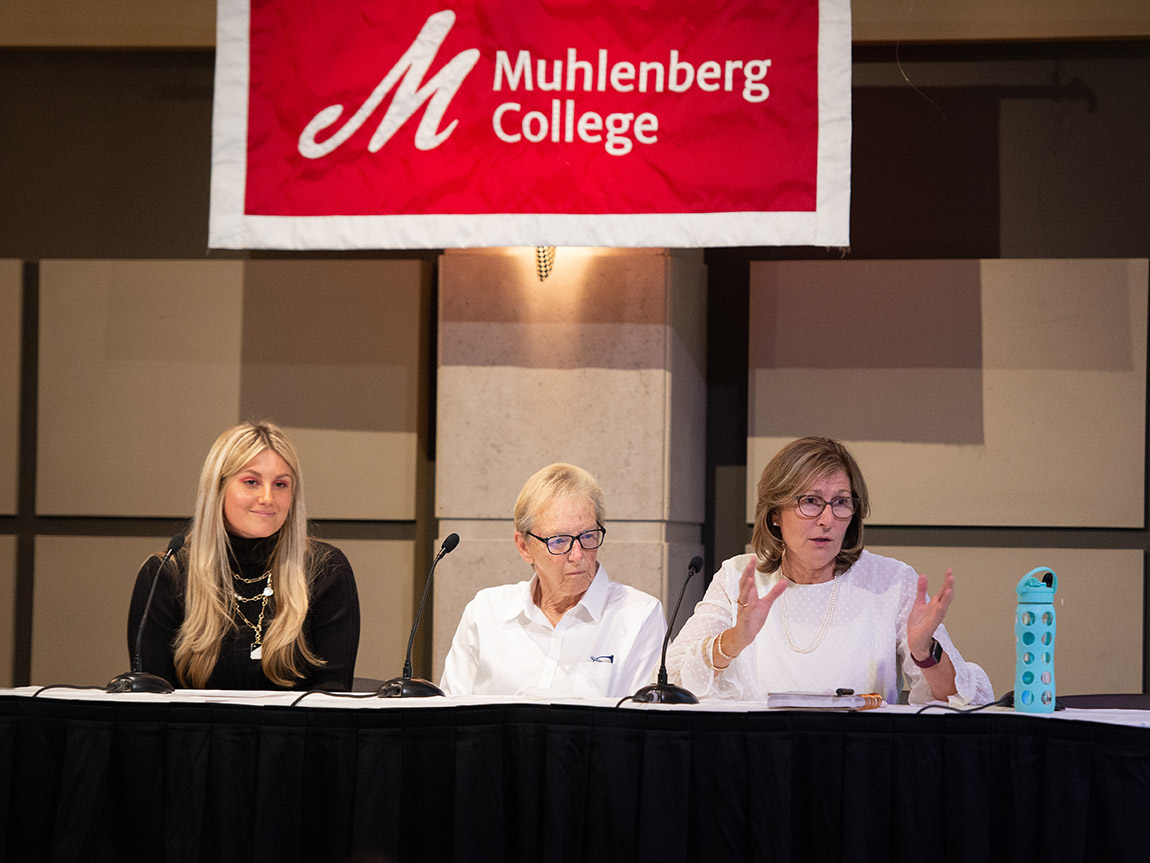 Cicchetti (left) participates in a panel discussion with former softball coach Ruth Gibbs (center) and Muhlenberg Athletic Director Lynn Tubman (right).

Cicchetti, a member of Muhlenberg's softball team, worked with Assistant Athletic Director Megan Patruno to plan the event, and consultation with Professor of Political Science Lanethea Mathews-Schultz led her to Muhlenberg's archives. There, Special Collections & Archives Librarian Susan Falciani Maldonado provided her with College records from the start of co-education in 1957, through the passage of Title IX legislation and into the campus culture of the 1980s.
Cicchetti's presentation included scans of student newspaper clippings, letters to the College administration and copies of budgets. One of the documents she called particular attention to was a 1974 expenditure note that showed the disparity in funding and support for 11 men's intercollegiate teams compared to just three intramural teams for women.
The panel discussion centered on each of the participants' experiences with equity in athletics—Gibbs spoke of her role in high school athletics prior to her tenure at Muhlenberg, Tubman shared observations of athletic disparity from her graduate alma mater and Cicchetti spoke about a campaign for equal recognition and accolades following a women's championship.
"Being on a panel with these women was an incredible experience," Cicchetti said. "They are true trailblazers and inspirations to me, and being able to give my personal experiences alongside theirs shows how important it is to learn the history of laws and the people who made it possible."