'Providing Mentorship and Inspiration to All Women'
In the span of a few months, Professor Katherine Richmond receives three national awards for her mentorship, teaching, scholarship and recently published textbook.
By: Kristine Yahna Todaro Thursday, August 13, 2020 08:21 PM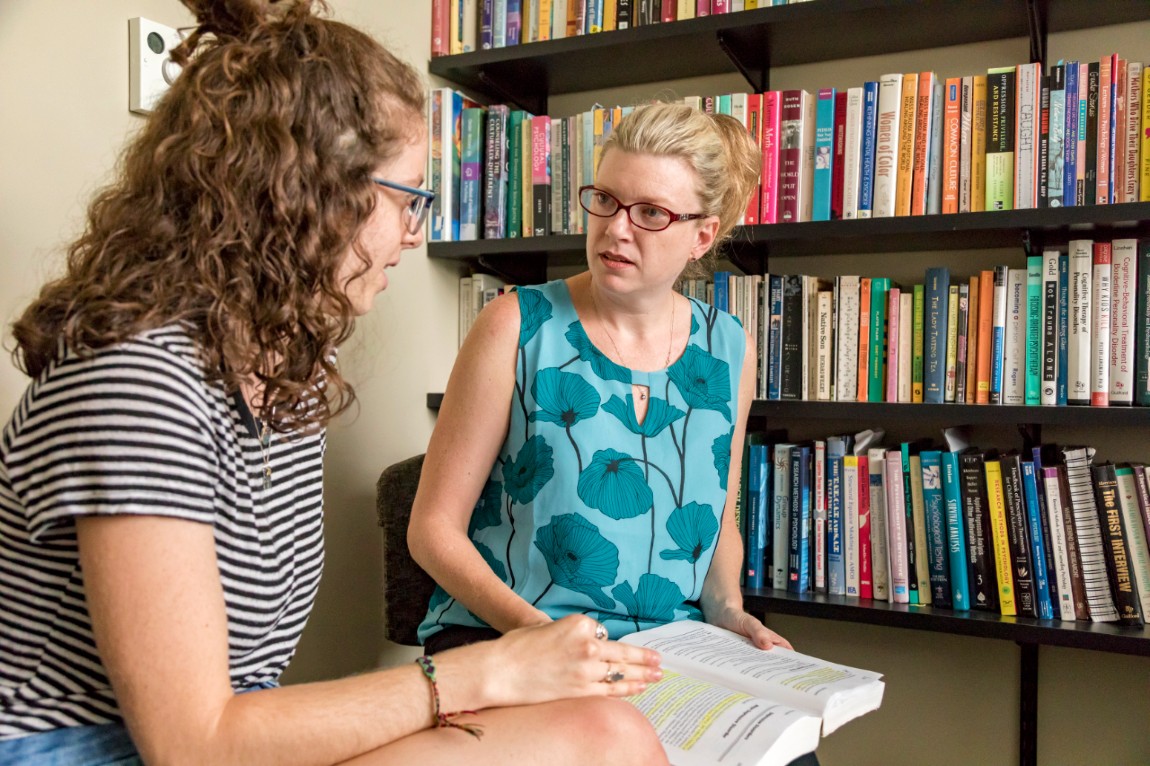 Kaylis Moskowitz '19 (left) conducted her Muhlenberg senior thesis with Professor Richmond. She's currently pursuing her doctorate at Wright Institute in Berkeley, California.
This spring and summer brought a slew of national awards for Professor of Psychology Katherine Richmond.
In March, the Muhlenberg class of 2000 graduate received the Florence Denmark Distinguished Mentoring Award from the Association for Women in Psychology (AWP). Denmark is one of the founders of AWP and a former president of American Psychological Association (APA), and, according to the announcement, the annual award is given "to a feminist leader who continues in Florence's footsteps in providing mentorship and inspiration to all women."
One of the students who endorsed Richmond for the award, Alexis Zollo '18, a psychology major and women's & gender studies minor, wrote, "[Richmond] treats all students with respect and values the voices and lived experiences of each one of them, which in turn lifts them up and inspires them to work harder. She helped me see my potential, and I succeeded because of that." Zollo, now a doctoral student in counseling psychology at Fordham University, is focusing her research on issues related to race, gender, and identity, and writes, "This is directly due to the experiences in Dr. Richmond's classes and through the dedicated mentorship role she took on with me. I am only one of many…."
Another student, Taylor Orlandoni '18, who majored in English and media & communication, wrote that Richmond "irrefutably changed the course of my life with her ability to mentor and teach in such an inspired way." During her senior year, after struggling to determine her post-graduation path, Orlandoni took a course from Richmond and quickly decided to pursue a master's in psychology. With no background in the field, she writes that Richmond mentored her through the application process and urged her to aim for Columbia University, where she has since earned her master's degree and is beginning a doctoral program in counseling psychology this fall. "Without the mentorship I had the honor of receiving from Dr. Richmond, the course of my career and my life would be completely different. Dr. Richmond is of the highest caliber, and truly a gift to every person she comes across."
On August 8, Richmond learned she received the 2020 Emerging Leader Award from the Committee on Women in Psychology of the American Psychological Association.
Given in recognition of her "outstanding contributions in the areas of scholarship, teaching, public interest and service to women in psychology," the award underscores Richmond's work as a prolific scholar in the field of feminist psychology, which includes 32 articles and book chapters, many of which include undergraduate student authors, and 58 presentations at national and international psychology conferences.
Even more recently, on August 11, the Association of Women in Psychology informed Richmond that she had received the 2020 Distinguished Publication Award, along with her co-authors, for their textbook the Psychology of Women and Gender (2019, Norton).
The Distinguished Publication Award is given "in recognition of significant and substantial contributions of research and theory that advance our understanding of the psychology of women and promote achievement of the goals of the Association for Women in Psychology (AWP)."
Richmond says her work is typically done collaboratively "so when I think about Florence's work and work I've published or advocated for, it is almost always done in community with other people. So the recognitions are really for these collaborations and particularly for the pioneers who came before me—but also about the students working with us for the next generation."
One example of Richmond's research, teaching and service is a unique collaboration with the Lehigh County Corrections Center, where she brings college students together with women who are incarcerated to study as classmates and work together on a semester-long project in a prison setting. "It's a pivotal time in our world," she says, "and the need for critical thinking and scholarship is what informs this type of work. Without it, we don't have the capacity to advocate for women and girls."
About Muhlenberg College
Founded in 1848, Muhlenberg is a highly selective, private, four-year residential, liberal arts college offering baccalaureate and graduate programs. With an enrollment of approximately 2,200 students, Muhlenberg College is dedicated to shaping creative, compassionate, collaborative leaders through rigorous academic programs in the arts, humanities, natural sciences and social sciences; selected preprofessional programs, including accounting, business, education and public health; and progressive workforce-focused post-baccalaureate certificates and master's degrees. Located in Allentown, Pennsylvania, approximately 90 miles west of New York City, Muhlenberg is a member of the Centennial Conference, competing in 22 varsity sports. Muhlenberg is affiliated with the Evangelical Lutheran Church in America.