Muhlenberg Featured in The Princeton Review's 'Best 386 Colleges' Guide
The College was also again named to the Best Value Colleges and Green Colleges lists.
By: Kristine Yahna Todaro Tuesday, September 15, 2020 06:34 PM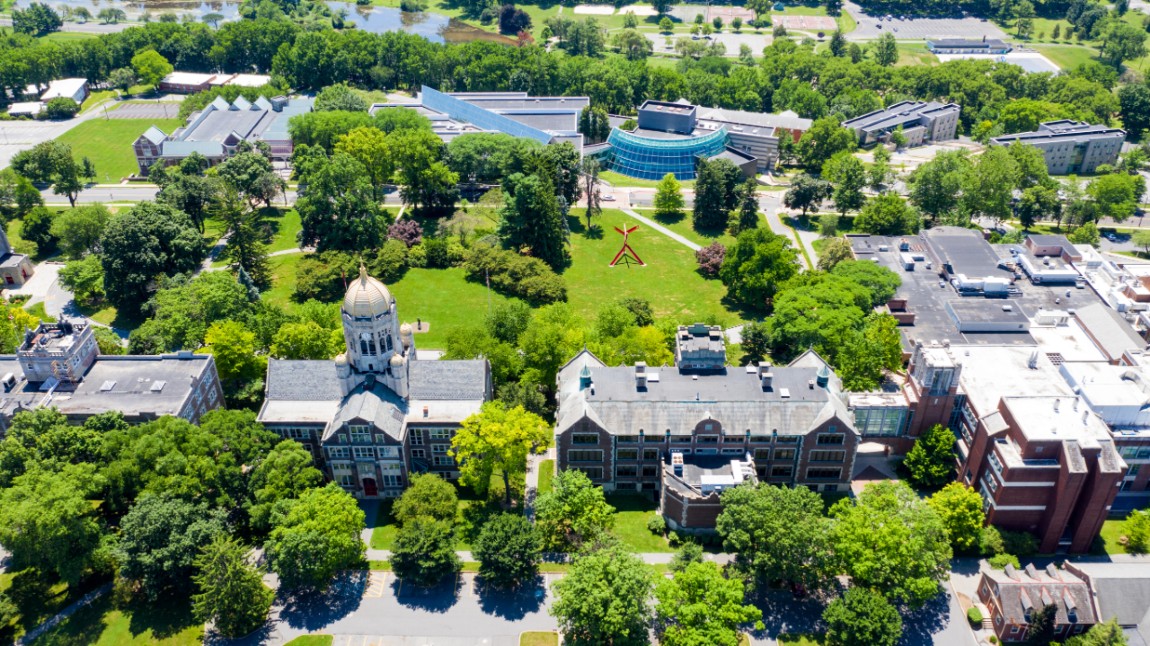 Muhlenberg is again named one of the nation's best institutions for undergraduates, according to The Princeton Review. The publication's 29th annual edition of "The Best 386 Colleges" guide is based on surveys of 143,000 students from across the country who attend those schools.
Muhlenberg is also named a Best Value College "based on a combination of institutional and student survey data, including academic rigor, affordability and career outcomes for graduates, among others."
In addition, the College again made the Green Colleges list based on its campus-wide sustainability efforts and commitments. These include a recently announced sustainability studies major, which joined a newly revised minor, last year. In February, Muhlenberg announced a joint, large-scale solar energy purchase, which along with other campus initiatives, enables the College to have a carbon-neutral electricity footprint for the first time.
Muhlenberg students responded to The Princeton Review's survey questions by saying they felt welcomed into a "close-knit" community and are privy to "a well-rounded liberal arts education." Noting that their peers are extremely hardworking and friendly, respondents said students have their pick of many terrific disciplines, from the "amazing theatre department" to the "extremely strong" business and science programs. They championed their "dedicated" professors who "really take the time to get to know you and answer your questions."
In addition to a campus offering "tons of free activities over the weekends," students said they enjoy Allentown's public parks, which provide "great areas to hike, explore, bird-watch, read or take a jog." And they periodically capitalize on Muhlenberg's relatively close proximity to both Philadelphia and New York.

According to the profile, "a biology major sums up his peers by stating, 'There is a place for everyone on campus. We have a huge theatre program, yet almost 30 percent of our school participates in athletics, so you can see there are all extremes and everything in between.'" Another student studying French and education offered, "most people are involved with many different aspects of campus life, and these aspects tend not to be 'cliquey' because of the crossover. For example, there are many football players who are members of a cappella groups or who take dance."
The Princeton Review is a tutoring, test prep and college admission services company. Its ranking lists are based on its surveys of students attending the 386 colleges in the book in 2019-20 and/or the previous two academic years. Only about 14 percent of the nation's 2,800 four-year colleges are profiled in its annual guide.
About Muhlenberg College
Founded in 1848, Muhlenberg is a highly selective, private, four-year residential, liberal arts college offering baccalaureate and graduate programs. With an enrollment of approximately 2,200 students, Muhlenberg College is dedicated to shaping creative, compassionate, collaborative leaders through rigorous academic programs in the arts, humanities, natural sciences and social sciences; selected preprofessional programs, including accounting, business, education and public health; and progressive workforce-focused post-baccalaureate certificates and master's degrees. Located in Allentown, Pennsylvania, approximately 90 miles west of New York City, Muhlenberg is a member of the Centennial Conference, competing in 22 varsity sports. Muhlenberg is affiliated with the Evangelical Lutheran Church in America.