Muhlenberg Named a Sierra Club "Cool School"
The College once again was named to the list for its sustainability initiatives and environmental commitments.
Tuesday, September 29, 2020 08:17 PM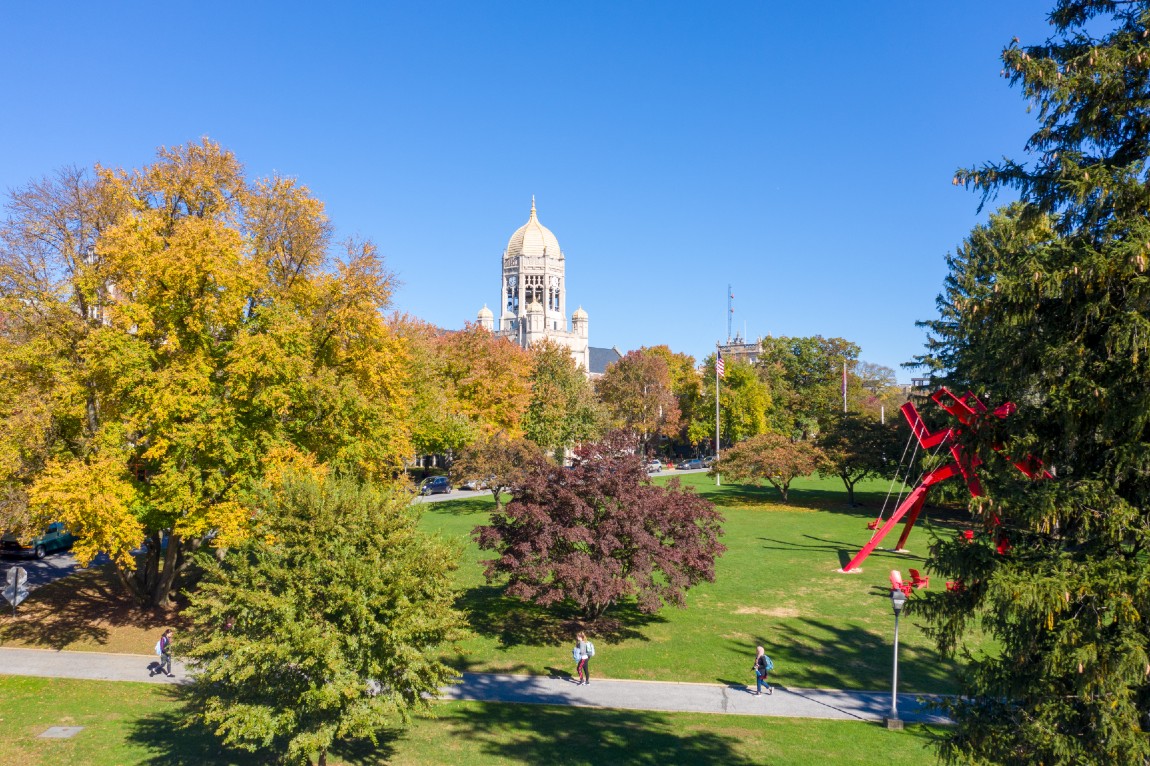 On September 28, Muhlenberg was named a 2020 Sierra 'Cool School' based on campus sustainability initiatives. This year the College was ranked #75 in the nation, giving it the fourth-highest spot for a Pennsylvania school and the highest ranking of any college or university in the Lehigh Valley. Muhlenberg's position on the annual Sierra Club list has been rising steadily, beginning with a spot at #151 in 2014.
Sierra started ranking colleges 14 years ago based on their environmental commitments. According to their site, "a record 312 institutions participated in our annual Cool Schools rankings—a remarkable feat, given the fact it's been a school year like no other. Beyond having to suddenly pivot to virtual learning and community-building because of the coronavirus pandemic, many schools had to backtrack. Those that had phased out plastic bags and takeout containers, for example, found themselves having to bring them back to comply with COVID-19 safety protocols. Despite such setbacks, the schools on this list have shown incredible resourcefulness as they have innovated new ways to maintain—and in many cases, further—their sustainability objectives."
As in past years, Sierra collaborated with the Association for the Advancement of Sustainability in Higher Education (AASHE) to gather the raw data for their rankings. They based their rankings on an institution's existing sustainability Tracking, Assessment & Rating System (STARS) score, then processed the STARS data through a custom-built formula that ranked the schools according to their own weighting criteria across 18 categories ranging from "curriculum" to "water." Muhlenberg earned a STARS Gold rating in 2019 in recognition of its sustainability achievements.
Earlier this fall, Muhlenberg had been once again named as one of the nation's best institutions for undergraduates, according to The Princeton Review. The publication's 29th annual edition of "The Best 386 Colleges" guide is based on surveys of 143,000 students from across the country who attend those schools.
The Princeton Review also named Muhlenberg a Best Value College—"based on a combination of institutional and student survey data, including academic rigor, affordability and career outcomes for graduates, among others"—and a Green College based on its campus-wide sustainability efforts and commitments. These include a recently announced sustainability studies major, which joined a newly revised minor, last year. In February, Muhlenberg announced a joint, large-scale solar energy purchase, which along with other campus initiatives, enables the College to have a carbon-neutral electricity footprint for the first time.
About Muhlenberg College
Founded in 1848, Muhlenberg is a highly selective, private, four-year residential, liberal arts college offering baccalaureate and graduate programs. With an enrollment of approximately 2,200 students, Muhlenberg College is dedicated to shaping creative, compassionate, collaborative leaders through rigorous academic programs in the arts, humanities, natural sciences and social sciences; selected preprofessional programs, including accounting, business, education and public health; and progressive workforce-focused post-baccalaureate certificates and master's degrees. Located in Allentown, Pennsylvania, approximately 90 miles west of New York City, Muhlenberg is a member of the Centennial Conference, competing in 22 varsity sports. Muhlenberg is affiliated with the Evangelical Lutheran Church in America.