Muhlenberg Hosts Drive-Through Meal Distribution
About 7,000 meals were given to local families at Friday's event, held in partnership with the Allentown Health Bureau, the Food Policy Council and Operation BBQ Relief, a national disaster-relief organization.
By: Meghan Kita Tuesday, June 2, 2020 04:56 PM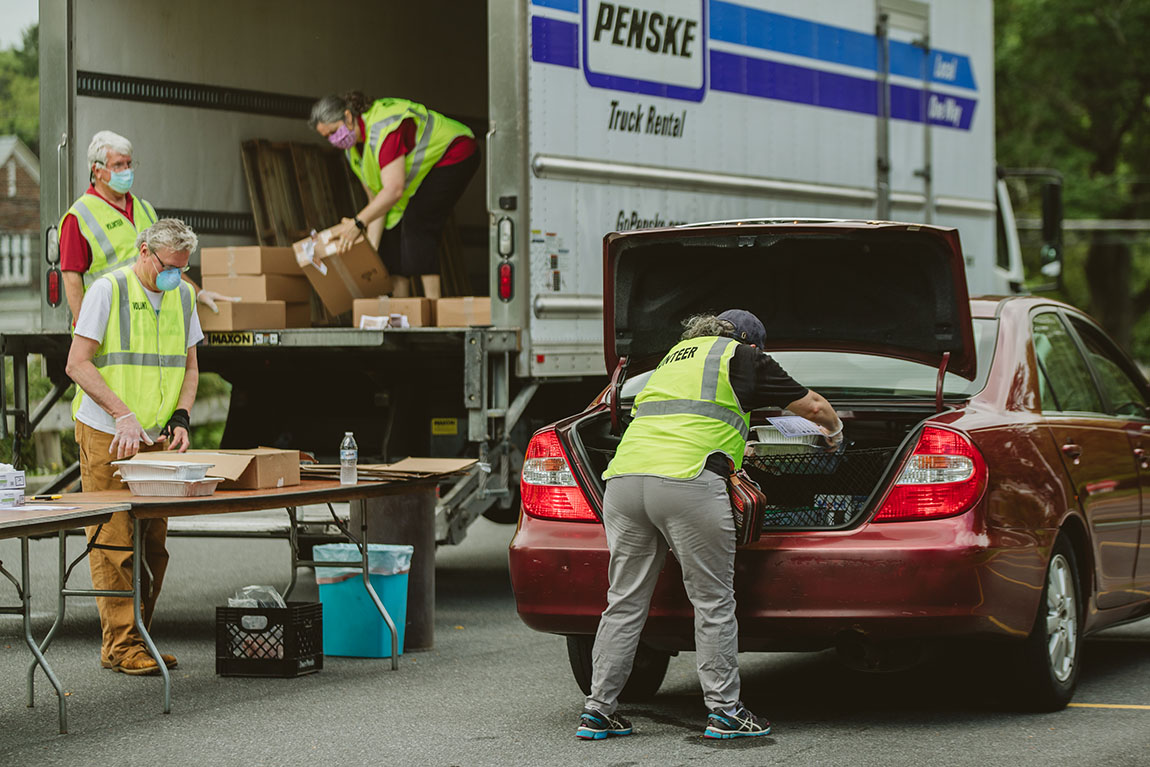 Volunteers load meals into a car during a food distribution event held at Muhlenberg on May 29. Photos by Marco Calderon
On Friday, about 15 volunteers worked out of the Prosser Hall parking lot to help distribute free meals to local families. The food distribution event gave out 7,000 frozen meals.
Muhlenberg was one of several partners that helped make the event happen. Beth Halpern, director of the Office of Community Engagement (OCE), was approached by a community partner at the Allentown Health Bureau, Tina Amato. Amato is also part of the Lehigh Valley Food Policy Council, which was approached by the Pennsylvania Emergency Management Agency about distributing meals provided by Operation BBQ Relief, a national disaster-relief organization. Since the COVID-19 pandemic began, the organization has been providing stipends to allow restaurants to rehire laid-off employees to prepare meals for distribution to "the homeless, veterans, first responders, healthcare workers and families," per the organization's website.
Amato was searching for a location that could quickly commit to storing and distributing the meals. Over Mother's Day weekend, Halpern coordinated with General Manager of Muhlenberg Dining John Pasquarello, Vice President for Student Affairs Allison Gulati and other campus contacts to determine whether the College could safely accommodate the request amid the COVID-19 pandemic. That Monday, the College committed to the distribution.
Kamilah Aviles '21, a public health major who's working with the Allentown Health Bureau this summer via the OCE's Community Internship Program, started her internship around this time. Her first task was designing a flier about the May 29 event that could be distributed virtually. Next, she created a site to recruit volunteers. They needed people who could stay from 8 a.m. to 4 p.m.; the College wanted the smallest group possible on campus for safety reasons.
The day of the distribution, two lines of vehicles went through the Prosser lot, on either side of a freezer truck donated by Penske. Mask-clad volunteers directed traffic on Chew Street or placed meals in people's trunks. In addition to families coming through, community partners did as well—for example, Casa Guadalupe, a community center in downtown Allentown, picked up 20 boxes of food to distribute to their families.
"This is part of why we have established relationships with places throughout the local community, so that when things come up, we can be in conversation," Halpern says. "It was kind of a no-brainer—if we could do it, we would do it."