Theatre professor James Peck receives Oscar Brockett teaching award
Association for Theatre in Higher Education presents award annually to recognize 'tremendous impact' on students
Thursday, July 16, 2020 05:23 PM
---
Professor of Theatre James Peck is the recipient of the 2020 Oscar Brockett Award from the Association for Theatre in Higher Education. The award is presented annually to an outstanding teacher of theater in higher education, who has had "a tremendous impact on students" as scholars and artists.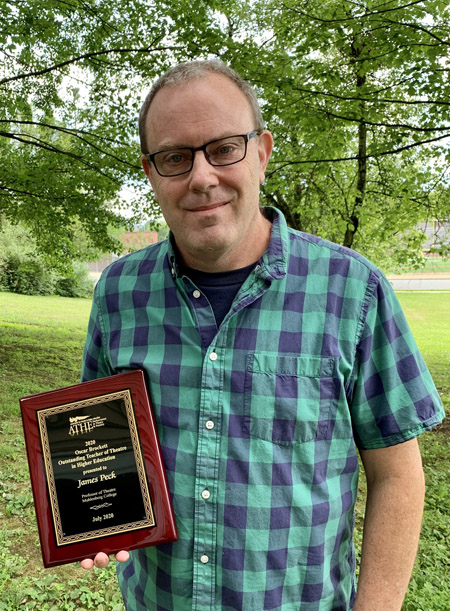 "Jim is an extraordinarily dedicated, conscientious teacher and mentor," says Kelly Howe '03, an associate professor of theater at Loyola University Chicago, who nominated Peck for the award. "He inspires creativity, curiosity, specificity, rigor, ethical self-reflection and attention to nuance and complexity — not only in classrooms and on stages but also in his work as an administrator, editor and scholar. He engages as a teacher in the same way he moves through the rest of the world: with kindness, genuine care, warmth, self-examination, attention to detail, and a profound generosity of spirit."
Past recipients of the Oscar Brockett Award include such standouts of theater education as Paula Vogel and Joseph Roach of Yale University; Jill Dolan of Princeton University; and E. Patrick Johnson and Sandra L. Richards of Northwestern University. The award has been given annually since 1993.
"I am eternally grateful for the cohorts of students I've shared space with at Muhlenberg, and had the privilege to work with and learn from," Peck says. "I'm honored and humbled to see my name on this list."
A member of the Muhlenberg theater faculty since 1999, Peck served as chair of the Department of Theatre & Dance from 2006 to 2013. He has received several awards at Muhlenberg, including the Lindback Award for Distinguished Teaching and the Award for Outstanding Advisor to First Year Students. Peck holds a Master of Fine Arts degree in theater (directing) from the University of California at San Diego and a doctorate in performance studies from New York University. In addition to Muhlenberg, he has taught at the Yale School of Drama, the New York University Tisch School of the Arts and the Playwrights Horizons Theater School.
"Jim is a passionate and dedicated mentor whose teaching, scholarship and college service embody the liberal arts values that are central to Muhlenberg's mission," says Kathy Harring, Muhlenberg College president. "He is well deserving of this prestigious award."
James McMaster '12, one of several former students who wrote letters on Peck's behalf, says that Peck "inspires students to sharpen their minds." McMaster is an assistant professor of gender and women's studies and Asian American studies at the University of Wisconsin-Madison.
"It feels right for Jim to win this award," McMaster says. "He sets the intellectual bar high for the artists he trains, never losing sight of issues of identity and power in the process. I think I represent a lot of alumni when I say that I would not be where I am today were it not for Jim. Not even close."
About the Muhlenberg College Theatre & Dance Department
Muhlenberg offers Bachelor of Arts degrees in theatre and dance. The Princeton Review ranked Muhlenberg's theatre program in the top twelve in the nation for eight years in a row, and Fiske Guide to Colleges lists both the theatre and dance programs among the top small college programs in the United States. Muhlenberg is one of only eight colleges to be listed in Fiske for both theatre and dance.
About Muhlenberg College
Founded in 1848, Muhlenberg is a highly selective, private, four-year residential, liberal arts college offering baccalaureate and graduate programs. With an enrollment of approximately 2,200 students, Muhlenberg College is dedicated to shaping creative, compassionate, collaborative leaders through rigorous academic programs in the arts, humanities, natural sciences and social sciences; selected preprofessional programs, including accounting, business, education and public health; and progressive workforce-focused post-baccalaureate certificates and master's degrees. Located in Allentown, Pennsylvania, approximately 90 miles west of New York City, Muhlenberg is a member of the Centennial Conference, competing in 22 varsity sports. Muhlenberg is affiliated with the Evangelical Lutheran Church in America.