Growing Support
A new scholarship and research grants, all earmarked for sustainability studies, expand opportunities for students.
By: Kristine Yahna Todaro Thursday, July 2, 2020 02:41 PM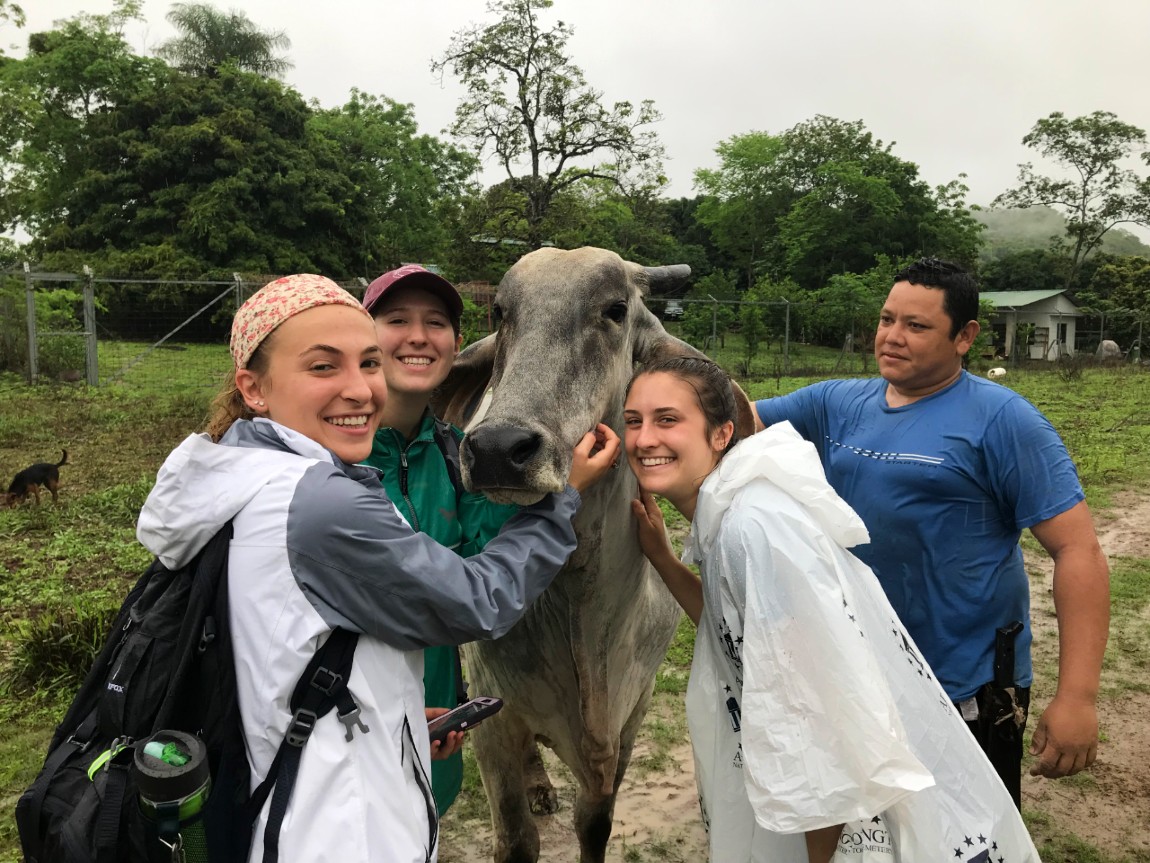 Morgan Tietz '21 (second from right) interviewed farmers to learn how they are adapting to climate change while taking the Community Sustainability in Costa Rica course last spring.
Just last fall, Muhlenberg began offering a new sustainability studies major. Already 16 students have chosen the major, which takes an interdisciplinary approach to understanding environmental challenges and developing thoughtful problem-solving skills to effect change.
Beginning this summer, two new awards will enrich the experiences of students studying in this field: The Barry Weshnak '66 and Carol Anne Cawley Weshnak Endowed Scholarship Fund in Sustainability Studies and The David C. Rabold Fund for Interdisciplinary Research in Sustainability.
"Our program in sustainability integrates broad areas of study, including environmental science and policy, business and economics, and innovation and technology within the context of social justice since we know that climate change and other environmental problems disproportionately impact marginalized people," says Rich Niesenbaum, professor of biology and director of the sustainability studies program. "These new gifts reflect the generosity of people who care deeply about these issues. Both of these awards are also consistent with the overall mission of Muhlenberg—they're supporting interdisciplinarity and integrative learning, and they're empowering our students to make the world a better place."
The Weshnak Endowed Scholarship will provide an annual scholarship for one or more high-achieving students who qualify for financial aid and who major in sustainability studies. It was Weshnak's interest in sustainability and concern about climate change that spurred the scholarship, which is given in honor of his parents. The first major sponsor of the sustainability studies program, Weshnak was a social science major at Muhlenberg and is the owner and principal of Barrymor Enterprises of New Jersey, a full-service real estate development and property management company he co-founded more than 40 years ago.
Prior to his retirement in 2019, David Rabold championed significant campus sustainability efforts in his role as Muhlenberg's capital projects manager. The Rabold Fund, a retirement gift from his daughter, is the first designated gift for student research in this field and embraces Rabold's passion for sustainability. The grant is given to students with a major or minor in sustainability studies or to students conducting research in the field regardless of their major under the direction of a member of the College faculty.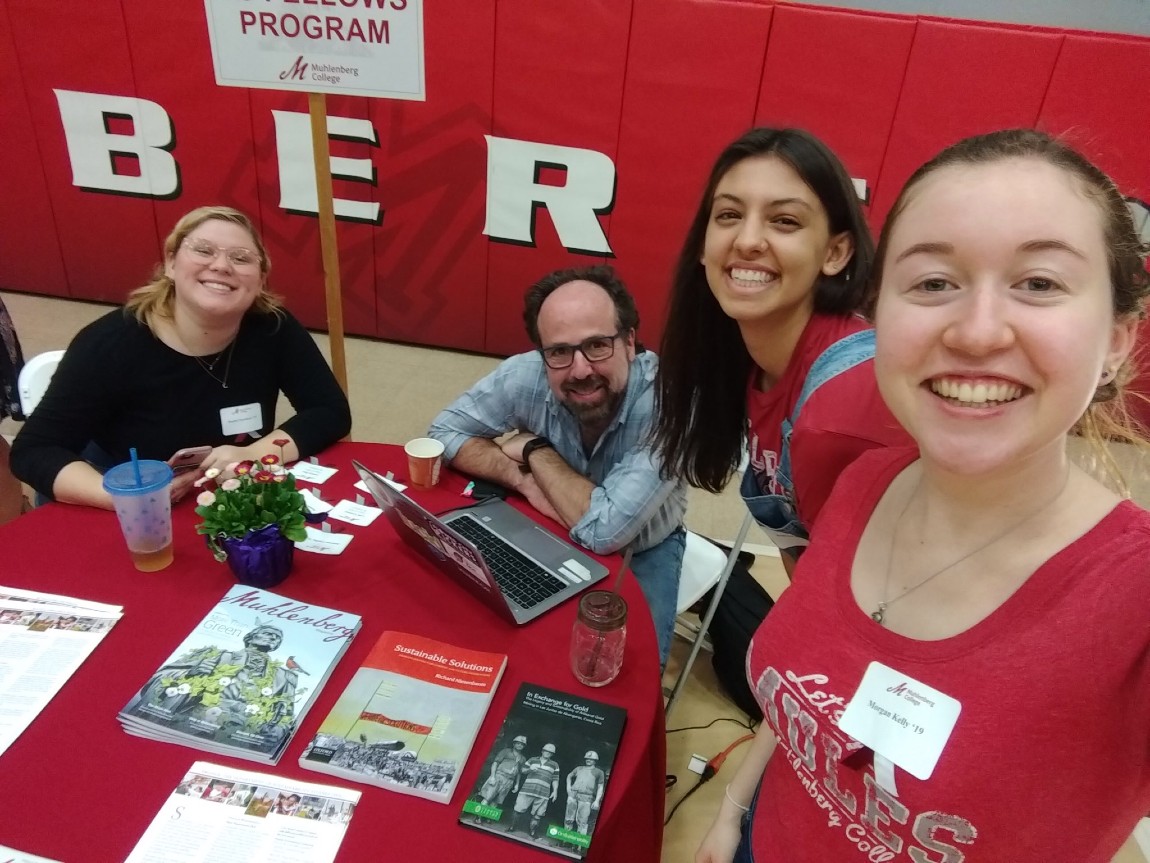 Francesca Jones '21 (second from right) with Professor Rich Niesenbaum and other Muhlenberg students promoting the sustainability studies program at the 2019 Through the Red Doors program for incoming students.
The Rabold Fund is enabling three students to conduct sustainability-related research this summer under the guidance of Niesenbaum:
Francesca Jones '21, a double major in psychology and sustainability studies, is studying how different socioeconomic groups perceive the risks of climate change and whether these perceptions translate into behavioral change. Connie Wolfe, associate professor of psychology, and Chris Borick, professor of political science, are advising on the project as well, which will use online surveys to determine the risk perceptions of individuals.

Machaela Kury '22, a double major in environmental science and studio art, is researching how art has affected social movements related to climate change and how it depicts and explains the process of climate change and ways to mitigate it. She is building a website that curates and organizes climate change art.

Morgan Tietz '21, an environmental science major, is studying managed and natural landscapes. She's looking at the ecological benefits of these areas, including the plant, insect and vertebrate biodiversity, and at the benefits that accessibility to natural areas provide people. What is the value to community members who spend time in these areas, whether natural or managed, and what part does socioeconomic status play into who has access to them?
Due to the coronavirus pandemic, all student research is being done remotely this summer with students receiving a stipend and college credit for their work. (Typically, students are on campus for eight to 10 weeks of full-time research and receive a stipend, housing and college credit.)
Niesenbaum says the interdisciplinarity of sustainability studies is its strength because it addresses crucial issues from a variety of perspectives which leads to more effective problem-solving. "My goal is for our students to go out and be changemakers in the world," he says. "These awards provide them the opportunities and experiences to do so."
About Muhlenberg College
Founded in 1848, Muhlenberg is a highly selective, private, four-year residential, liberal arts college offering baccalaureate and graduate programs. With an enrollment of approximately 2,200 students, Muhlenberg College is dedicated to shaping creative, compassionate, collaborative leaders through rigorous academic programs in the arts, humanities, natural sciences and social sciences; selected preprofessional programs, including accounting, business, education and public health; and progressive workforce-focused post-baccalaureate certificates and master's degrees. Located in Allentown, Pennsylvania, approximately 90 miles west of New York City, Muhlenberg is a member of the Centennial Conference, competing in 22 varsity sports. Muhlenberg is affiliated with the Evangelical Lutheran Church in America.