Alum Oversees Makeshift Hospital to Prepare for Overcrowding
Should the need arise, Dr. Chris Raab '93 P'22 P'24 will treat adult patients who don't have COVID-19 inside his children's hospital.
By: Heather Mayer Irvine Wednesday, May 6, 2020 09:07 AM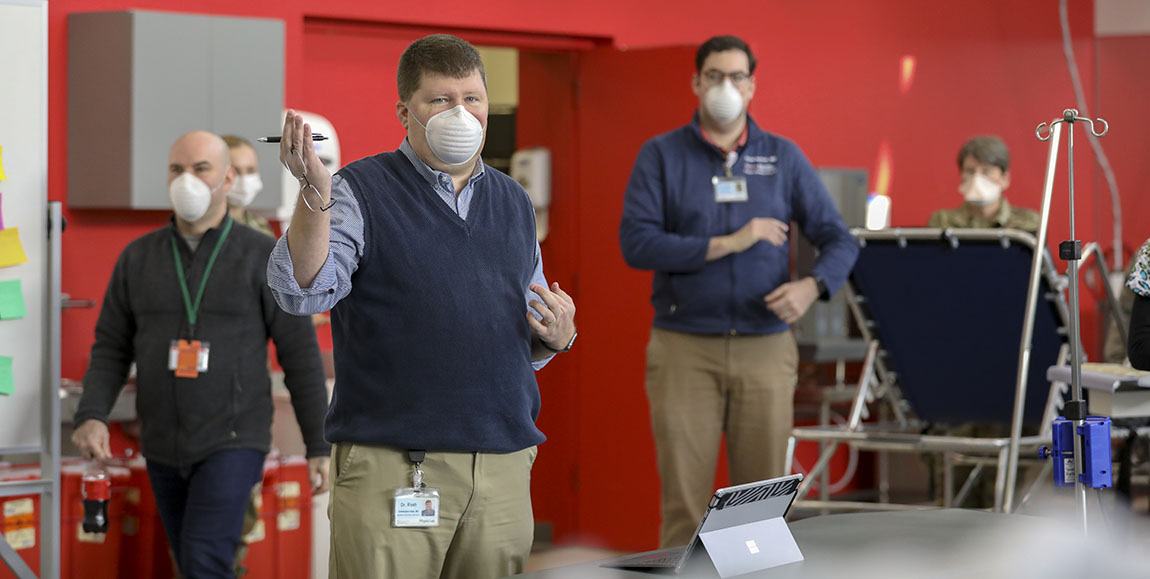 Dr. Chris Raab '93 P'22 P'24 (foreground) in the makeshift hospital in the basement of the Nemours Alfred I. duPont Hospital for Children. Photos courtesy of the Delaware National Guard.
A pediatrician helped convert the basement sports medicine gym inside the Nemours Alfred I. duPont Hospital for Children into a field hospital in the wake of the COVID-19 pandemic, just in case.
Dr. Chris Raab '93 P'22 P'24, medical director of global health services at the children's hospital in Wilmington, Delaware, has been working with his team and state health officials to create an overflow hospital to treat adults who don't have COVID-19, in case regular hospitals become overwhelmed by COVID-19-positive patients.
"I work in a standalone children's hospital," says Raab, who also works in the diagnostic referral and solid organ transplants divisions. "We're fortunate in that children aren't overly affected by the coronavirus."
That meant that when the state's National Guard started looking for sites it could turn into makeshift hospitals, should the need arise, Nemours had the space and the staff to assist.
Raab, who was a biology and history double major at Muhlenberg, is no stranger to working in field hospitals—he's treated patients in them all over the world, including in Rwanda, Haiti and The Gambia.
"I was asked to do this because of my global health background," he says. "Trying to figure out what you need [in a field hospital] is second nature for me."
So far, Raab and his team, which includes doctors who are trained in adult and pediatric medicine, have not had to fill any of their 38 beds, but their daily work is hardly back to normal, he says. Every day Raab heads down to the gym-turned-hospital to check on the space and check in with his on-call staff.
Raab still sees his regular patients who are in the hospital, but for those who don't have to come in, it's virtual visits. Telemedicine isn't a new concept for Raab, who, for years, has been working with pediatric liver transplant patients in Jamaica and Bolivia.
"But as a physician who was taught to take a full history and physical exam, to cut out the physical exam or only do a limited exam, is very difficult," he says. "The young physicians are probably a lot better at adapting than some of us who have been practicing a lot longer. It's taking a little bit of getting used to."
In the face of bad and scary news related to the pandemic, Raab takes solace in seeing his team and public health officials come together.
"The most rewarding thing for me is being able to work with people, not just in my hospital, but from other hospitals and the public health department, and pulling together to get something done that needs to be done," he says.
Raab acknowledges these are hard times for everybody and emphasizes the importance of listening to the experts.
"There are a lot of bumps, but we'll get through it," he says. "Listen to those who know what they're talking about."